Sri Lanka to benefit concessions until reclassification; existing deal earmarked to lapse in 2023
EU inclusive of UK is biggest region for Sri Lanka's exports accounting for 29% share
Exports enjoying EU GSP+ benefits last year amounted to $ 2.7 billion, up by 4% from 2018
European Union First Councillor Thorsten Bargfrede stresses importance of enhancing competitiveness and best practices post-COVID pandemic
---
By Charumini de Silva
---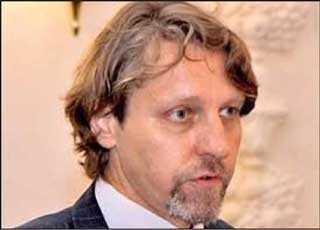 European Union First Councillor, Head of Political,Trade and Communications Section Thorsten Bargfrede
---
The European Union (EU) yesterday assured that the Generalised Scheme of Preferences Plus (GSP+) would be available for Sri Lanka for a foreseeable, future but underscored the importance of enhancing competitiveness and best practices post-COVID-19 pandemic.
"The EU GSP+ scheme will be available for a period ahead until there is a reclassification," European Union First Councillor, Head of Political, Trade and Communications Section Thorsten Bargfrede said yesterday, speaking at a webinar titled 'GSP+ for Enhanced Market Access' organised by the International Trade Centre (ITC) in collaboration with the Department of Commerce.

He however pointed out that it was important for Sri Lanka to comply with the regulations of the agreement to continue to benefit from the scheme.

GSP+ is granted on the condition of Sri Lanka's commitment to ratify and effectively implement 27 international conventions on human rights, labour conditions, protection of the environment and good governance.

GSP+ aims at supporting Sri Lanka's economic development through more trade with the EU, as well as contributing to diversifying exports and attracting investment.

Sri Lanka's exports last year amounted to $ 12 billion and EU inclusive of UK is Sri Lanka's biggest regional market for exports accounting for 29% share and excluding UK it is 21%.

Exports enjoying EU GSP+ benefits last year amounted to $ 2.7 billion, up by 4% from 2018.

Bargfrede also said it was important for Sri Lanka to stay ahead of the competition, as regional players such as Bangladesh, Vietnam and Cambodia were also benefiting from the scheme.

"To be on the scheme it's important to increase the competitiveness of Sri Lanka. Competitiveness will be the key to drive Sri Lanka's exports," he added.

Originally Sri Lanka was suspended from the GSP+ scheme in August 2010 due to allegations of human rights, resulting in a loss of export revenues till the reinstatement of GSP+ in May 2017.

With Sri Lanka having reached the 'upper middle-income' status as classified by the World Bank in 2019, eligibility for the GSP+ scheme of the EU could lapse by 2023.

The trade preferences under GSP+ consists of the full removal of duties on 66% of tariff lines, covering a wide array of products, including textiles and fisheries.

Textiles and clothing exports to the EU have benefited most through the GSP+ concession, accounting for over 60%, followed by food products with over 12%. The apparel industry represents about 43% of the country's total exports, which generates over $ 5 billion foreign exchange to the country. In the first nine months of 2020, apparel exports to the EU fell by 21.36% to $1.3 billion.

Bargfrede also outlined ways to be competitive, which include quality, compliance with international regulations, and to be investment friendly, keeping the long-term vision in mind.

In terms of the import restrictions implemented by the Government to reduce foreign exchange outflow, Bargfrede said the move created uncertainty among investors and such moves only made Sri Lanka unattractive to potential investors.

"Closing borders is not a good move. While we understand the rationale behind the move, it sends out a negative message to the trading community," he added.

Noting the COVID-19 pandemic had caused severe impacts on economies, he stressed it was imperative to open borders for trade to encourage global trade, rather than having close borders.

"The EU will always encourage global trade and will maintain close links with all its trading partners," he added.

Since the resumption of GSP+ concessions in 2017, the value of Sri Lanka's total exports to the EU market in 2018 recorded a growth of 5% compared to a year earlier, and as a result Sri Lanka's GSP+ utilised exports recorded year-on-year growth of 1% in 2018.

In yesterday's webinar Department of Commerce Acting Director General Ananda Dharmapriya, Export Development Board Chairman Prabhash Subasinghe, European Commission Coordinator GSP Trade Preferences Walter Van Hattum, ITC Consultant (Lawyer) and Founder/Director and TULIP Consulting Colette Van Der Ven, Board of Investment Director General Sanjaya Mohottala and Joint Apparel Association Forum Exco Member and Chairman of the Talent Sub Committee Yohan Lawrence also shared insights to GSP+ for enhanced market access.