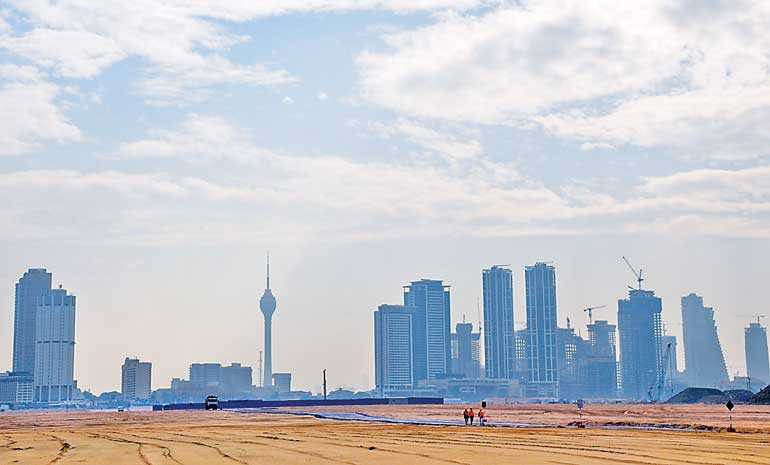 The emerging skyline of Colombo as seen from the Port City area - Pic by Lasantha Kumara
---
Expects GDP to pick up to 4.1% in 2019 from 3.8% last year, but average 4.7% between 2019-23

Tips strengthening of the rupee before depreciating against the dollar from 2022 onwards

Says political instability undermines economic prospects
The influential Economist Intelligence Unit (EIU) is forecasting a growth rate of below 5% for Sri Lanka over the next five years, though it expects a pickup in 2019 in comparison to last year.

In its latest Country Report, released recently, the EIU said an unstable political environment will keep investor sentiment towards Sri Lanka negative in 2019. "Risks to political stability will remain high throughout 2019," it noted.

It said that subdued investment, along with a continued decline in government consumption, will preclude a strong economic recovery from devastating floods in 2017.

"Nevertheless, we expect economic activity to pick up slightly in 2019 on the back of continued growth in private consumption and a modest increase in demand for Sri Lankan exports, spurred by a weaker rupee," the EIU said.

The EIU opined that the Government's weak position in Parliament, together with ongoing tensions between President Maithripala Sirisena and Prime Minister Ranil Wickremesinghe, will continue to pose significant risks to political stability. "We have already revised down our real GDP forecasts for 2019 in view of the recent political developments. We expect real GDP to grow by 4.1% in 2019, compared with an estimated 3.8% in 2018," the EIU opined, adding that overall, it forecasts that real GDP growth will average 4.7% per year in 2019-23.

It expects investment to expand by just 3.5% in 2019, unchanged from its estimated level of growth in 2018, an unusually weak year.

Exports, it said, will grow more strongly during the second half of the forecast period and will be supported by increased demand from major markets such as the US and the EU. Forecast for service exports is a growth of around 5.7% in 2019, compared with estimated growth of 9.2% in 2018. However, in 2020, an economic slowdown in the US will dent Sri Lanka's export growth.

According to the EIU structural constraints, such as a shortage of skilled labour, poor infrastructure and a low female labour force participation rate will preclude stronger growth in the medium term. In factor cost terms, the services sector will remain the key contributor to growth and will expand by an average of 4.9% per year between 2019 and 23. Agriculture's share of GDP will continue to fall throughout the forecast period.

It said the Budget deficit will average the equivalent of 5.3% of GDP in 2019 and expects the fiscal deficit to widen from 2020 onwards, owing to the conclusion of the IMF program in 2019 and also because a populist government is likely to be in office by then.

The EIU expects the rupee to average 182 against the dollar in 2019, compared with an estimated

162.4 in 2018. "After stabilising briefly in 2020-21, the rupee will again start to depreciate against the dollar from 2022 onwards because of rate rises in the US," it added.

On inflation, the EIU expects consumer prices to rise by an average of 5.2% in 2019, compared with an estimated increase of 4.4% in 2018.

Despite strong remittance inflows and tourism receipts, the current account deficit, according to the EIU, will remain wide, owing to the country's high import needs, relating to fuel and textile inputs. It forecasts a current account deficit equivalent to 3.4% of GDP on average in 2019-23.

It also expects a rebound in government spending will help to maintain a rate of economic growth of over 4% in that year. The outlook will brighten again from 2021 as the US economy (and, by extension, the global economy) recovers, lifting Sri Lanka's export growth. This will spur the private sector to invest in new capacity. Additional free trade agreements will also help Sri Lanka to boost its exports in the latter half of the forecast period.