Public Security Minister Tiran Alles springs into action as Cabinet approves visa scheme for key tourism segment
1-year visa at $ 500 and extendable if applicant shows monthly income of $ 2,000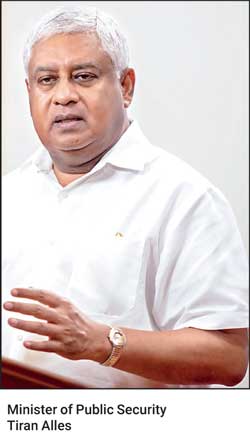 In a proactive move to bolster the tourism sector and attract a new wave of remote workers, the Cabinet of Ministers has given its seal of approval to a range of visa programs, including a novel offering known as the "Digital Nomad Visa" (DNV).

Under the Digital Nomad Visa program, applicants are required to demonstrate a minimum monthly income of $ 2,000, which must be channelled through the Sri Lankan banking system. This visa is renewable annually, subject to certification of the requisite funds. The application fee for the DNV is set at $ 500, and it encompasses the visa holder's spouse and dependents.

This initiative comes in response to a noticeable shift in people's attitudes towards online business and the newfound ability to work remotely, anywhere with an internet connection. Several factors have driven this change, including technological advancements, the flexibility of work-life balance, global connectivity, and evolving work cultures.

The breakthrough move was proposed by and secured Cabinet approval by Minister of Public Security Tiran Alles.

Sources said notably, many countries in the region and beyond have introduced DNV to attract a distinct type of tourism. For instance, Germany offers a freelance visa tailored for self-employed individuals. Malaysia has its "DE Rantau Nomad Pass," which also mandates a monthly income of $ 2,000. New Zealand refers to its visa as a "Working Holiday Visa," requiring proof of $ 2,700 in funds. Norway's Digital Nomad Visa spans two years and necessitates a monthly income of $ 3,140. Portugal's version is initially valid for one year and can be extended up to four years, with a monthly income requirement of $ 2,950. Spain's Digital Nomad Visa calls for a monthly income of $ 2,215.
Thailand's Digital Nomad Visa entails an annual income of $ 80,000 and grants a 10-year stay. Additionally, numerous countries, including the United Arab Emirates, Taiwan, Seychelles, Romania, Saint Lucia, Panama, Montserrat, Namibia, Mexico, Mauritius, Malta, Latvia, Iceland, Grenada, and Hungary, have introduced Digital Nomad visas or similar programs to stimulate their tourism sectors by attracting remote workers and digital nomads.

"By promoting these initiatives proactively and effectively, Sri Lanka can position itself as an appealing destination for remote workers, freelancers, and digital nomads, harnessing their economic contributions to bolster its foreign exchange reserves and boost the overall economy," sources said. "This strategic approach can help the country diversify its revenue streams, reducing its vulnerability to external economic fluctuations and contributing to long-term economic stability," they added.