Greener Water Chairman Dhammika Perera (centre) hands over the MOU for JW Marriott, Negombo to Marriott International President - Asia Pacific (Excluding Greater China) Rajeev Menon. Also present at the signing from left: Hayleys Leisure Managing Director Rohan Karr, Hayleys Chairman and Chief Executive Mohan Pandithage and Marriott International Head of Business Development Kiran Andicot

Summer Season Chairman Mohan Pandithage (second from left) hands over the MOU for The Ritz-Carlton, Mirissa, to Marriott International President – Asia Pacific (Excluding Greater China) Rajeev Menon. Also present at the signing from left: Hayleys Leisure Managing Director Rohan Karr, Vallibel One Chairman Dhammika Perera and Marriott International Head of Business Development Kiran Andicot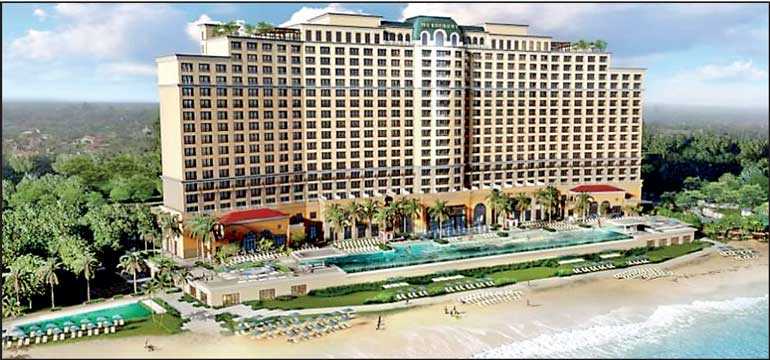 3D rendering of JW Marriott, Negombo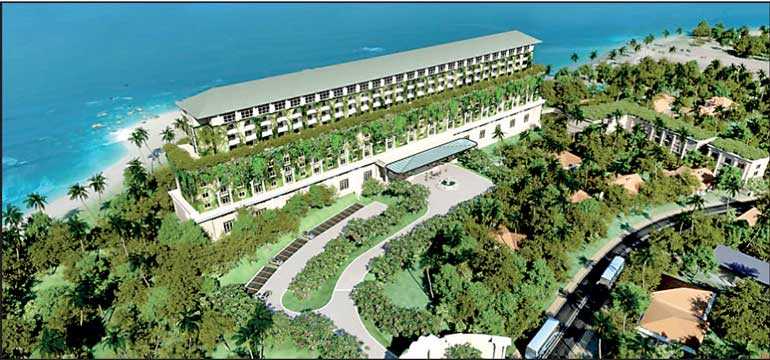 3D rendering of The Ritz-Carlton, Mirissa
---
Ritz Carlton to manage 228-room luxury resort in Mirissa ready, by 3Q 2022
JW Marriott to manage 500-room resort in Negombo by 4Q next year
Strategic move reflects confidence in revival of SL tourism by Dhammika, Ritz Carlton and JW Marriott
Inspired by new Govt.'s clear vision to generate 5 m tourists and $ 10 b revenue by 2025: Dhammika
Two properties to generate 1,500 highly-skilled jobs, serving top-end luxurious holiday makers
Top business leader Dhammika Perera yesterday inked deals with global luxury brands Ritz Carlton and JW Marriott to manage two of his latest hotels in Sri Lanka, giving a big boost to tourism.

Separate Memoranda of Understanding were signed between Dhammika's companies Greener Water Ltd. (a fully-owned subsidiary of Vallibel One PLC), and Summer Season Ltd., to establish global luxury brands JW Marriott and Ritz Carlton in Sri Lanka. While Perera signed the MOU with Marriott International President – Asia Pacific (Excluding Greater China) Rajeev Menon, Hayleys PLC Chairman and Chief Executive as well as Summer Season Ltd.

Chairman Mohan Pandithage signed the MOU for Ritz Carlton, Mirissa.

The exclusively luxurious 500-room five-star JW Marriott located in Negombo is billed for launch in 4Q 2021, while the Ritz Carlton with 228 keys will open its doors in Mirissa in 3Q 2022, detailing its unparalleled signature of defined luxury.

The signing of these MOUs is a strong affirmation of Dhammika Perera's commitment to the growth of the country's leisure and tourism industries, adding a fillip to the Sri Lankan economy as whole.

"The new Government under the leadership of President Gotabaya Rajapaksa has announced a clear vision of generating five million tourists and earnings of $ 10 billion by 2025. Our decision to invest in two luxury resorts with iconic global brands is inspired by this vision," Dhammika Perera told Daily FT.

He disclosed that the two hotels would generate 1,500 highly-skilled jobs, serving top-end luxurious holiday makers.

While the main structures of the two resorts are currently taking shape in the respective locations, it is learnt that the final investment will be known once Ritz Carlton and JW Marriott firm up their long-term demand and business forecast.

Hayleys PLC Director and Managing Director of the Hayleys Leisure sector, veteran hotelier Rohan Karr said Dhammika's visionary thought process augmented Sri Lanka's expansive offerings in hospitality, designed to attract discerning high-end travellers with a penchant for the exotic, while heightening investor confidence in the country's investment prowess, not only into the hospitality genre, but the entirety of the investment possibilities in Sri Lanka.

The ground-breaking tie-up with Ritz Carlton and JW Marriott is a strategic move by the Dhammika and Rohan duo, and the two global luxury brands' commitment to Sri Lanka via these two new properties is viewed as a major endorsement of the high growth potential for tourism in Sri Lanka.

Marriott International Regional Vice President and Head of Business Development Kiran Andicot was also present at the signing of the MoU.