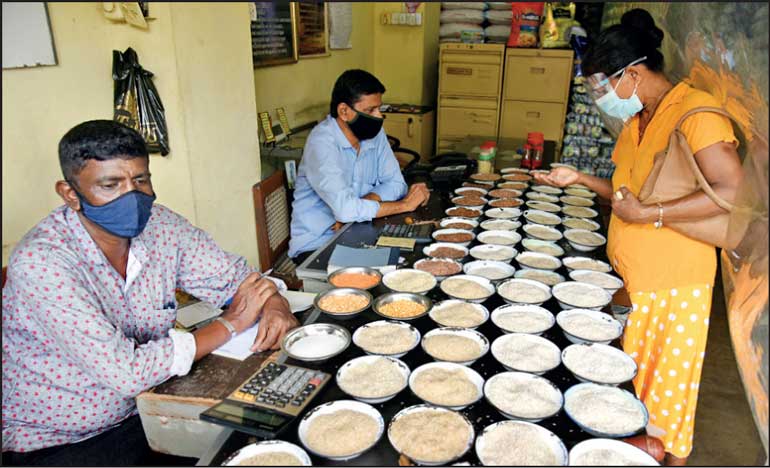 A consumer of essential commodities checks out the quality at a shop in Pettah - Pic by Ruwan Walpola
---
Cabinet decides to import 2,500 tons monthly despite having excess 120,000 tons at present
Justifies move, saying aimed at stabilising rising prices
New stocks to be imported and retailed by State agencies Sathosa and Co-operatives
First 4 months of 2021 saw value of sugar imports jump 90% to $ 167 m from a year ago
Average price was up 28% year-on-year to 492.69 per ton in April
Cabinet nod to import 2,500 tons of dhal too as retail price skyrockets
Traders say forex crisis cause for price of both sugar and dhal to go up
---
By Charumini de Silva
---
Despite excessive stocks, the Gover-nment has decided to import more sugar, which it plans to retail via State agencies in a bid to stabilise prices.

During the past six months the country has imported 600,000 tons of sugar, a quantity sufficient for one year's worth of consumption. As a result, the country now has an excess of 120,000 tons of sugar. Sri Lanka's average sugar consumption per year is 350,000-400,000 tons. However, the Cabinet of Ministers this week discussed the rising sugar prices in the local market and, in a bid to stabilise prices and reduce the burden on the public, decided to import more.

Import of sugar is now under licence and requires prior approval from the Controller of Imports and Exports.

At their meeting on Monday, on recommendations of Trade Minister Bandula Gunawardena, the Cabinet agreed to import 2,500 tons of sugar per month at a lower cost and retail through State agencies – Sathosa and co-operative society outlets. Separately, Cabinet also decided to import dhal of similar quantity.

Sugar will be imported from India and dhal will be sourced from Australia with money coming from the Co-operative Development Fund.

"The Government has observed there is a significant rise in essential commodity items like white sugar and dhal in the local market. To secure sound stocks of the essential commodities amidst the pandemic, it was decided to import these two commodities to be distributed through the mediation of Lanka Sathosa and the co-operative movement across the country," Cabinet Co-Spokesman and Minister Dr. Ramesh Pathirana told reporters at the weekly Cabinet media briefing yesterday.

Contrary to the Minister's remarks, as per Central Bank data, the average price of white sugar fell by 18% in May to Rs. 117 per kilo in the Pettah market compared to Rs. 142 a year earlier. However, last week the average price of white sugar at the Narahenpita Economic Centre was Rs. 120.25 per kilo, up from Rs. 118.67 the previous week.

Dhal remained expensive with average prices in May up by 28%, where a kilogram was sold at the Pettah market at Rs. 192.44 compared to Rs. 150 a year ago. Last week it was Rs. 210 per kilo, up from Rs. 150 per kilo a year ago.

Traders said scarcity of foreign exchange and future uncertainty, licencing and banking restrictions were factors that have driven prices of both sugar and dhal at wholesale and retail level.

As per Central Bank data, in the first four months of 2021 Sri Lanka spent $ 167 million on sugar imports, up by 90% from the corresponding period of last year. Imports in April rose by 96% to $ 30 million, whilst volume wise it was up 56% to 60.4 tons. Average price was up 28% year-on-year to 492.69 per ton.