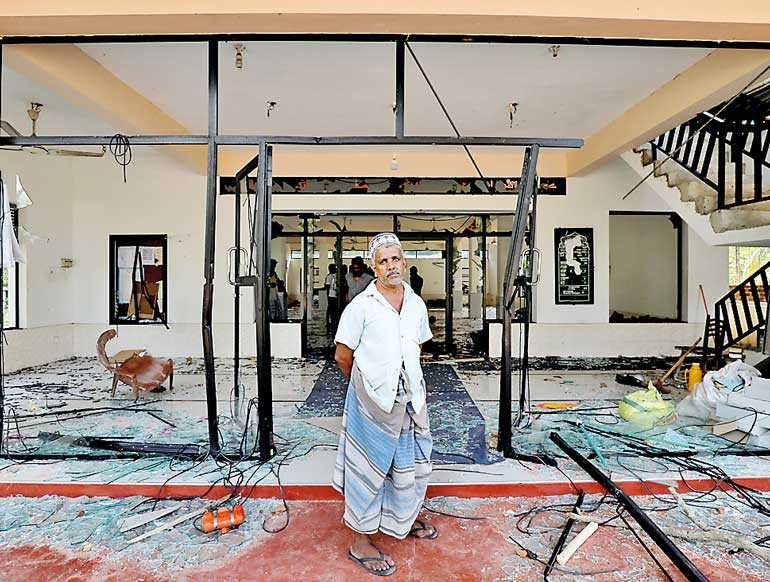 A Muslim man stands in front of the Abbraar Masjid Mosque after a mob attack in Kiniyama, Sri Lanka, 13 May – Reuters
---
Countrywide curfew imposed by Police
Mob violence spreads over three districts, security forces struggles to contain escalating situation
Muslim community fears for safety as shops attacked, large mobs seen roaming Kurunegala streets
Chief of Defence Staff assures safety
Police establishes new unit to combat spread of false information, warns of jail time
By Chathuri Dissanayake

As mob violence escalated yesterday, the Government clamped down imposing an islandwide curfew and blocked social media sites as clashes erupted across three districts and the Government appealed for calm.

As security forces struggled to contain the communal violence which started on Sunday night in several localities in Kurunegala area, the Police took steps to impose an islandwide curfew from 9 p.m. last night.

"Shops have been attacked today as well, as it continued, we have imposed police curfew over the whole North-Central Province until further notice," SSP Ruwan Gunasekara said in a statement released by the Information Department.Arrest of three men has triggered off tension in Kuliyapitiya on Sunday with the Police giving into the demand to release them. Violence continued with curfew being imposed in Kuliyapitiya and Dummalasuriya Police areas on Sunday night.

As Police and security forces deployed to the area struggled to contain the mob violence, Police imposed immediate curfew first to five Police divisions in Kurunegala, Kuliyapitiya, Hettipola, Bingiriya, Rasnayakapura, Kobeiganeand Dummalasuriya, later extending to entire North Western Province and to Gampaha in quick succession.

According to eye witness accounts large mobs of men armed with iron rods and wooden poles were seen walking the streets attacking Muslim-owned business establishments.

"It is easy for them to identify the shops as they are closed," the witness who wished to remain anonymous said.
Many Muslim families in the area left their homes fearing for their safety.

"We spent the night in hiding last night, I had to take my family to safety in the morning," one resident in Kuliyapitiya told the Daily FT.

However no person has been injured or killed in the attacks, the Police spokesperson SSP Gunasekara said.

"While there have been damaged to property, no injuries or deaths have been reported," he said.

Prime Minister Ranil Wickremesinghe sending a message through his official Twitter account asked the public to be calm and not be influenced by false information.

"I appeal to all citizens to remain calm and not be swayed by false information. Security forces are working tirelessly to apprehend terrorists and ensure the security of the country, but each time there is civil unrest, we increase their burden and hamper ongoing investigations," @RW_UNP tweeted.

Chief Defense of Staff (CDS) Admiral Ravindra Wijegunaratne in a statement also asked the people to be calm, assuring that the security forces deployed both uniformed troops and soldiers in civvies to establish public security.

"Don't think that only the uniformed men are the ones who have been deployed, we have a lot of intelligence officers who are in civvies," Admiral Wijegunaratne said.

"These incidents will only cause more pressure on the security forces which are engaged in operations, so we appeal to you not to engage in such violence. If such violence occurs between communities then we will lose the image that the country has created."

The CDS also cautioned the public to not consider unverified information received through social media or sent through text as intelligence information.

The Police also warned of spreading false information noting that action will be taken against those who are guilty of the offence. Police Headquarters has set up a separate unit to monitor spread of false information causing tension among communities in the country, SSP Gunasekara said.

Quoting the incident in Chilaw where a spat between two Facebook users escalated into real life violence resulting in overnight curfew on Sunday night as the best example of false information triggering disharmony and violence between different communities, Gunasekara said.

"Releasing such false information and sharing of the same is a punishable offence, under Emergency law, carrying up to seven years imprisonment. Further under international law applicable it carries a maximum of 10 years of prison time. And action will be taken accordingly," he said.