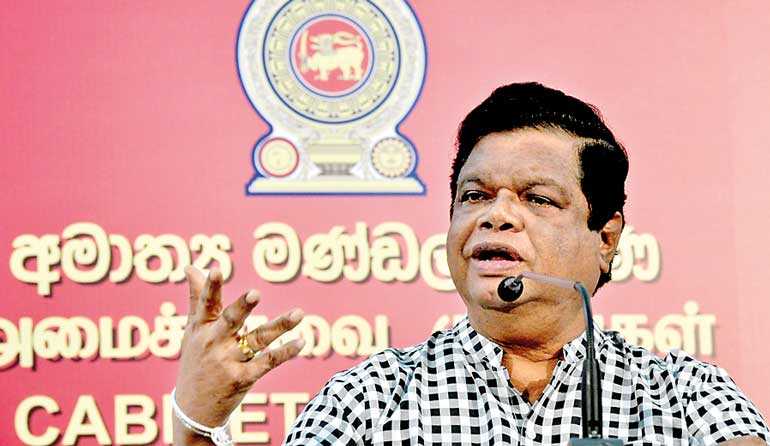 Co-Cabinet spokesman Minister Bandula Gunawardana
---
Cabinet spokesman Bandula Gunawardana says concessionary scheme will be in effect until 31 Dec.

CBSL issues circular giving guidelines to banks on implementation of scheme

Supported business sectors will include manufacturing, services, agriculture, construction

Licensed banks will suspend legal action against non-performing borrowers who have been accepted under this scheme

Banks expected to have mechanism not to decline loan applications solely based on adverse CRIB record
By Chandani Kirinde

Cabinet this week approved the substantial debt relief package to boost the economy via SMEs, with licensed commercial banks and licensed specialised banks issued with guidelines on giving effect to the proposed scheme.

Cabinet spokesman Minister Bandula Gunawardana said that the scheme includes a relief package to Small and Medium Enterprises (SMEs) that are struggling to pay back loans due to the downturn in the economy under the previous Government, as well as another to help the resurgence of the sector, with loans up to Rs. 300 million at cessionary interest rates to expand their businesses.

Gunawardena said that after a lengthy discussion Prime Minister Mahinda Rajapaksa, who is also Finance Minister, held with officials of the Central Bank of Sri Lanka (CBSL) and commercial and specialised banks, the circular on how the relief measures are to be implemented was issued on Monday.

Hence the banks have agreed to provide a special credit support scheme to eligible SME borrowers during the period 01 January 2020 to 31 December 2020 to complement the fiscal incentives already announced by the Government.

CBSL, in the circular it issued, said that based on the discussions it had with the licensed banks, it is observed that the proposed scheme may not cause an undue level of stress or threaten the stability of the banking system.

The supported business sectors will include manufacturing, services, agriculture (including processing) and construction and will include SMEs that have obtained credit facilities from licensed banks. For the purpose of this scheme, SMEs mean borrowers with an annual turnover between Rs. 16 million to Rs. 750 million for the year ended 31 December 2019.

Eligible SMEs which are in the Non-Performing Loans (NPLs) category as at 31 December 2019 including those where the banks have commenced or given notice of recovery action under the provisions of the Recovery of Loans by Banks (Special Provisions) Act, No. 4 of 1990, will be eligible to avail of the concessions set out under the scheme upon a written request from such borrowers on or before 31 January 2020. The total penal component of interest accrued and unpaid on NPL loans and advances will be waived by licensed banks at their cost.

Other NPLs too will be rescheduled and a one-year grace period shall be granted for capital repayment of loans.

According to the circular, licensed banks will grant a new working capital loan (or temporary progressively reducing overdraft facility) for SMEs which are in the NPL category to revive businesses, with maximum amount to be three months working capital requirement with a maximum tenure of six months and a three-month moratorium granted for the repayment of capital of such loan or overdraft, provided however that interest shall be serviced in a timely manner. Interest rate for this loan shall not be more than 2% plus the prevailing Standing Lending Facility Rate.

Licensed banks will also defer passing new resolutions under the Recovery of Loans by Banks (Special Provisions) Act, No. 4 of 1990 for recovery of loans and advances until December 31, 2020 in respect of borrowers participating in this scheme.

In instances where resolutions for recovery have already been passed, auctioning of assets will be deferred until 31 December 2020 in respect of such borrowers who are participants in the Scheme and meet the requirements of the Scheme while in instances where there are on-going litigations in courts relating to recovery, borrowers will be permitted to participate in the Scheme upon entering into an agreement in Court with regard to the requirements set out in this scheme.

Licensed banks will also suspend legal action against non-performing borrowers who have been accepted under this scheme.

The CBSL circular said the Government has indicated its willingness to defer capital repayments on refinance loans granted to licensed banks falling due from 01 January 2020 to 31 December 2020 and extend the final repayment date by 12 months. However, banks are required to seek such extension if required and enter into supplementary agreements with the relevant Government agency in this regard.

Licensed banks are expected to have a mechanism not to decline loan applications solely based on an adverse Credit Information Bureau (CRIB) record and have been directed to, in consultation with CRIB, to develop a reporting modality in respect of the capital deferment granted under this scheme to performing borrowers, so that participation in the Scheme will not have an impact on the credit score of borrowers in the future, or be negatively reflected in future CRIB reports.