Rs.2.2 trillion allocated for debt repayments, highest in SL history
State expenditure to be Rs.4.5 trillion, public revenue target set at Rs.2.4 trillion
Budget to focus on maintaining fiscal consolidation measures
Budget deficit set at ambitious 3.5%, debt to GDP ratio targeted at 70%, capital expenditure at 3.5%
Cabinet yesterday approved the Appropriation Bill for 2019 that was presented by Finance Minister Mangala Samaraweera that allocates Rs.2.2 trillion for debt payments, which is the highest the Sri Lankan government has ever had to pay.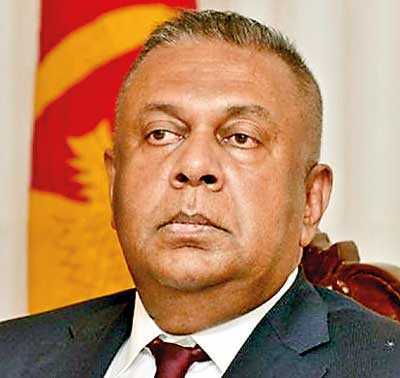 Finance Minister Mangala Samaraweera
Accordingly, this year's annual State Expenditure will be Rs.4.5 trillion and State revenue Rs.2.4 trillion. The State revenue which was 11.5% of GDP in 2014 has gradually increased after the Coalition Government came into power and is expected to be raised to 15.12% of GDP in 2019, the Finance Ministry said in a statement.

The National Budget for the year 2019 will be prepared under the Medium Term Fiscal Framework (MTFF) by adopting the performance-based budgeting approach with the aim of strengthening the ongoing fiscal consolidation programs, the statement added. The Government is also aiming to achieve the target of increasing State revenue to 17% and limiting recurrent expenditure to 15% of GDP by 2021.
"Rs.2.2 trillion has been allocated for debt servicing in 2019. This is the largest amount of money a government in the history of this country is compelled to bear for debt servicing. The recurrent expenditure inclusive of the payment of interest will include Rs.2.36 trillion while the capital expenditure will cost Rs.876 billion," it added.
Finance Minister Samaraweera's second Budget will have some ambitious targets including maintaining the debt to GDP ratio to just 70% and limiting recurrent expenditure to 15% of GDP. Capital expenditure will also be limited to only 3.5% of GDP

The deficit target is in line with the Government's plans, which were announced by Prime Minister Ranil Wickremesinghe in 2017. However, the Government has failed to hit deficit targets since 2017 with the 2018 target of 4.6% likely to be about 5% according to the Central Bank. The deficit target for 2018 was missed largely due to weather problems and the International Monetary Fund (IMF) had indicated that it would accept the revised target. Therefore reducing the Budget Deficit to 3.5% in an election year is likely to be challenging, according to experts.

Sri Lanka's debt to GDP ratios are likely to be closer to 80% as the Government will have to borrow to repay about $2.9 billion in 2019. Ratings agencies had earlier indicated that Sri Lanka's debt to GDP ratios will remain higher than its peers in the short term as high debt repayments are likely to continue till 2022. Currently Sri Lanka's debt to GDP is about 78%, according to the Central Bank.

The Appropriation Bill will be presented to Parliament by Finance Minister Mangala Samaraweera on 5 February and the Budget will be presented on 5 March. After the third reading the Budget vote will be taken on 4 April.