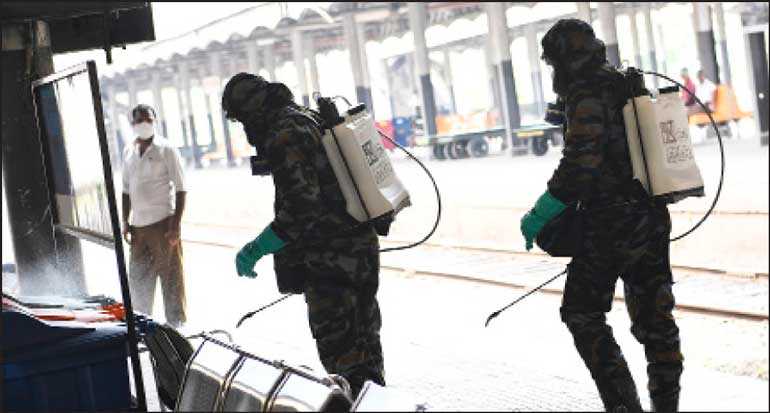 Over 800 cases identified
Total case count exceeds 4,000
Brandix Minuwangoda employees and families asked to remain at home
Govt. to decide on measures after PCR test results
Curfew extended to Gampaha Police jurisdiction
---
By Shailendree Wickrama Adittiya
---
The present COVID-19 cluster, referred to as the Brandix Minuwangoda cluster, has expanded to 832 cases, with 739 persons connected to the garment manufacturing facility testing positive yesterday.

This is the highest number of cases identified in a day in Sri Lanka and the total number of confirmed COVID-19 cases in the island has increased to 4,252.

According to Chief Epidemiologist Dr. Sudath Samaraweera, yesterday's cases include five persons who returned home on leave and tested positive in Pallekale, Warakapola, Alauwwa, and Wilgamuwa. He added that nine persons from contacts directed to the Habaraduwa Quarantine Centre had also tested positive.

When the 16-year-old daughter of the patient identified on Sunday tested positive for COVID-19, health authorities were quick to subject school students to PCR tests. None of these have come back positive, Dr. Samaraweera said, adding that all students were currently undergoing quarantine. Any patients among this group will be identified if they display symptoms or when they are tested at the end of the quarantine process.

"What we see is that this cluster is not limited to one area and there is thus a high risk of community transmission, so we have had to limit movement in several areas in the Gampaha District by enforcing a quarantine curfew," Dr. Samaraweera added. He also requested all persons who had made contact with employees of the garment manufacturing plant to self-quarantine and inform health officials.

The Government has also instructed all employees of the Brandix Minuwangoda factory and their families to refrain from leaving their respective residences. In addition to this, all family members of identified patients have been told to be prepared as the Sri Lanka Army is in the process of directing them to quarantine centres.

The Government is expecting more test results today, following 2,000 PCR tests performed on Monday. The tests were performed on employees of the garment manufacturing facility, their contacts, and school students.

At a press briefing held yesterday, Cabinet Spokesperson Keheliya Rambukwella said Government decisions, even regarding island-wide curfew, would be taken after they received all test results.

"As many contacts as possible, from the first identified patient to patients identified in various places like Kurunegala, Monaragala, Jaffna, Minuwangoda, Katana, Seeduwa, Divulapitiya, Meerigama, Ja-Ela, Mahara and so on, have been directed for quarantine. The coming [24] hours are extremely decisive," he added.

Rambukwella stressed that the Government would not take the situation lightly and that investigations into the spread of the virus were focused on the source.

While the Government on Monday issued a statement refuting claims of an island-wide curfew, the Sri Lanka Police yesterday extended quarantine curfew to the Gampaha Police jurisdiction in addition to the Divulapitiya, Minuwangoda, and Veyangoda Police jurisdictions.

According to a statement issued by the Police Headquarters, curfew will be enforced in the above areas until further notice and all persons in the above areas are required to remain at home. Entering or leaving these areas will not be permitted while curfew is in place.

Regarding public transport, long-distance buses will be permitted to travel through the curfew-imposed areas but will not be allowed to stop or pick or drop passengers. Trains too will not be allowed to pick or drop passengers.

Persons found guilty of violating curfew regulations may face imprisonment and fines. According to DIG Ajith Rohana, a total of 52 persons have been arrested in Minuwangoda, Divulapitiya, and Veyangoda for violating curfew so far.

Meanwhile, various State institutions yesterday announced a temporary suspension of services until 9 October. The Department of Motor Traffic said all services offered to the public at their offices in Narahenpita and Werahara would be suspended until Friday and the Department for Registrations of Persons issued a similar statement on the closure of their offices until 9 October. Priority will be given to persons with appointments on 7, 8 and 9 October when services resume.

The department added that persons who required urgent National Identity Card services, including for Advanced Level examinations, could contact the Department for Registrations of Persons units at their Divisional Secretariats.

In addition to this, the Department of Immigration and Emigration will not permit persons to visit their Head Office and regional offices until 9 October, given the COVID-19 situation in the country. Relevant divisions can be contacted via phone or email between 8 a.m. and 4.30 p.m. regarding various services.

The measures come with the sudden increase in COVID-19 patients, with the number of active cases in the island growing from 125 at 10 a.m. on Sunday to 199 on Monday and 973 cases last night. Hospitals are also currently monitoring 140 persons suspected of having COVID-19. Meanwhile, the number of COVID-19 recoveries in the island increased to 3,266 yesterday, with seven persons leaving hospitals having recovered from the virus.

The National Operation Centre for Prevention of COVID-19 Outbreak (NOCPCO) stated that the 650 persons of the Kandakadu cluster had fully recovered and that 49,003 persons had completed the quarantine process at centres to date. This includes 294 persons who left centres yesterday. A further 7,211 persons are currently undergoing quarantine at 79 centres.

---