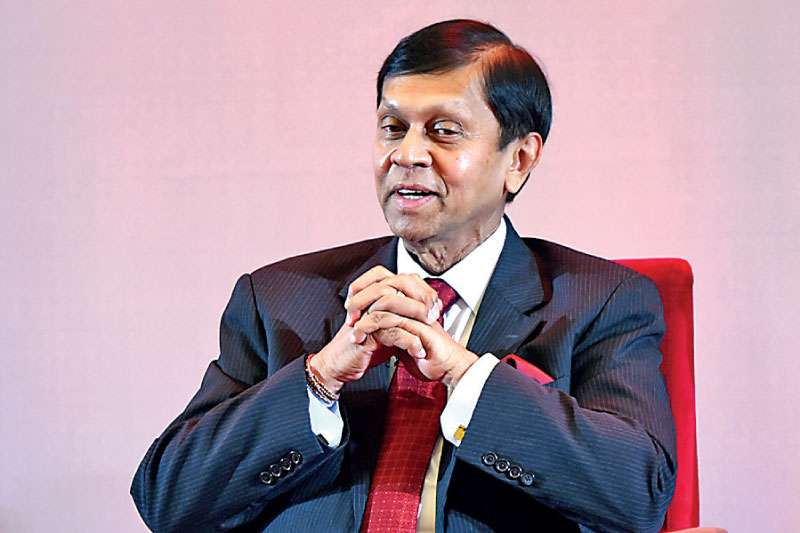 Central Bank Governor Nivard Cabraal
---
Tenor ranges from 3 months to 5 years with fixed rate of interest payable semi-annually
Minimum investment is $ 1,000
$ 1 b in SLDBs maturing by March 2022 and $ 400 m more thereafter; 88.9% being held by domestic banks
$ 607 worth SLDBs maturing in 2023 and a further $ 206 m in 2024
Total SLDBs stock as at end November at $ 2.3 b
---
The Central Bank on Friday announced a first-of-its-kind, open-ended offer of Sri Lanka Development Bonds (SLDBs) coming up for maturities over the next five years targeting Lankan expats and others who have forex.

The unique initiative is to boost forex inflow and reserves and in response to requests by Lankan expats during CBSL's multiple roadshows done in the Middle East as well as others from elsewhere.

The tenors of the SLDBs range from three months to five years offering fixed rate of interest semi-annually (see table). The minimum investment is $ 1,000 and multiples of $ 1,000 there onwards.

CBSL sources said that there had been requests for an open-ended and multiple-choice opportunity and investors would pick and choose according to their attractiveness and risk threshold. The fixed rate for a three-month remaining maturity SLDB (as at 23 December 2021) is 5% whilst the five-year instrument offers 7%.

"This offer will not imply an increase in Government borrowing," CBSL officials said, adding that if the offer drew a good response, CBSL would be able to reduce its holding of Government Treasury bills and bonds.

The open-ended offer is specifically aimed at recipients of goods and services export proceeds and other foreign currency holders including Sri Lankans working abroad. The investment window will not be facilitated during an ongoing SLDB auction, i.e., from opening of business on the auction commencing date until the close of business on the settlement date of the same.

The available securities for investment, the list of the Designated Agents and the interest payment and maturity payment schedule are accessible via (https://www.cbsl.gov.lk/sites/default/files/cbslweb_documents/about/sldb_direct_window_offer_information_e.pdf).

In its Short-Term Roadmap unveiled in October, CBSL announced plans to broaden and diversify the SLDB investor base to attract foreign investments.

As at October SLDBs amounting to $ 1 billion were to mature within six months i.e. till March 2022. Of that 88.9% are being held by domestic banks.

CBSL said concentration of SLDBs favour domestic banking sector investments and gradual increase in corporate sector investor preference was observed in recent offerings.

It also said Average Time to Maturity (ATM) of recent issuances tilted in favour of shorter-tenure maturities and investor preference seemed to be for fixed rate SLDBs.

As per the measures announced in the Short-Term Roadmap, the immediate focus was to attract government and private institutional investors for SLDBs from the Middle East, Asia and rest of the world as well as eligible domestic investors and SLDBs to be also directly negotiated with investors ahead of maturities in the pipeline.

CBSL was planning to raise around an additional $ 300 million within six months (between October 2021 and March 2022) of which however nearly 3 months have lapsed.

As of 30 November 2021, the SLDBs stock is estimated $ 2.3 billion. Those maturing in 2022 are worth $ 1.4 billion and $ 607 million in 2023 and $ 206 million by 2024.