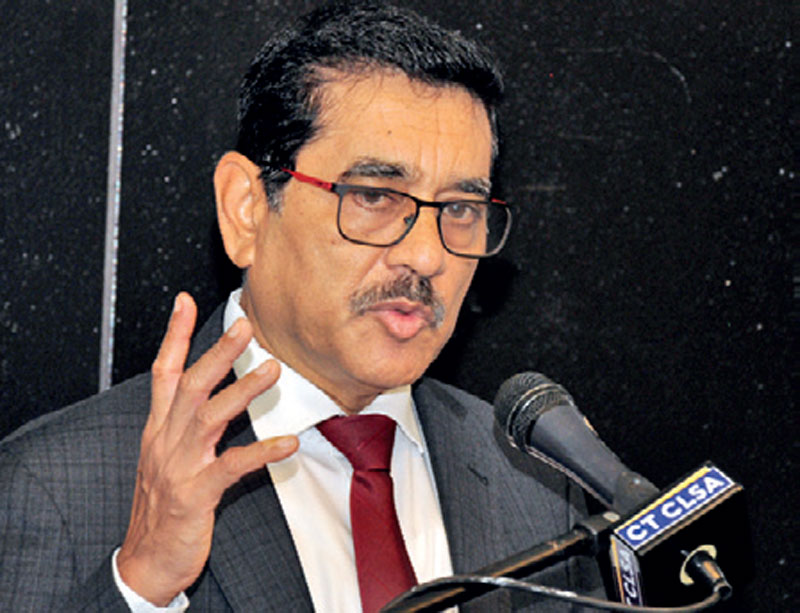 Central Bank Governor Dr. Nandalal Weerasinghe - Pix by Lasantha Kumara
---
With stability being regained, declares 2023 as year of recovery followed by growth
Encourages FIIs attending CT CLSA South Asia Frontier Forum in Colombo to take early positions on Sri Lanka now for better returns
Stresses correct monetary policy is being supported by right fiscal measures
Points to SL reaching the critical disinflation path in October
Describes it as the "best outcome" thus far much to the surprise of IMF
Forecasts SL returning to low-single digit levels of 4-5% by end 2023
Expresses confidence in SL reaching 'amicable win-win' resolution with official and private creditors
Urges foreign institutional investors to take heart from Govt.'s commitment to growth enhancing structural reforms and SOE restructuring​
Stresses need for strong institutional framework to undertake reforms and other fiscal policy objectives
---
By Nisthar Cassim
---
Central Bank Governor Dr. Nandalal Weerasinghe yesterday urged foreign institutional investors (FIIs) to take early positions in Sri Lanka today to enjoy faster and better returns from the country's road to recovery and growth.

"It is time to take positions on Sri Lanka. If you come now, returns will be faster and better. It is time to invest in Sri Lanka," Dr. Weerasinghe told the inauguration of the two-day CT CLSA South Asia Frontier Forum in Colombo attended by foreign and local institutional investors. "On fundamentals Sri Lanka is undervalued," he said, underscoring the country's attractiveness.
His sentiment echoed CT CLSA Consultant Securities Marianne Page's opening remarks in which she said: "Amidst crisis, the private sector has been resilient and now is the time to invest in Sri Lanka."
Noting that it was positive to see the presence of portfolio investors from overseas, CBSL Governor updated the participants on the host of measures already implemented and on-going to regain stability this year following the biggest economic crisis and chart a recovery path next year and return to growth phase there onwards.

Admitting that Sri Lanka was late to reach out to the International Monetary Fund (IMF), Dr. Weerasinghe said, however with regard to the four-year $ 2.9 billion Enhanced Fund Facility from the International Monetary Fund (IMF), there has been good progress in the on-going discussions and following the receipt of financial assurances from official creditors, Sri Lanka hopes to obtain Executive Board approval in January.

"We can manage until then," he said and expressed the confidence in Sri Lanka reaching an amicable win-win resolution with both bilateral and private creditors.

The CBSL Chief also referred to progress in terms of right monetary policy pursued along with complementing fiscal policy. It was pointed out that Sri Lanka has reached the critical disinflation path in October which Dr. Weerasinghe described as the "best outcome" thus far. "Even the IMF didn't believe inflation can be turned around so fast," he said, adding that by the end of next year the inflation can be brought back to low-single digit levels of 4-5%.
The Governor said interest rates too are expected to decline with the issue of liquidity being addressed (four months ago the deficit was Rs. 600 billion and now reduced to Rs. 150 billion and CBSL being willing to provide liquidity support via open market operations) and banks cautioned on the anomalous rise in market lending and deposit interest rates.

With regard to supportive fiscal policy, Dr. Weerasinghe pointed to recent tax hikes as well as measures proposed in the 2023 Budget. Citing that Government revenue has increased by 36% to Rs. 1 trillion in the first seven months, CBSL Chief noted that revenue target in 2023 Budget was realistic. He also noted that monetary expansion is contracting after experiencing high growth in the past two years.

In terms of improving the Balance of Payments and boosting reserves, he said that a wider band on the foreign exchange rate and curtailing of imports have helped. "With tourism picking up and once the relief-based external debt restructuring is completed, prospects will be better," he added.

Dr. Weerasinghe urged foreign investors to take heart from the Government's commitment to undertake growth enhancing structure reforms for which multilateral donor support is forthcoming. The planned restructuring of State Owned Enterprises (SOEs) and cost-reflective pricing by utilities were also stressed as progressive.

The CBSL Governor also responded to several queries from foreign institutional investors at the forum. He said that the authorities are committed to make the on-going external debt restructuring as a one-off opportunity hence the emphasis to get it right and avoid a recurrence. "Goals include restoring debt sustainability, reverting to a primary surplus with strong fiscal measures, building foreign reserves to pre-2020 levels," Dr. Weerasinghe said.

He also recalled that in the past amidst war and high debt, Sri Lanka had been resilient to grow by 5% and growth trajectory under a sustainable debt and other prudential environment, would be higher. However, he emphasised the need for a strong institutional framework to undertake reforms and other fiscal policy objectives.