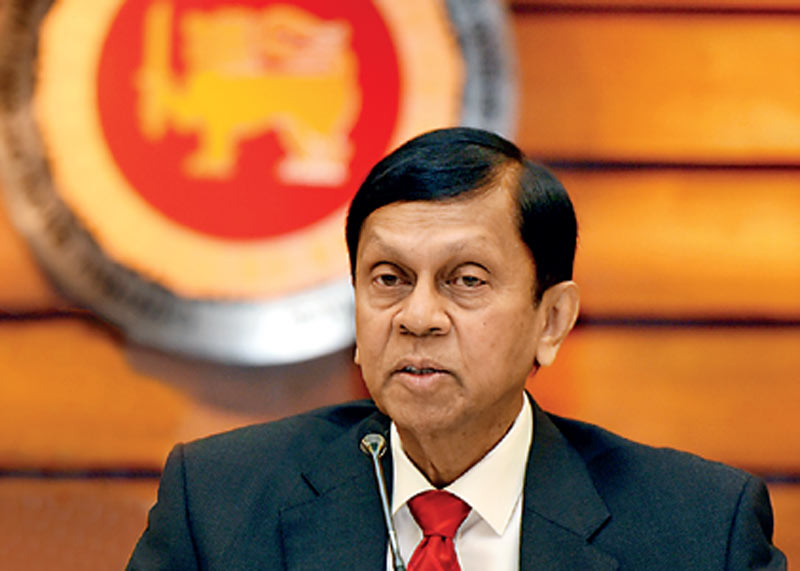 CBSL Governor Nivard Cabraal
---
Unveils time-bound incentive of Rs. 10 per US Dollar to attract workers remittances via banking channels and conversion to Rupees
Special scheme expires on 31 December
US Dollar via illegal grey channels fetches Rs. 230
First 10-month inflows have dipped by 14% to $ 4.9 b
---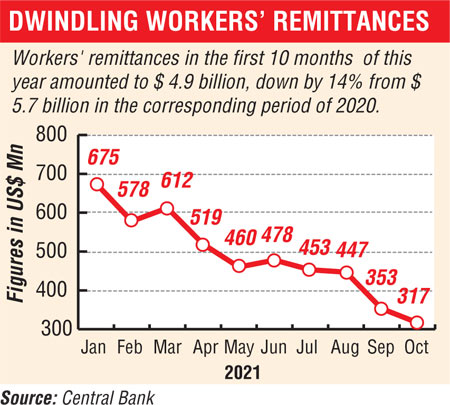 To boost inflow of workers› remittances via official channels, the Central Bank yesterday announced a time-bound incentive scheme offering Rs. 10 per each US dollar remitted and converted.

The move was under the prevailing 'Incentive Scheme on Inward Workers› Remittances' launched in December last year. Previously, Rs. 2 per US Dollar was offered and with effect from yesterday the incentive was increased by Rs. 8 to make it Rs. 10 per US Dollar. The offer expires on 31 December 2021.

Banks can submit the claim application to CBSL with respect to the additional incentive of Rs. 8 per US Dollar they pay to eligible customers on or before 15 January 2022.

US Dollars, via illegal grey channels, fetch Rs. 230 each or more, hence the upward revision may encourage inflows via banking channels as CBSL tightens surveillance to curb unofficial inflows.
Despite recording over $ 500 million per month consecutively from June 2020 till April 2021, workers' remittances have dwindled in recent months. This led to workers' remittances in the first 10 months of 2021 declining by 14% to $ 4.9 billion from the corresponding period of last year. Inflows in October more than halved to $ 317 million (lowest in recent years) from $ 630.7 million a year ago. The forecast is for full year 2021 inflows to be lower than last year's $ 7.1 billion.

The latest move comes after CBSL last week expressed confidence of workers remittances rebounding with the rollout of multiple initiatives.

The optimism also stems from the fact that more people are now taking off for overseas jobs, after pandemic-induced travel restrictions had kept them grounded in Sri Lanka over the past year.

The Central Bank said that around 230,000 people migrate for employment annually, and with the easing of travel restrictions post-vaccination, a higher number were queuing up to take up overseas jobs.

"This is the pent-up demand. We have had discussions with the Department of Immigration and Emigration to clear the backlog in issuing passports as well," CBSL Governor Nivard Cabraal told journalists.

"There are plans to offer insurance as well as pensions to migrant workers."

The Central Bank said that part of the recent drop was due to migrant workers using grey channels, known as the 'Hawala' system, to remit funds in a bid to garner a higher exchange rate especially after the CBSL put a cap of Rs. 203 to the dollar, whilst, given the shortage of foreign exchange, the grey market fetches a premium both in buying and selling.

In recent months, the CBSL has stepped up measures to address this, as well as increase facilitation of workers remittances. Recently, it established a new department named the Foreign Remittances Facilitation Department (FRFD) to facilitate and streamline workers' remittances inflows to the country, under the provisions of the Monetary Law Act No. 58 of 1949.

The CBSL also appointed a working committee to study and suggest new remittance channels for Sri Lanka and to make recommendations on reducing the cost of remitting money, having identified the need to introduce new and low-cost remittance channels with the objective of increasing the inflows of foreign remittances while discouraging the use of informal channels.

The working committee comprises of experienced professionals from Bank of Ceylon, People's Bank, Sampath Bank PLC, Commercial Bank of Ceylon PLC, Hatton National Bank PLC, The Hongkong and Shanghai Banking Corporation Ltd., Cargills Bank Ltd., Dialog Axiata PLC, Mobitel Ltd., and CBSL.

The working committee has proposed the implementation of a national remittance mobile application titled 'SL-Remit' to attract more remittances to Sri Lanka with features such as user self-registration, the ability to link to global money transfer operators, and global fin-techs to facilitate remittances from any country, and instant fund transfers to any bank account or mobile wallet in Sri Lanka.

In addition, the application would include value-added services, such as direct bill payments, attractive foreign exchange rates, and low transaction fees.

CBSL said it will now implement the 'SL-Remit' mobile application with the assistance of stakeholders, including the Ministry of Finance, Ministry of Foreign Affairs, Sri Lanka Banks' Association, Sri Lanka Bureau of Foreign Employment, and LankaClear Ltd.