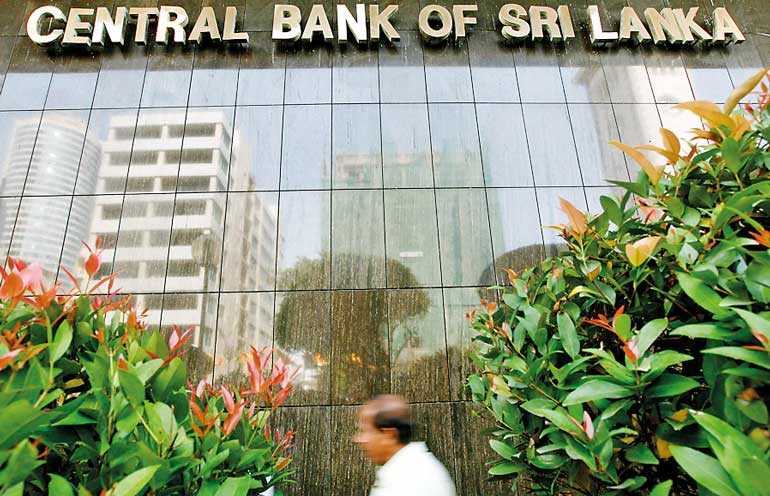 CB issues request on proposals from investment banks
Intends to issue sovereign bonds in dollars, euro, yen and renminbi
$ 2 b to be raised in single or multiple tranches for five years or longer
Part of CB effort to raise over $ 5 b for debt repayments and reserve strengthening in 1Q
SL has to repay $ 5.9 b in 2019, $ 2.6 b in 1Q for debt servicing
The Central Bank yesterday issued a request on proposals from investment banks to sell up to $ 2 billion in international sovereign bonds as the Government readies to repay $ 5.9 billion in debt this year.

The notice posted on the Central Bank website said as per the approved International Sovereign Bond program for 2019, the Government intends to issue Sovereign Bonds in dollars, yen, renminbi and euro.

"The dollar denominated bonds and/or currencies referred above denominated bonds for benchmark size issuances up to equivalent of $ 2,000 million in aggregate will be exercisable in single or multiple tranches with a competitive fixed coupon and medium to long-term maturities, preferably of five years or longer," the notice said.

Accordingly, the Central Bank, on behalf of GOSL, invites proposals from banks and investment houses for consideration to be appointed as Lead Managers/Book Runners on above issuances, it added.

Cabinet gave approval earlier this month for the Central Bank to raise $ 2 billion for debt repayment. The rise in the amount comes after Parliament increased the borrowing ceiling for liability management on 26 October 2018, making it possible for the Government to borrow up to Rs. 310 billion.

The Central Bank has been scrambling to gather sufficient funds to repay over $ 1 billion in loans that were due in the first two weeks of January.

Having had its plans derailed during the seven-week constitutional crisis, the Central Bank repaid the $ 1 billion in debt last Monday from its reserves, and has reached out to India and China to bolster reserves to acceptable levels by the end of January. The monetary authority used $ 650 million from the HambantotaPort venture and funds leftover from the $ 1 billion received from China Development Bank in October to assist in the $ 1 billion bond repayment.

Last week, the Central Bank announced that it had also raised $ 400 million through a swap arrangement with the Reserve Bank of India (RBI) and was in talks to raise $ 1 billion more from swaps. They had also secured a $ 300 million loan from the State Bank of China, which would be increased to $ 1 billion.

"We are very keen to get this money into our reserves by the end of the month so that the reserve number published gives sufficient confidence to markets," Central Bank Governor Dr. Indrajit Coomaraswamy told a forum recently, outlining plans to raise over $ 5 billion by the end of March. Sri Lanka also has a further debt repayment of $ 500m in April. In the first quarter, Sri Lanka has to repay $ 2.6 billion in total, he said.

"We want to try and get all these transactions done in the first quarter of this year. The job of Central Banks is to prepare for the worst and we learnt a lesson on 26 October 2018. We don't know what political tsunami might come next, so we have to plan and get the money in as fast as possible."

State banks Bank of Ceylon, People's Bank, and National Savings Bank are raising lines of credit on behalf of the Government. National Savings Bank is negotiating a $ 750 million line of credit, while People's Bank is currently on a road show in the Middle East. The Central Bank expects Bank of Ceylon and People's Bank to jointly raise $ 200 million to $ 300 million.

The bulk of the $ 2 billion to be raised will come from a $ 1 billion or $ 1.5 billion bond if market rates are favourable, the Governor has said. The Central Bank is also considering the possibility of issuing Panda and Samurai bonds to make up the rest. Rating agencies downgraded Sri Lanka's sovereign rating in November 2018 during the political turmoil that was triggered after President Maithripala Sirisena sacked sitting Prime Minister Ranil Wickremesinghe and appointed Opposition Leader Mahinda Rajapaksa. Ratings agencies have estimated Sri Lanka will have to repay about $ 12 billion from 2019 to2022.

Rupee slips on importer, bank dollar demand; stocks down