Speaking at Daily FT-Colombo University MBA Alumni Association post-Budget forum, State Minister says Govt. business-friendly outlook conveyed
Calls on private sector to make most of opportunities given
Assures adherence to strong macro fundamentals
Defends import restrictions, measures to be rolled back incrementally
Says $ 1 b Port City investment forthcoming
Treasury Secy says economy needed Budget boost
Bulk of project funding from local sources, WB and ADB
---
By Uditha Jayasinghe
---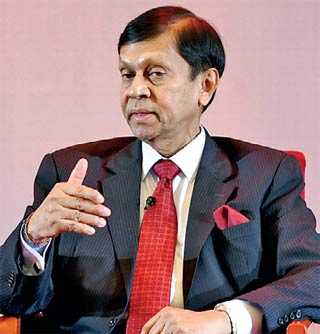 State Minister of Money, Capital Markets and Public Enterprise Reform Nivard Cabraal – Pic by Ruwan Walpola
---
Budget 2021 encompasses the business-friendly outlook of the Government and embeds stability, inclusivity and consistency in its myriad proposals, a top official said yesterday, insisting the key policy document anchored growth as the foundation of Sri Lanka's future development.

Speaking at the Daily FT-Colombo University MBA Alumni Association organised Budget 2021 Forum, State Minister of Money, Capital Markets and Public Enterprise Reform Nivard Cabraal emphasised that the bedrock of the document was stability, which had been assured through political stability as well as the pledge to have no significant tax changes for the next five years.

He also said the focus of the Government would remain on ensuring a stable rupee and interest rates to assist the private sector to expand in a turbulence free environment despite the challenges posed by COVID-19.

"Firstly we needed a stable Government and we needed to talk in one voice. Today we have consistent policies and we have long-term plans that have been conveyed. We are all singing from the same hymn book. We are aware that we need to have sound strong macro fundamentals, if not they will have impact on business. We will ensure there will be a stable rupee and stable interest rates."

Referring to a recent criticism by European Union (EU) Ambassadors on import restrictions imposed by the Government in April, Cabraal insisted that it was prudent move taken to ensure macroeconomic stability and debt repayment capacity. He also said Sri Lanka should not be judged for taking steps it deemed necessary and disclosed that the import restrictions will eventually be adjusted, possibly sometime next year.

"The extraordinary step we took in curtailing imports was because it was necessary, otherwise we may have seen a rupee that was Rs. 250 to the dollar. Each country has to cut their cloth according to their growth.

"When I met these EU Ambassadors I explained our situation and asked would you want us to default on our debt or do you want us to manage our imports? We took the responsible decision and people need to respect that. We are suffering because tourists are not coming from some of these countries but can we say send tourists?"

"The Trade Minister and I are assessing how import restrictions can be rolled back and we will see how that can be managed in the future. We want people to understand that this is a partnership of different stakeholders."

He also reiterated that inclusivity was a central goal of the Budget backing continued infrastructure development. The State Minister noted that providing access to services including drinking water was a deliverable that President Gotabaya Rajapaksa wanted to achieve during his term and the Budget mirrored some of those intentions.

"An investment of $ 1 b will be coming into the Port City and this will provide fresh impetus. On Thursday we saw the signing for investment of a tyre factory and even though it's only one investment it will take up 30% of the earmarked investment land. So with the policies that we have set in place we are confident we will attract investment and this will anchor growth. There is no other shortcut. If we have investment gradually coming in then there will be growth."
The private sector will be expected to make the most of the enabling environment created by the Budget, Cabraal said, as the Government is keen to see 500 companies listed by 2025 and greater involvement of banks in investment activities.

"The private sector has a lot of work, banks and other sectors will be given the opportunity to do that work. We want to see 500 companies listed and we want to see debt markets thriving again, we want new listings from BOI companies, startups and others. We have put our money where our mouth is and the Budget reflects our clear business friendly approach."

Treasury Secretary S.R. Attygalle responding to questions during the panel discussion focused on the potential of the Sri Lankan economy, which has been struggling with slow growth to expand swiftly in 2021.

He also defended tax changes in the Budget, particularly levying 0.25% of turnover on selected industries to establish a COVID-19 insurance fund. He pointed out that given the decision of the Government refrain from imposing taxes and reduce existing rates the insurance levy should not be considered a major burden.

"If you take the last five years you see a steep decline in growth and we think there is huge potential for growth because the economy is performing at below par. What we feel as the Government is that push needs to come and it has been given as a fiscal stimulus in this Budget."

He acknowledged that capital investment would have to be balanced with investment and stressed that many of the projects earmarked by the Government depended on local funds or low interest funds from the Asian Development Bank and World Bank.

"We will not embark on large projects other than the highways we have identified. The focus is mostly on SMEs and bringing them up is bringing up the economy."

Strategic Partner of the Forum was Standard Chartered Bank, Technical Partner PwC, Capital Markets Partner SC Securities Ltd., Creative Partner Phoenix Ogilvy and Electronic Media Partner Ada Derana 24.

Best of the Best: State Minister of Money and Capital Market and State Enterprise Reforms Ajith Nivard Cabraal (centre) addressing the Daily FT-Colombo University MBA Alumni 2021 Budget Forum on yesterday. From left: SC Securities Head of Research Charitha Gunasekere, 99X Technology CEO Mano Sekaram, Expolanka Holdings Group CEO Hanif Yusoof, Hemas Holdings Group CEO Kasturi Wilson, John Keells Holdings Chairman Krishan Balendra, Hayleys Co-Chairman Dhammika Perera, Moderator Daily FT Editor/CEO Nisthar Cassim, Treasury and Finance Ministry Secretary S.R. Attygalle, Access Engineering Chairman Sumal Perera, Standard Chartered Bank Sri Lanka CEO Bingumal Thewarathanthri, PricewaterhouseCoopers Director Charmaine Tillekeratne and University of Colombo MBA Alumni Association President Ranga Ratnayake – Pic by Ruwan Walpola