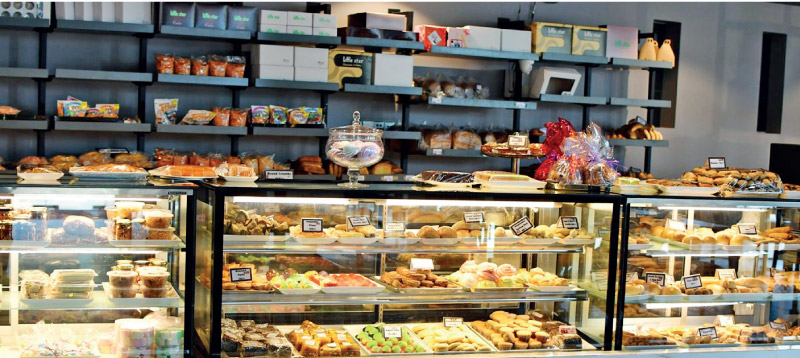 ---
Says price hike ranging between Rs. 5-50 per item was inevitable for survival
Restriction on imports, excessive taxes, high commodity prices, increased fuel, transportation costs, rupee depreciation, key reasons for price hike
Bakeries were already hit by increased price of flour, sugar, sudden import ban of palm oil, increased levies on fat, coconut oil
Bakery and short-eat items below Rs. 50 up by Rs. 5-10; 1 kg cake up by Rs. 50-100
ACBOA President clarifies price hike not determined by the association, but by individual bakery owners
---
By Charumini de Silva
---
Amidst rising costs of inputs, import restrictions and other business factors, bakeries have increased prices of all products except bread by a minimum of Rs. 5 to a maximum of Rs. 50.

"A price hike in bakery products was inevitable for the survival of the businesses," All Ceylon Bakery Owners' Association (ACBOA) President N.K. Jayawardena told the Daily FT.

He pointed out that restrictions on imports, excessive taxes, uncontrolled commodity prices, increased fuel and transportation costs and rupee depreciation were key reasons for the price hike.

"The Government suddenly decided to ban imports of palm oil and later imposed a special commodity levy on block fat and margarine. These moves triggered the problem for the bakery and confectionery industry. Subsequently, when the import of palm oil, fat, and margarine was reduced, local margarine manufacturing firms decided to increase their prices," he explained

Jayawardena described the increase of fuel prices last Saturday as adding more misery to bakeries.

"It is impossible for any industry to operate due to the prevailing business climate in the country. It is unfortunate that the general public will have to bear the entire burden."

According to him, a 20 litre can of palm oil which was Rs. 5,000 has now increased to Rs.13,000. Further, the import tax of fat has increased by Rs. 650 per kg, the import tax of margarine to Rs. 615 per kg, a litre of coconut oil has increased from Rs. 350 to Rs. 700, wheat flour prices have risen by Rs. 6 per kg and sugar by Rs. 5 per kg.

"As a result of the increases across the board, the prices of small bakery and short-eats items below Rs. 50 had gone up by Rs. 5-10, whilst 1 kg cakes have gone up by Rs. 50-100," Jayawardena added.

However, the ACBOA President clarified that this was not a price hike determined by the association, but rather one done individually by bakery owners countrywide.

He also said that flour mills have increased prices of six other flours in addition to those used for bakery products.

Although the price of ordinary bread sold remains unchanged at Rs. 60, the Daily FT learns that prices of certain packed sandwich bread have increased by Rs. 20.