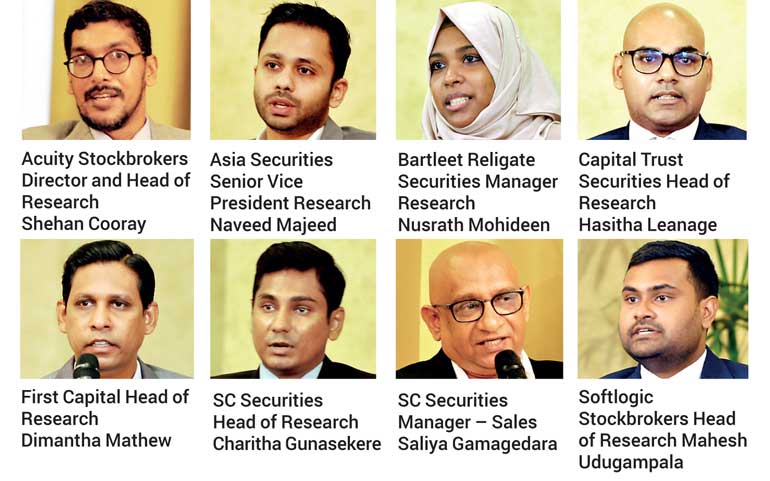 Seven stock broking firms come together in Daily FT-SC Securities live telecast Market Pulse to offer sound advice to investors amidst economic and political chaos in the country
There will be blood on the streets but make sure you buy (shares) before it runs dry. Do not look at how the market is behaving but focus on fundamentally sound stocks going at a bargain with a medium to long-term view. In a downturn, restructure your portfolio with accumulation and await for bullish divergence.

These were among the very persuasive and valid advice from progressive stock broking firms who converged yesterday for the first time under a joint initiative of the Daily FT and SC Securities co-branded 'Market Pulse' live television discussion moderated by Daily FT Editor Nisthar Cassim and SC Securities Assistant Manager Investment Banking and Marketing Dilusha Gamage.

Timed ahead of the reopening of the Colombo stock market after a two-week recess, seven broking firms – Acuity, Asia Securities, Bartleet Religare, Capital Trust, First Capital, SC Securities and Softlogic, spent an hour sharing their frank opinion on the challenges and future prospects of the market, which year to date up to yesterday had declined by over 30% and more sharply in recent weeks. As predicted by Heads of Research of these broking firms, the market did crash further yesterday and closed within minutes of opening.

Their prediction was coming days and weeks will be tumultuous for listed equities as the market and investors adjust their sentiments to tightest ever monetary policy earlier this month which resulted in a 7% hike in policy rates followed by declaration of temporary pre-emptive default of repayment of all external debt as of 12 April, effects of sudden free float of the currency, social unrest and political instability.




The list of negative factors are depressing and the market has reacted accordingly. However, all the brokers were convinced that there is future upside in the market and for the listed equities, albeit in the medium to long term since Sri Lanka is likely to rebound aided by reforms, international funding and other positives.

Capital Trust Securities Head of Research Hasitha Leanage said Market PE was at around 8.05 which is about 15% reduction from the 15 PE in January. "You need to select equities that provide protection in this challenging time. Ex: Dollar income shares, companies which trade at 3 to 5 PE," Hasitha said, adding: "Use the opportunity to enter in and collect fundamentally sound stocks."

Softlogic Stockbrokers Head of Research Mahesh Udugampala conceded that there has been a lot of uncertainty around the market but noted that with IMF reforms and other factors inflation could ease off in the latter part of the year.

"If you want a higher return and your risk appetite is higher, equity would be your option with a long-term view. There are certain sectors that would outperform these challenges such as export counters, real estate, tourism. These could be good investments. Look at the long term and select fundamentally sound sectors rather than looking at the index," he added.

SC Securities Head of Research Charitha Gunasekere said most of the fundamentally strong share prices have collapsed from 50 to 60%. "There are quite a number of shares trading at 3 to 4 price earnings ratios. Look at counters case by case and make investment calls rather than deciding based on how the market is behaving," he added.

First Capital Head of Research Dimantha Mathew said the current downturn in the stock market was envisaged from late last year though some of the recent developments weren't factored in.

"Going forward we have been recommending investors to start adding shares into the portfolio. However there is no hurry because the interest rates are significantly high. Things can get worse before it starts getting better," he said.

He also said investors should take advantage of the dip and buy into the market. Mathew's recommendations included risk averse assets, dollar income companies, depressed assets such as banking sector, life insurance companies which benefit with interest rate hike.

Bartleet Religate Securities Manager Research Nusrath Mhideen the market has become unpredictable given the volatile external situation. "Everyone is asking has the market has hit the rock bottom.

"It is hard to say with the drastic changes taking place in the country. Market may see a panic initially but at the same time I see a lot of opportunities in the market," she said.

"Even during turbulent times companies have come out strongly sorting different ways of operating in the past. This time is no different. Fundamentally sound stocks would be your choice. Do your own homework and take advantage of bargains," Nusrath opined.

Asia Securities Senior Vice President Research Naveed Majeed too said things will get much worse before turning to better. "Investors are looking at capital preservation and as a result we saw some of the money being pulled out of the market. Equity market has an immediate reaction to interest rate movements. So naturally fixed income being more attractive than earlier we can expect some of weight will be put into fixed income. Any investor should diversify their portfolio," he said.

"With the sort of decline we see in the equity market, it's a good entry point for equity," he said, adding: "If you are invested in fundamentally sound stocks it's advisable to hold. If you are leveraged it's better to deleverage."

Acuity Stockbrokers Director and Head of Research Shehan Cooray welcomed the recent steps taken in terms of monetary policy. "From the beginning of this year we were recommending fundamentally valued stock. All stocks cannot give inflation hedge. However, dollar earning stocks would be a good choice," he said. "If don't have additional funds to invest into the market, investors should look at restructuring their portfolios by moving out from speculating stock to fundamentally valued stock.

"Good opportunity for investors with long term view and holding power," added Cooray.

SC Securities Manager Sales Saliya Gamagedara drove home the importance of "sticking to basics". "Three basics would be to understand overbought and oversold situations and psychology behind it, follow stop loss rule, understand the divergence. Strategy of investors should be averaging down costs and accumulating," he said.

"Indications of bullish divergence have happened in many counters. Follow your accumulation strategy with a bullish divergence strategy, and then you will be rewarded. Blood is on the streets, seize the opportunity before it dries," Saliya added.
Pix by Lasantha Kumara