Cabinet nod to present 2023 Appropriation Bill in Parliament in mid-October
---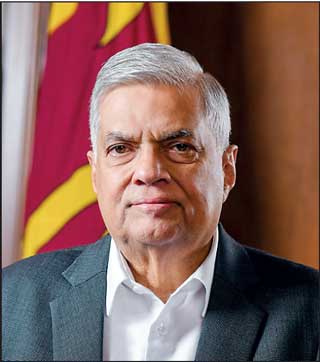 President and Finance Minister Ranil Wickremesinghe
---
The Cabinet of Ministers has approved to present the draft of the Appropriation Bill with enhanced expenditure for the financial year 2023 in Parliament.
As per the draft of the Appropriation Bill for 2023, the total expenditure estimated for 2023 is a staggering Rs. 7.8 trillion as against Rs. 6.1 trillion for 2022.

Recurrent Expenditure has been estimated at Rs. 4.6 trillion, while total Capital Expenditure at Rs. 3.24 trillion. The gross borrowing requirement is estimated at Rs. 4.43 trillion.

The proposal to this effect submitted by President Ranil Wickremesinghe in his capacity as Finance, Economic Stabilisation and National Policies Minister was approved by the Cabinet Ministers to submit the draft Appropriation Bill to the Parliament and thereafter to publish the bill in the Government Gazette. The publishing of the Appropriation Bill is the first stage of preparing the Budget for 2023.

In September the Government got the Appropriation Bill (Amendment) approved for 2022. According to the previously presented Appropriation Bill, an amount of Rs. 2,796.4 billion was estimated for the 2022 fiscal year from 1 January 2022 to 31 December 2022.

However, as per the amendment, for the year 2022, the amount allocated to bear the ministerial service expenses of the Government, the estimated amount has been increased to Rs. 3,275.8 billion and accordingly the expenditure required for the ministerial service activities has increased by Rs. 479.4 billion.

For the financial year 2022, the credit amount obtained from within or outside of Sri Lanka will be increased from Rs. 3,200 billion to Rs. 4,082 billion. Accordingly, subject to the approval of the parliament, the borrowing limit of the Government is increased by about Rs. 882 billion. The estimated expenditure of the Government's estimated cost or debt servicing cost authorised by law to be an expense to the Consolidated Fund has been given the space to be increased from Rs. 2,623 billion to Rs. 2,901.