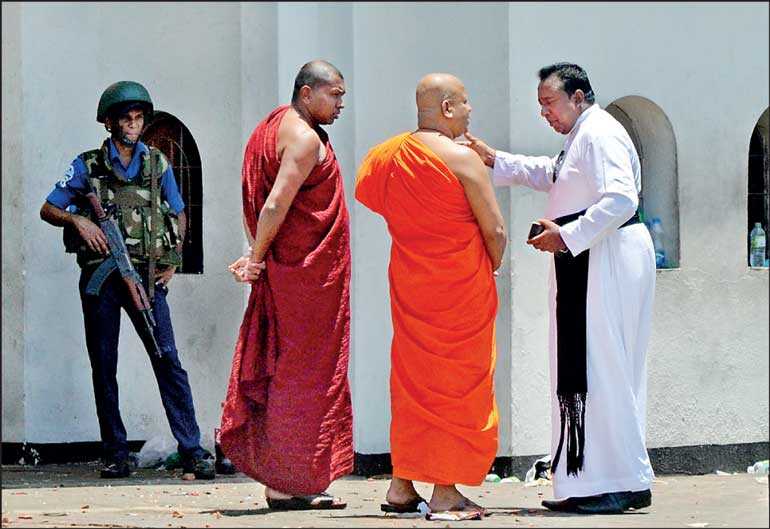 Two Buddhist monks in conversation with a Catholic priest outside

St. Anthony's Church in Kotahena yesterday – Pic by Krishan Ranasinghe
Govt. and Opposition trade blows over intelligence lapses
Govt. says gaps rectified, steps taken to beef up security and provide assistance
MR blames Govt. for failing to act on intelligence, says would not have happened under him
National Thowheed Jamath named as responsible for attacks
Rajitha says PM not invited for NSC briefings
Death toll rises to 290 with nearly 500 injured
26 people arrested, partial State of Emergency declared
President returns, presides over NSC, day of mourning declared
No May Day rallies, curfew re-imposed, social media ban continues
Explosives found in Pettah, second bomb explodes near Kochchikade Church but no injuries
By Uditha Jayasinghe, Charumini de Silva and Nuwan Senaratne

The Government and the Opposition yesterday traded accusations over intelligence failures following Easter Sunday's deadly attacks that left nearly 300 dead.

Government Spokesman Dr. Rajitha Senaratne acknowledged security lapses despite warnings from both international and local intelligence agencies. However, he insisted that the Government was doing all it could to enforce the law and increase security in the wake of eight bomb blasts that have left the nation in a state of shock and triggered outpourings of grief and solidarity worldwide.

He admitted a colossal lapse in defence intelligence units with multiple warnings issued by foreign intelligence agencies ignored or neglected leading to terror attacks that killed over 300 people and injured nearly 500 on Easter Sunday. "International intelligence agencies had alerted the Government about threats on possible suicide bombing by Islamic extremists on 4 April. We have found that there had been many lapses, weaknesses, negligence and lack of action in securing the targeted locations," Spokesman for the Government and Health Minister Rajitha Senaratne told journalists at a special media briefing held at Temple Trees.

Based on that information, the Minister pointed out that the first memo was issued on 9 April by Chief of National Intelligence Sisira Mendis to the Inspector General of Police (IGP) including all details of the terrorist group with the names.

"International intelligence agencies from India and the US had informed the Government. The Indian High Commission was a major target," Dr. Senaratne separately told Daily FT.

Despite alerting the IGP on the possible suicide attacks, Dr. Senaratne claimed that the Police had not taken any prevention measures to secure the mentioned targets which included Catholic and Christian churches, tourist destinations and VIPs comprising foreign envoys in Sri Lanka.

"On 11 April Deputy Inspector General (DIG) Priyalal Dassanayake had written again to all Directors of Ministerial Security Division, Judicial Security Division, Retired Presidents Security Division, Acting Directors of Diplomatic Security Division and Acting Directors of Retired Presidents Security Division to tighten the security of the above mentioned," he said.

However, Dr. Senaratne claimed at the media briefing that the letter by DIG Dassanayake had failed to inform the Prime Minister's Security Division and President's Security Division in this regard.

"We believe that the information was not shared with the President's Security Division because President Maithripala Sirisena is also the Defence Minister. However, failing to alert the Prime Minister's Security Division was a huge lapse on the part of State intelligence agencies," he added.

According to him, following the memo issued on 11 April, the Director of the Ministerial Security Division had taken the necessary measures to tighten the security of Ministers and there had been no shortfalls reported in this regard so far. "They took quick action to maximise security for the VIPs and Ministers, but what steps were taken to secure the targeted places and ensure national security?" he questioned.
Dr. Senaratne also stressed that neither Prime Minister Ranil Wickremesinghe nor State Defence Minister Ruwan Wijewardena had been summoned for any of the National Security Council (NSC) meetings held after the Constitutional Crisis on 26 October last year.

"Soon after the deadly attacks the Prime Minister called on the NSC at Temple Trees, but they refused to meet him, noting that they were awaiting orders from higher authority. Being a pragmatic leader, the Premier himself went to the Defence Ministry and was kept waiting for almost half hour until the NSC finished discussions with the 'higher authority' and chaired the session directing on the immediate actions to be taken to carry out thorough investigations and ensure safety," he said.

When asked if the Cabinet was aware of the President's visits overseas and if there an Acting Defence Minister had been appointed, Dr. Senaratne said they were unaware whether he was on a private holiday or on an official tour. However, he asserted that the President had not appointed the State Defence Minister or Prime Minister as Acting Defence Minister in his absence.

The Minister called on the Prime Minister, President and Cabinet of Ministers to unite at this national crisis to prevent such unfortunate incidents in future and to ensure the safety of Sri Lanka.

"Regardless of political differences, caste, race, religion, we must all get together to eradicate terrorism from Sri Lanka. The Prime Minister participated in an NCS meeting after six months. The Prime Minister, President and Cabinet must unite to face this situation," he added.

Meanwhile, Opposition Leader Mahinda Rajapaksa blasted the Government for failing to take heed of reports from intelligence agencies and accused top Government politicians of ignoring repeated warnings of threats to national security.

"This Government has not supported our intelligence units. They have been persecuted and discouraged. Some have even been sent to prison but they still did their duty. They have done their part even though they have had to face great difficulties under this Government," he said, adding that such a security lapse would not have been allowed if he had been in power.

Army Commander Lieutenant General Mahesh Senanayake also acknowledged to reporters that there had been a lapse in communication regarding important intelligence.

"It is clear there was some mistake when it comes to intelligence. I am not taking the responsibility but it seems that what we discussed was not practically carried out. I think all these missions will be integrated in the future. I think that is what the country needs now. As Army Commander I personally want a State of Emergency to be imposed, then we have the authority to work. There should be better coordination and information sharing between different departments," he said.

The fallout from Sunday's attacks continued yesterday, with the number of dead rising to 290 with over 400 injured and 26 people arrested as well as a partial State of Emergency being declared from midnight.

President Maithripala Sirisena, who flew back to Sri Lanka from Singapore in the early hours of Monday morning, chaired a Security Council meeting upon his return. During the meeting it was decided to declare a partial State of Emergency from midnight on Monday with military being given powers to detain and question people as well as for suspects to be held beyond 24 hours. These regulations were to be gazetted to assist law enforcement officials to conduct their investigations.

President Sirisena also declared Tuesday as a national day of mourning, according to a statement released by the President's Office.

Compensation of Rs. 1 million for families that lost loved ones in Sunday's attacks will also be paid by the Government along with Rs. 100,000 for funeral expenses. The Government will also provide Rs. 100,000-Rs.300, 000 to those injured in the blasts. The military will also rebuild the churches damaged in the attacks. Curfew was also imposed until 4 a.m. on Tuesday. The National Security Council also decided to cancel all May Day rallies.

President Maithripala Sirisena will also ask for foreign assistance to track international links to the Easter Sunday bombings, his office said.

"The intelligence reports (indicate) that foreign terrorist organisations are behind the local terrorists. Therefore, the President is to seek the assistance of foreign countries."

Sirisena has appointed a three-member committee headed by a retired Supreme Court judge to investigate the Easter Sunday bombings. Judge Vijith Malalgoda will chair the committee, assisted by former Inspector General of Police N.K. Illangakoon and P. Jayamanna, a retired senior public servant.

Meanwhile, a stock of 87 detonators was found at a bus stand in Bastion Mawatha in Pettah inside a garbage bag, according to Police. Later in the day a second bomb was found near the Kochchikade Church that was the scene of a bomb blast on Sunday and surroundings promptly evacuated. However, the bomb exploded before the Bomb Disposal Squad was able to defuse it. No injuries were reported in either incident.

Police also continued to respond to alerts and closed the Colombo-Negombo road from Mahabage junction to search a suspicious vehicle near the Nawaloka Grounds in Welisara but no explosives were found.

The Government also named a radicalised local organisation, the National Thowheed Jamath (NTJ), as being responsible for the deadly Easter Sunday attacks but said there would have been an international link given the sophistication of the attacks. No group has claimed responsibility for the attacks so far.

"We have found that NTJ was involved in the attacks. It is a local organisation, but we still don't know if they are linked to any international terror group," Dr. Senaratne said.

He said that all eight coordinated bomb explosions were conducted by suicide attackers and according to the information received so far they were all Sri Lankan nationals. The Minister also noted that some members of NTJ were among the arrested, while other members of the organisation had died in suicide attacks on Sunday.

Meanwhile, Highways and Road Development Minister Kabir Hashim claimed that some of the members linked to the NTJ and suspected to be responsible for the terror attacks on Sunday had earlier been arrested over the Wanathawilluwa explosives raid on 18 January but were later released.

"I have been informed that one or two persons that were arrested during Wanathawilluwa explosive haul were released by the Police because of political influence. There is speculation that one person that got released was involved in a suicide attack on Sunday," he added. However, Hashim said that he could only confirm this information within the next couple of days.

Police also identified the suicide bomber of the Shangri-La Hotel as Imzaan Seelavan. Presenting evidence before the Colombo Magistrate's Court on Tuesday, Police said that Seelavan's wife, his brother and two children had died in the explosion in Dematagoda on Sunday.

Seelavan, who was an owner of a factory in the Wellmapitiya area, had about 100 people in his employment, Police told courts. Nine of his employees had been arrested during a joint operation by the Colombo Crimes Division and Terrorist Investigation Department (TID). The nine suspects were remanded till 6 May. Court ordered Police to conduct an in-depth investigation and present the findings to Court. The magistrate also gave permission for Police to obtain phone records of the nine suspects.

The three Policemen who died in the Dematagoda blasts were posthumously awarded promotions.