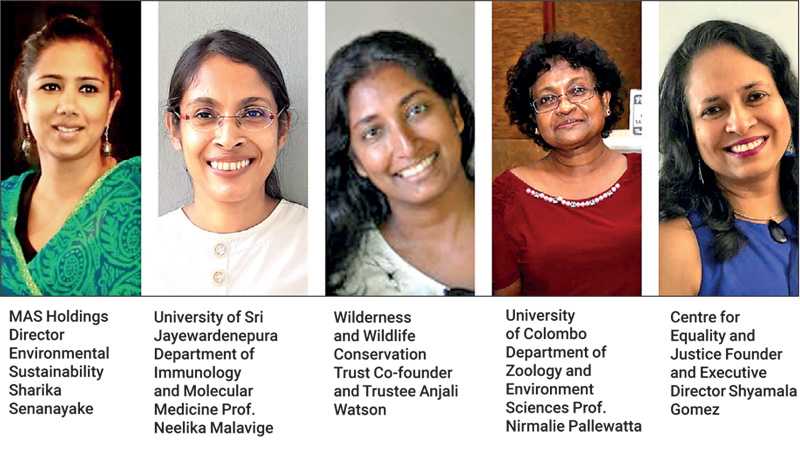 ---
In commemoration of the International Day for Women and Girls in Science, which falls on 11 February each year, Biodiversity Sri Lanka (BSL) hosted a panel discussion titled 'The Role of Women in the Future of Our Planet' on 23 February.

This webinar, sponsored by BSL's Patron Member, Citizens Development Business Finance PLC (CDB), celebrated successful women in diverse fields of science and was the inaugural event hosted by the BSL Academy – the newly established education arm of BSL.

The webinar, moderated by Centre for Equality and Justice Founder and Executive Director Shyamala Gomez, consisted of an all-female panel of experts who exchanged opinions, shared experiences, and answered critical questions about why women and girls continue to be excluded from participating fully in science and what must be done to make a change.

The panel included MAS Holdings Director Environmental Sustainability Sharika Senanayake, University of Sri Jayewardenepura Department of Immunology and Molecular Medicine Prof. Neelika Malavige, Wilderness and Wildlife Conservation Trust Co-founder and Trustee Anjali Watson and University of Colombo Department of Zoology and Environment Sciences Prof. Nirmalie Pallewatta.

The subject of women and girls in science is currently of utmost importance, considering that only 39% of researchers in Sri Lanka are women. Nationally, female scientists in natural sciences, medicine, and agricultural sciences remain at 40%, 46%, and 38% respectively and while these proportions may not be too bleak, much larger gender differences exist in engineering and technologies (only 27% female) and social sciences (only 30% female).

Long-standing biases and gender stereotypes are steering girls and women away from science-related fields, creating detrimental effects on fields such as environmental conservation and management, having negative impacts on the potentially influential role of women in creating and maintaining a greener planet for us all.

The overall increase of women in the field of science was recognised as a significant and encouraging step forward. The panellists agreed that while women undoubtedly had the capacity to be change-makers, low levels of confidence and socio-cultural gender biases remained key issues. It was discussed that although more women are choosing to study or work within the field, many are reluctant to apply for higher positions in technical roles or managerial roles and a lack of women at senior levels was common across the board.

Rethinking the way certain jobs are advertised and how field specifics are communicated, as well as the vitality of promoting female role models was recognised as ways of transforming attitudes and perceptions. Prof. Pallewatta believed that rural schools and communities must be targeted first as this is where the most significant impact can be made.

A key issue discussed was the challenge women face in maintaining work-life balance with the demands of long working hours, nightshifts etc. that are inevitably unavoidable. According to Anjali Watson, technology and development today give women the opportunity to create this balance more easily than in the past.

Prof. Malavige stated that for both men and women it is ultimately about getting the work done in a way that is most effective and convenient than being restricted by the technicalities of work times and locations. Corporate support such as the provision of childcare facilities was discussed as being a vital area for improvement in Sri Lanka.

Watson stressed on the importance for women to build diverse and dynamic skills that are often neglected from research, reporting, and administrative work to public speaking and interpersonal skills, to skills such as physical fitness, driving and navigation, that could give women an added advantage in fields such as ecology and conservation. The panellists highlighted that developing essential skills equally within both girls and boys from an early stage without gender biases will level the playing field.

The crux of the discussion was fittingly captured by Sharika Senanayake who spoke about the necessity of creativity and innovation in the field of science and that a balanced team with both competent men and women was necessary for progress and efficiency. "It is not that women need science" she said, "science needs women".