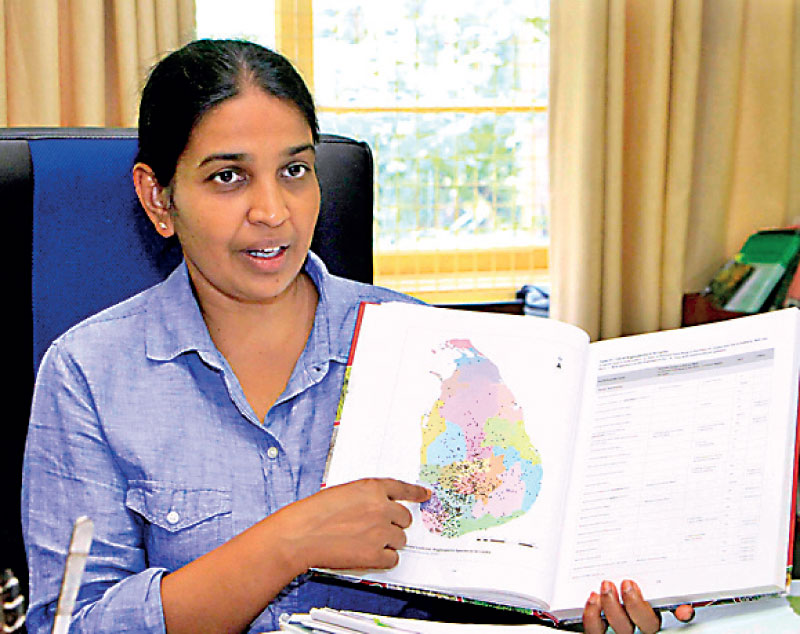 National Herbarium Deputy Director Subhani Ranasinghe
---
The National Herbarium located within the Botanic Gardens in Peradeniya takes pride of place and plays a crucial role in preserving the country's flora, identifying new species and collaborating internationally with experts in the field.

National Herbarium Deputy Director Subhani Ranasinghe said the Herbarium holds over 180,000 species of dried plant specimens with the oldest specimen dating as far back as 1850.

"This is the repository of floristic data. We are the official agency to identify and give names to all flora in the country. We also link up with botanic gardens in different countries and exchange data, digital images, etc. so as to assist in the identification of new species of plants," she said.

The staff of the Herbarium take the lead in the preparation of the National Red List of Flora which is the most updated and comprehensive source of information on available species, threatened plants and health of biodiversity in this country.

The last Red List was released in 2020 while the next one is due in 2030 as the list is released every 10 years.

"In the last red list, we found that nearly 50% of local flora came under the threatened species category. Since then we have discovered some of the flora listed as critically endangered can be removed from the list as some plants have been found in different areas of the country. One such plant was recorded after nearly 100 years," she said.

The Herbarium is also the holder of around 3,000 botanic illustrations done by Haramanis de Alwis, who worked as the draftsman at the Peradeniya Gardens starting from 1823 with his son and grandson following in his footsteps.

Their collective work of three generations of botanic illustration numbers over 5,000 of which around 3,000 are with the Herbarium.

"These are extremely detailed drawings of the country's flora and were done at a time when there was no photography. The artists had to closely study and observe each plant and flower they drew so that the drawings were precise," she added.