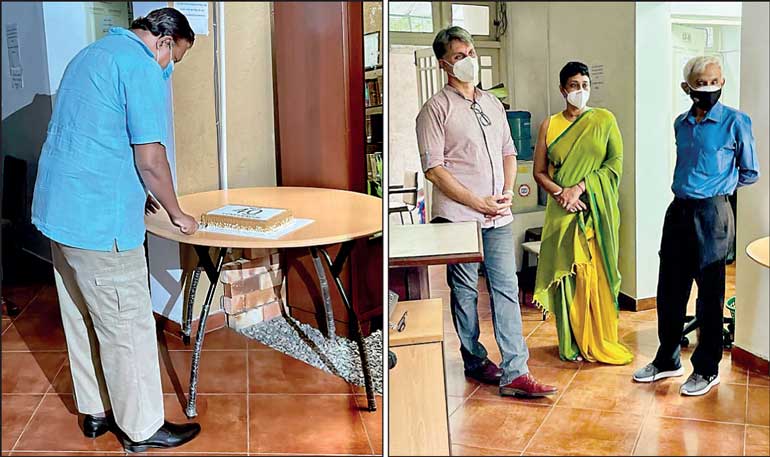 ---
Environmental Foundation (Guarantee) Ltd. (EFL) marked its 40th anniversary on 3 August 2021. The organisation has engaged in public interest litigation and conservation efforts since 1981 and has been a pioneer in addressing environmental issues through legal and scientific means to seek 'justice for nature'.

Founded on the philosophy that science and law go hand in hand the organisation's vision is to become the front runner in the protection of the environment, both reactive and proactive.

EFL has been able to adapt and change with time and plans to continue to carry out deep research and deep dive into the environmental conservation related issues around the island.

Speaking to mark this special occasion EFL Chairperson Dr. Eric Wikramanayake says thank you to everyone for their support and continued commitment to the organisation as they celebrate this significant milestone. "When EFL was incorporated in 1981 it filled a much-needed gap of combining the science and law in efforts to seek justice for nature. Since its inception, EFL has come a long way and today with the development drive in Sri Lanka, EFL's role in conservation efforts remains relevant."

"EFL has had its share of challenges over the course of years and it is a testament to all the members, chairpersons, directors and officers who have tirelessly worked to bring the organisation to this level that we are able to celebrate its 40th year," he added.

To celebrate the occasion EFL is organising a series of events and activities. They include a video series featuring interviews with founders and directors of EFL along with some eminent environmentalists in the country that will focus on environmental conservation and their connection to EFL and how they have worked with organisation.

Also, there will be the 40th anniversary celebrations, legacy publication, picturesque expedition of EFL's journey, its momentous history and its significant achievements. Last but not least there will be the art and photography competition which is organised with the objective to engage the youth as well as the mature audiences and to create a platform to express their views on the environment and its composite elements from an artistic viewpoint.

EFL Chief Executive Officer Shiromi Rajendra says she is honoured to be associated with an organisation so dedicated to the protection and preservation of the natural environments. "EFL boasts of a rich 40-year legacy of impactful actions, opportunities optimised, and challenges overcome through sheer will and tenacity of spirit. An organisation grows and ages, and there are ebbs and flows just like in human life. Currently, EFL is at an exciting juncture of moving towards the next growth phase and we are proud to be involved in paving the way to make EFL stronger and take its legacy forward," she said.