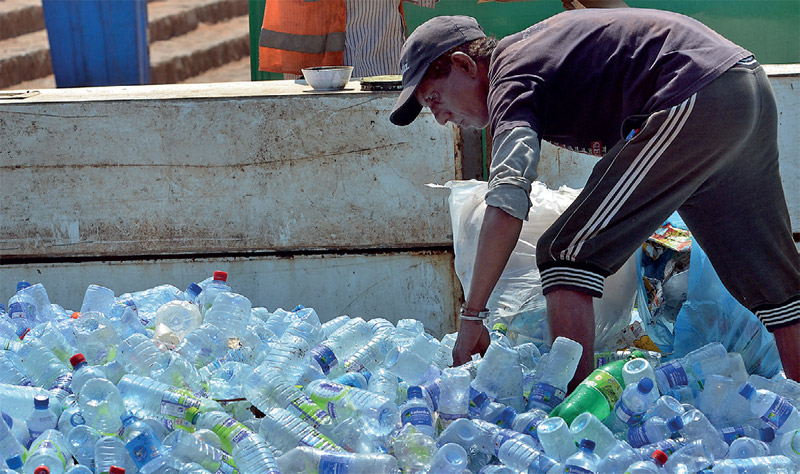 Today's session will feature an overall overview of the current plastic waste collection scenario in the country and demonstrate several case studies on current initiatives and future plans for plastic collection and recycling solutions – Pic by Shehan Gunasekara
---
Sessions themed 'Business for Biodiversity – Building Back Better' to be held virtually
First session on 'SOS (Save our Seas): Saving Oceans from Plastic'
Second session on 'Biodiversity Conservation and the Future of Business'
Third session a unique interactive Knowledge Hub on conservation work and achievements
---
Biodiversity Sri Lanka (BSL), the national private sector-led platform working on environmental and biodiversity conservation issues led by corporate sector, is celebrating its sixth year of operations.

Preceding its Annual General Meeting, three annual technical sessions are being organised virtually this year under the theme 'Business for Biodiversity – Building Back Better,' woven around knowledge packages, scheduled for 15, 16 and 17 September from 9 a.m. to 12:30 p.m.

Collaborating with its members and local and international technical partners, the sessions are being organised to deliver unique technical content, guaranteeing key takeaways and increased capacities relevant to diverse industry sectors and national priorities. The technical sessions will precede BSL's Annual General Meeting and associated CEO Forum, to be held later this month.

The first of the technical sessions to be held on 15 September, will be centred around the all-important theme – 'SOS (Save our Seas): Saving Oceans from Plastic'. The session will feature an overall overview of the current plastic waste collection scenario in the country and demonstrate several case studies on current initiatives and future plans for plastic collection and recycling solutions with the aim of facilitating further partnerships for fulfilment of Extended Producer Responsibility (EPR) obligations by plastic importers, manufacturers, and users.

A targeted panel discussion featuring industry experts, donor agencies and the Government of Sri Lanka will be moderated by Professor Ajith de Alwis, paying closer attention to the existing and emerging policy and legislative frameworks and how to capitalise and plan better on the efficient use of plastic waste recycling facilities, trending towards new investments. This session is supported by the Clean Cities Blue Ocean Program of the United States Agency for International Development (USAID).

The second technical session to be held on 16 September will revolve around the topic 'Biodiversity Conservation and the Future of Business'. As a tropical island, Sri Lanka is extremely vulnerable to climate change related impacts such as saltwater intrusion, leading to increased salinisation of low-lying areas, rising oceans and ambient temperatures, changes in rainfall patterns and increased frequency of storms and other natural hazards such as floods and landslides. These changes are already posing serious and significant effect on Sri Lanka's biodiversity, especially in the distribution of species, composition of ecological communities and biological processes such as flowering, fruiting, reproduction, and migration.

Further, Sri Lanka plans to expand its tourism industry which heavily depends on the country's natural capital, the loss of which will have major impacts on the country's tourism destinations. Wayamba University Senior Lecturer Prof. Sewwandi Jayakody, Hotels Association of Sri Lanka Past President Srilal Miththapala, UNDP BioFin National Project Co-ordinator Ramitha Wijetunga, and Dilmah Ceylon Tea Company CEO and Biodiversity Sri Lanka Chair Dilhan C. Fernando, will speak on salient topics around this theme. This particular session is sponsored by one of BSL's initiating partners Dilmah Conservation, the conservation arm of the Dilmah Ceylon Tea Company.

The third and final session, will present a unique interactive Knowledge Hub, on 17 September. This session will feature, highlight, and reflect on the conservation work and achievements of BSL's members, to benefit each other through the creation of know-how and awareness on scientific methods and approaches on ecosystem restoration, climate change adaptation, species conservation, sustainable consumption, and production, among others. This discourse will help to provide answers to some crucial and pressing conservation issues and how to deal with them. Taking the lead in this session will be BSL's Patron Member, the Commercial Bank of Ceylon.

Biodiversity Sri Lanka, initiated by the Ceylon Chamber of Commerce (CCC) together with the International Union for Conservation of Nature (IUCN) and Dilmah Conservation in August 2012 and formalised as a Not-for-profit Company Limited by Guarantee, under the Companies Act No. 07 of 2007 in October 2015 is the only national platform, entirely owned and driven by the private sector, established to promote strong engagement of the corporate sector in biodiversity and environmental conservation in Sri Lanka. The platform now boasts of over 90 private sector companies in its membership, together with the Associate Membership of UNDP, IWMI and GIZ.

During the past six years, BSL has been able to raise awareness and build capacity of hundreds of individuals representing the corporate sector of Sri Lanka, on numerous topics and subjects relating to biodiversity and environmental conservation. BSL's aim is to continue carrying out valuable and effective programs which deliver and exchange knowledge and technical expertise that is key to empowering individuals and professionals involved in the field of environmental conservation and sustainable development. One of BSL's key objectives is ensuring that a majority of Sri Lankan companies will eventually be on a sustainable ecological footing with vastly reduced negative impacts on our biodiversity.