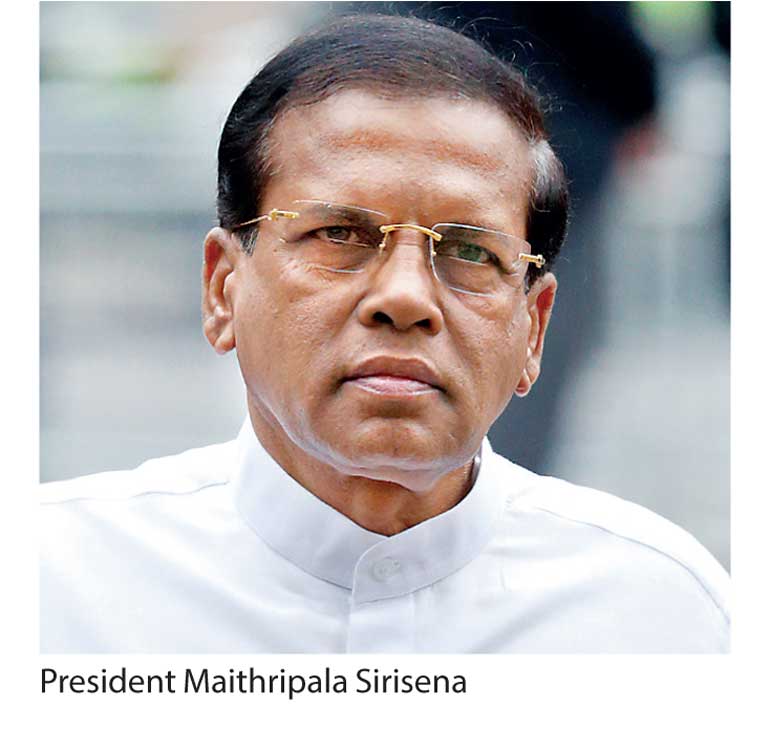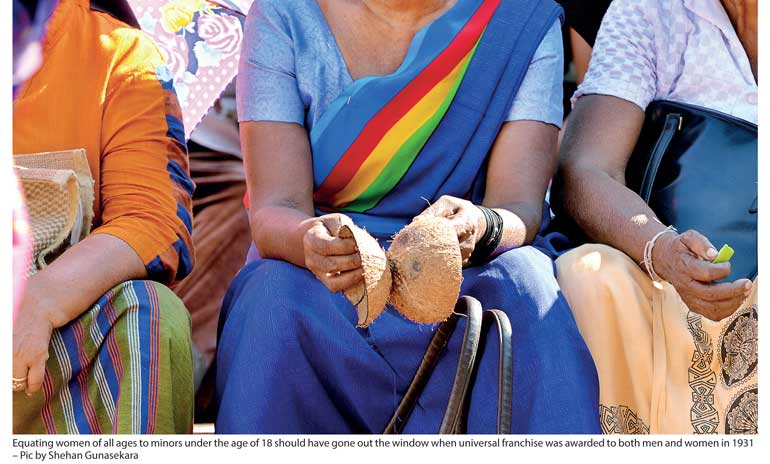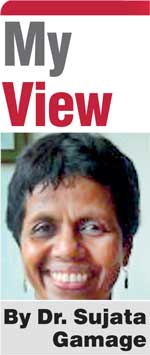 The other day the President of Sri Lanka went public expressing his intention to revoke a ministerial order revoking the notion that a woman of any age has no more maturity than a youth less than eighteen years old.

Excise Notification No. 666 promulgated in terms of the provisions of the Excise Ordnance published in Gazette notification dated 31 December 1979 contains among other things the following restrictions on the sale of liquor;

(a)Paragraph 5(v) – The restriction on "male persons under the age of eighteen years and female persons of any age" from working at places of production and marketing of liquor, provided that "Excise Commissioner in his discretion may permit the employment of female persons above the age of eighteen years, only as waitresses in licensed premises specially approved by him for that purpose".

(b)Paragraph 11(c) – "Persons to whom Liquor is not to be sold or given - No liquor shall be sold or given….. (c) to a woman within the premises of a tavern"…..

Minister Mangala Samaraweera by Excise Notification No. 02/2018 dated 10 January 2018 has among other things revised the Excise Notification No. 666. This is a part of a broader policy of removing antique laws that restrict individual freedoms or economic development.

These wide policy objectives notwithstanding, at a rally held in Agalawatte the President had declared: "I expressed my view on the recent revision to the regulations on alcohol control to Prime Minister and Finance Minister, and the positive outcomes of my intervention will soon be seen."

The President can have his views but then at a media briefing at SLFP headquarters, a member of the Cabinet of Ministers, Mahinda Samarasinghe has declared that at a meeting of the Cabinet of Ministers supposedly held on 16 January 2016 the Cabinet of Ministers has purportedly decided to revoke the recent gazette allowing women to purchase alcohol. The official report of from the Cabinet office decisions is not out yet, but unofficial sources have no reference to such a decision.

The President and Minister could be posturing in the context of a hotly-contested local elections environment. The right to buy booze is not the foremost problem for women either. Most women were probably not aware such a rule existed. What is worrisome is that these individuals in high places with power to make policy have no qualms about demeaning women in the process and the policy process in Sri Lanka is so paternalistic and capricious in general.
Paternalistic rules on women
Equating women of all ages to minors under the age of 18 should have gone out the window when universal franchise was awarded to both men and women in 1931. But some rules persist. For example, a Swarna Bhoomi deed can be passed on only to oldest son in the family. A woman who has been living with parents and taking care of them until death has no property rights.

We need to pursue these issues and correct injustices. Reading 'Is Land Just for Men? Critiquing Discriminatory Laws, Regulations and Administrative Practices relating to Land and Property Rights of Women in Sri Lanka,' a book edited by Kishali Pinto-Jayawardena and Jayantha de Almeida Guneratne, published by the Law & Society Trust, 2010 would be good place to start.

In another instance, it pains me when I note that the marriage certificates for my children have no place for a mother's name. It was probably an acceptable practice when men thought that women's wombs were like pots where you plant your seeds, literally and notionally. We now know better now, but institutional practices continue.

Another instance of personal note was the Local Government Elections Act of 2012 where in regard to women's representation, the lawmakers then had the temerity to say that "25% of the candidates MAY consist of women," making women like me who campaigned for representation cringe at the expression. The present Government has removed the offensive clause in their further amendment in 2017 and included a 25% mandate on women's representation.
Capriciousness in policymaking
The more disturbing aspect to the emotional or opportunistic response by the President to a sane policy is the general capriciousness in policymaking it demonstrates. The President's decrees as Minister of Environment banning asbestos, herbicides or pesticides and polythene are cases in point.

The ban on asbestos was sheepishly revoked in response to powerful customer's threats. The toxicology evidence and the economics argument countering the asbestos ban is another story. In the case of banning glyphosate herbicide again there were no scientific and economic arguments to back the decision.

Eminent scientists led by Dr. Parakrama Waidynatha is on record saying that policies were made without consulting even the Director General of Agriculture or the many crop research institutes in the country and based on misinformation and fuelled by emotion.

Same with the decision to the banning polythene shopping bags. Supermarkets now use low density polythene bags. What is the rationale? Is there less damage to the environment as a result? Have other economic disincentives have been fully explored?

In the past, according Parliament tradition, a White Paper would be produced and widely circulated prior to drafting a bill on any issue. The last white paper on any topic, according to my knowledge, was presented by Ranil Wickremesinghe in 1981 as a young Minister of Education. The paper was thrashed unjustly by the media and the opposition. Since then, having learnt their lesson, politicians including Wickremesinghe have stayed away from White Papers. Now it is policy by stealth or policy through capricious decision making in the Cabinet or on the floor of the Parliament. Stealth policymaking at least has some planning. More on that later, but capriciousness should be stopped.
RTIs demanding evidence
RTI is a tool we can use to stop capriciousness. My RTI request dated 10 December 2017 demanding "minutes of meetings, policy briefs and other evidence supporting the 2017/09/01 Order to prohibit the manufacture of any bag of high density polyethylene as a raw material for in country use" is still awaiting response from the Central Environment Authority.

By letter dated 15 December 2017, CEA informed me that they will respond within 14 days. Oh well, time to write another letter or make a phone call. No sir, the problem is not us women and booze. The problem is paternalistic and capricious policymaking.