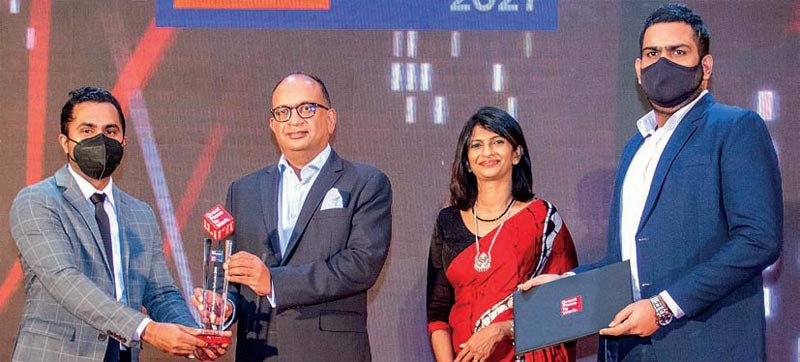 99x Technical Leads Bishan Meddegoda (far left) and Yohan Gunathilaka (far right) accepting the award for Best Workplace in Sri Lanka from Great Place to Work Institute – Sri Lanka Chief Executive Officer Kshanika Ratnayaka (second right) and Sunshine Holdings Group Managing Director Vish Govindasamy (second left)
---
In a period fraught with uncertainty, technology company 99x's ability to continue 'business as usual' and be a supportive life partner to its people saw it being listed as a Best Workplace in Sri Lanka for the ninth consecutive year. With its people-first approach, 99x continuously strives to improve employee satisfaction and engagement within its open workplace culture, now more than ever in the virtual setup of the 'New Normal'.
These efforts saw 99x sweep up two category awards at the recently concluded GPTW awards ceremony as well, winning gold for Best in Medium Scale Enterprise segment and an Excellence Award in Two-Way Communication.
"Over the years we've witnessed that satisfied and happy employees drive business results. We believe in first looking after our employees, who in turn will look after our customers. This was proven in 2020, when the pandemic struck and we continued business as usual, driven by our people-first workplace culture. To be ranked on these indexes by Great Place to Work is a brand-new achievement for us each year and we are extremely proud to be listed once again," stated 99x Founder and CEO Mano Sekaram. This year alone, the company has been listed as a Best Workplace in Asia for a fifth year, ranking at #17 out of 100 small and medium scale companies in Asia. It has also been named a Best IT/ITeS Workplace in Sri Lanka in 2021 for a second consecutive year, Best Workplace for Women in Sri Lanka for three years in a row and a Best Workplace for Millennials in Sri Lanka.
The Great Place to Work model considers workplace culture from two perspectives: The employee perspective – where the employees' perceptions of the workplace experience are averaged using the Trust Index survey, and the manager's perspective – where the quality of interactions intended through people practices established by the management is evaluated using the Culture Audit tool.
"We applaud 99x for seeking employees' feedback and the opportunity to recognise itself through this exclusive title," said Great Place to Work Sri Lanka CEO Kshanika Ratnayake. "These ratings measure its capacity to earn its own employees' trust and create a great workplace that is driven by meaningful values, effective leaders and the intent to maximise human potential – critical metrics that anyone considering working for or doing business with 99x should take into account as an indicator of a high-performance culture."
99x adopted a proactive stance from the early days of the pandemic, from rapidly shifting its people to a work from home model even before the country went into lockdown last year to keeping its primary focus on protecting all jobs at any cost. While maintaining productivity and customer satisfaction, the company has kept a close watch on employee wellbeing, initiating numerous activities and extending constant support to keep morale up and give its people and their families peace of mind during difficult times.
99x is a technology company co-creating well-engineered, innovative digital products for the Scandinavian market. ​Its expertise has been proven through a portfolio of over 150 impactful global digital products, developed together with leading Independent Software Vendors (ISVs). 99x employs over 350 technology and product specialists, who are high achievers, creative thinkers and team players.
​The company is one of Asia's Best Workplaces for 2021 and has been named a Best Workplace in Sri Lanka for nine consecutive years.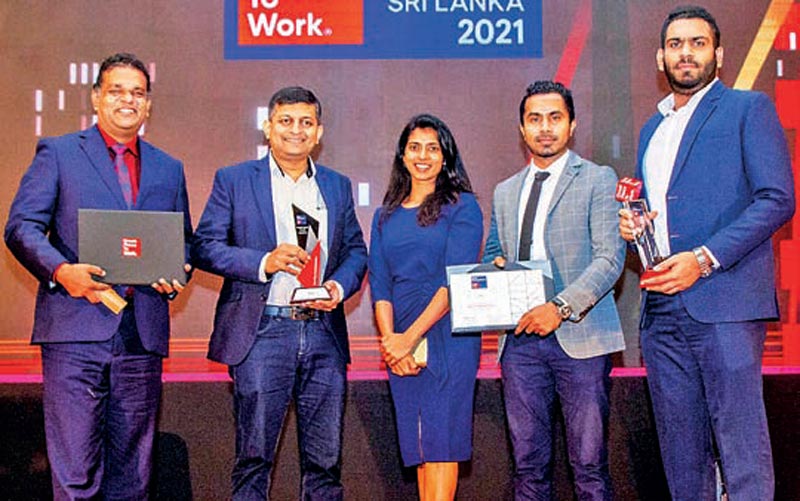 From left: 99x Chief People Officer Damitha Jayasinghe, 99x Chief Marketing and Corporate Affairs Officer Chrishan de Mel, 99x HR Specialist Namali Gurusingha and 99x Technical Leads Bishan Meddegoda and Yohan Gunathilaka at the Great Place to Work awards ceremony 2021
---