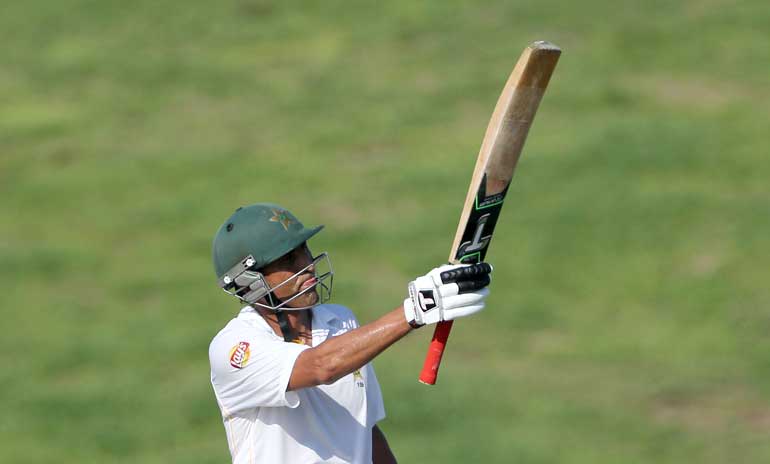 Younis Khan
Younis Khan wants to become the first Pakistan player to score 10,000 test runs after surpassing Javed Miandad's 22-year record mark during the first test with England in Abu Dhabi.

The 37-year-old has been a key part of Pakistan's batting lineup for over a decade but, as with 41-year-old captain Misbah-ul-Haq, questions about how long he has left in the game are starting to surface.

However, the brutal way he dispatched Moeen Ali over midwicket for a huge six to beat Miandad's 8,832-run milestone showed there was still life in the man.

"It was a good target for me when I was around 8,000 runs, to think if I push myself, I can reach Javed and pass him," Younis told reporters after the first day's play, where Pakistan closed on 286-4."So that was my mission which kept me alive. At the moment, my wish is to become the first (from) Pakistan to reach 10,000 runs for his country."

Younis, who was eventually out for 38 on Tuesday, claimed the record in his 102nd test match, 22 fewer than Miandad took to set the marker.

While the cheer as the ball sailed over the ropes might have been more subdued in the United Arab Emirates than if it had happened in Karachi or Rawalpindi – where Younis started his test career with a second-innings century against Sri Lanka – his achievements are no less striking.

"The number of records he has set in the recent past is something we as a nation can take great pride in," said Pakistan Cricket Board Chairman Shaharyar Khan, noting he was the only Pakistan batsman to score a century against all test-playing nations.

In total, he has 30 test hundreds as well as 29 half-centuries, with a best of 313 set in 2009 against Sri Lanka.