With a relatively small Sri Lankan golfing population of about 400 golfers as against approximately 50,000 in India, in 2014, four of them made a huge impact on the Indian Professional Circuit. UTE-CAT sponsored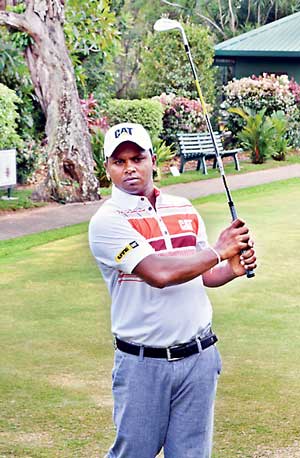 Lalith Kumara who made his debut in 2015 now joins this elite brand to become the fifth Sri Lankan to make the cut showing off his promise as a quality player in a highly competitive field of over 300 professional golfing members of the PGTI, which is the sole recognised body for professional golf in India.

UTE-CAT has taken another step in supporting the game by backing the promising Lalith Kumara in his first full year in the PGTI 2015. Sri Lankan Golf Professional B. G. Lalith Kumara signed up as the golfing 'Brand Ambassador' of UTE-CAT (United Tractor & Equipment) Sole Distributor in Sri Lanka of world famous Caterpillar Construction Equipment and Generators.

Playing on the Indian Professional Golf Circuit since January 2015 his 'Rookie' year Lalith successfully made the cut in the BILT Open 2015 played at the Classic Golf & Country Club from 6-9 October and finished in 57th place. The total prize money on offer was Indian rupees 100 Lacs (over SLRs. 20 million).

Lalith Kumara proved that it was not a 'flash in the pan' effort when he improved his game in the very next week at the Western India Golf Masters played at the Oxford Golf Resort, Pune, finishing in a respectable 31st place. He continues his journey this week on the Indian Professional Golf Tour as he faces the Starter in the Take Solutions India Masters 2015 where the total prize money on offer is $ 120,000.00 equivalent to Rs. 17 million.