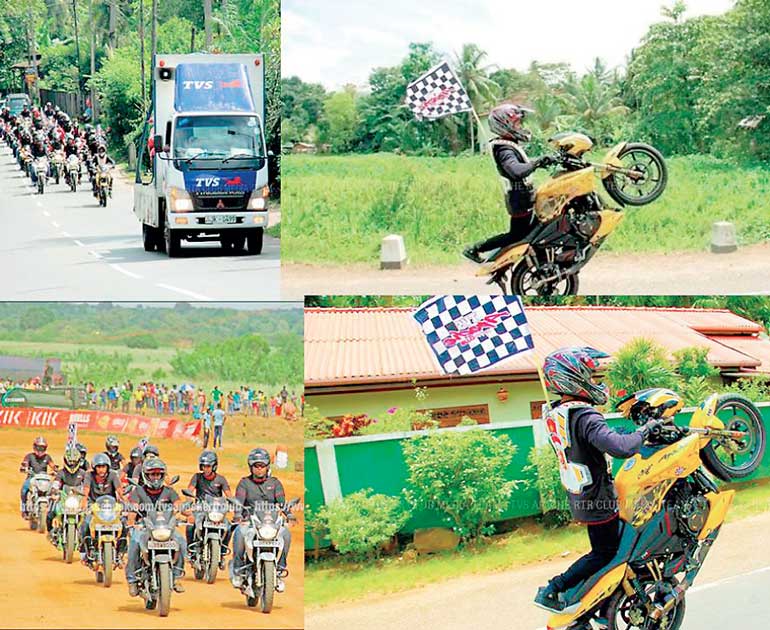 TVS Apache Riders unleashed a thrilling stunt performance at the recently concluded Walawa Supercross 2015. TVS Lanka is the nation's premier automotive company specialising in motorcycles, scooters, three-wheelers, spare parts and lubricants.

The TVS Apache Riders comprising five TVS Apache Clubs received a thumping welcome from the spectators as well as other participants. Performing death-defying stunts and amazing acrobatics they exhibited an incredible display of strength and showmanship thrilling the Supercross audience.

Commenting on the event Hashan Haputhanthri, Head of Marketing, TVSL said, "Today's success and crowd enthusiasm is greatly encouraging for the TVS Apache Riders. With our newly found and energetic stunt rider 'Chami Mura' the TVS Apache stunt team and riders are confident and motivated in showcasing their skills performing at strategic shows around the island."

The horsepower responsible the TVS Apache Riders awe-inspiring performance was the all-new TVS Apache RTR 180 motorcycle. Redrawn, redesigned and transformed into a faster, sharper and angrier Beast than ever before, the Apache RTR 180 motorcycle displays sporty, chiseled looks and unmatched performance-packed superior engine technology, making the bike a leader in terms of acceleration, performance, styling, ride handling and stability.

The precise racing ergonomics – hard angles, sculpted lines and lithe design – come together in fluid harmony, resulting in one maniacal beast of a racing machine. It is pure physics and unadulterated fury, bred together in an exquisitely lethal combination.

In a bid to encourage stunt enthusiasts countrywide the TVS Apache brand seeks to generate further interest in its Apache Clubs. "We have taken another invigorating leap to appoint Apache Clubs in the highest growing districts," noted Haputhanthri.

TVS Motor Company is the flagship of the century old, over $ 7.2 billion turnover TVS Group. The company is one of India's leading two wheeler manufacturers and among the top seven in the world. The company has three manufacturing plants in India and one in Indonesia. Present in over 57 countries worldwide, TVS Motor Company is renowned for innovation and currently owns over 600 patents.

TVS Motor Company has the unique distinction within the automotive Industry to be the only two wheeler manufacturer to receive the prestigious Deming Award in 2002. The TVS Motor Company is also the sole Indian Automobile Company to have won this Award.

The Deming Award is a global quality award that recognizes both corporates and individuals for their contributions to the field of Total Quality Management (TQM) and businesses that have successfully implemented TQM.