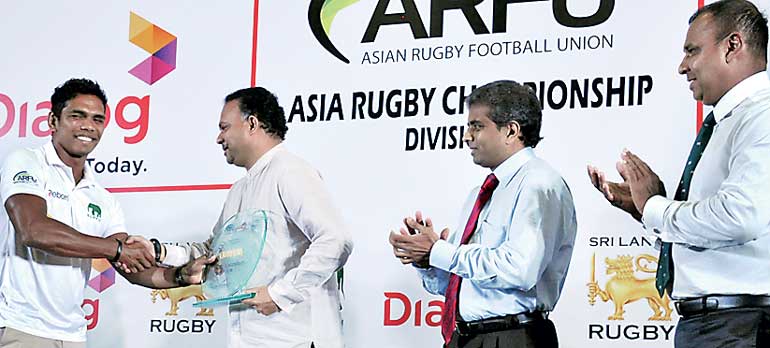 Following their triumphant return from an immensely successful campaign in the Philippines which saw them capture the ARFU Asian Rugby Championship Division 1 crown, Sri Lanka's national rugby team was felicitated by their official sponsors Dialog Axiata Plc, at the Sports Ministry Auditorium yesterday.

The Lankans calmly overwhelmed a stout-hearted challenge from the Philippines in the finals with an inspired 27-14 win at the Philippine Sports Stadium. This success came hot on t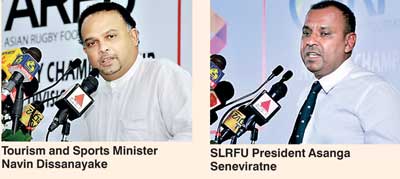 he heels of a mesmerising 35-15 trouncing of Kazakhstan.

The felicitation ceremony's Chief Guest, Sports Minister Navin Dissanayake, thanked Dialog Axiata for its unstinting support of Sri Lankan rugby and called for similar commitment in grassroots efforts to develop the game across the country's distant towns and hamlets.

Proceeding along a different tack, Sri Lanka Rugby Football Union (SLRFU) President Asanga Seneviratne urged for a more cutting-edge approach to rugby development in the country through the establishment of advanced training infrastructure.

"Sri Lanka still does not even have a scientific training centre so that is a deep need at the moment, along with accommodation and training facilities. Yet our boys have still done all this, coming into the top 40 in world rugby; that is a fabulous achievement for a country like Sri Lanka. We have done all this with the bare minimum," he said.



Seneviratne also revealed that Sri Lanka would not play Hong Kong in the third-place playoff due to the fact that "we have played Hong Kong many times and we don't need to play them and try to beat them again."

"At this moment what is important is that we give our boys exposure. We are planning to stage our first-ever European tour where we will play Portugal and Switzerland. If we do not get fixtures against those two we will look at Germany and Spain. All these countries are ranked between 20 and 30 [in the world] so if we can create an upset we can move up. If we don't, our boys use the exposure to become better," he said.

Seneviratne said that the Lankan unit would also journey to Hong Kong in April next year to train with New Zealand Super Rugby side the Waikato Chiefs for two weeks, during which they will play two matches.

Pix by Lasantha Kumara