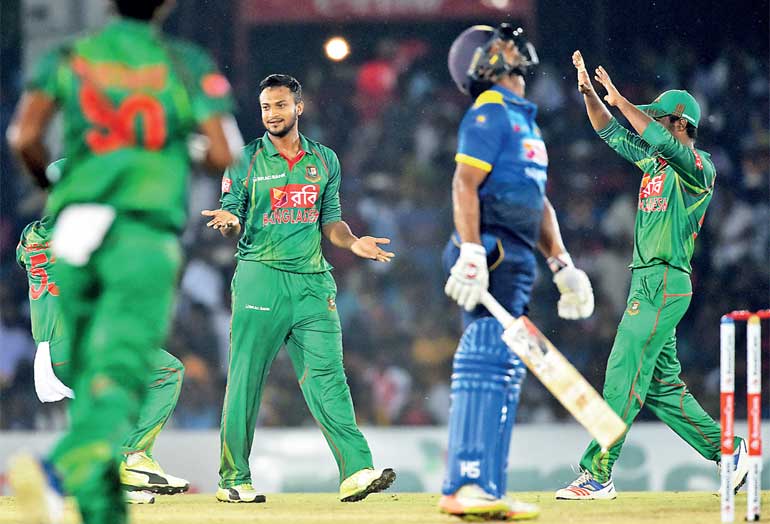 Bangladesh cricketer Shakib Al Hasan (2ndL) celebrates with teammates after he dismissed Sri Lankan cricketer Asela Gunaratne - AFP
Sri Lanka's loss to Bangladesh in Dambulla was their sixth straight ODI defeat
ESPNCricinfo: Sri Lanka can't continue to use being a team in "transition" as an excuse for poor performances said wicketkeeper Dinesh Chandimal following his team's 90-run defeat to Bangladesh.

Having conceded 324 for 5, including 109 runs in the last 10 overs, Sri Lanka never had the measure of the chase. Only Chandimal and Thisara Perera made half-centuries and only one partnership reached 50. This was also their sixth consecutive ODI loss after having been whitewashed in South Africa.

"You can't say every time that this is our transition period," Chandimal said. "We need to put our hands up and come up with results. All players should take responsibility for the opportunities they get. The players are all working hard, and hopefully we'll be able to see the results soon."

Chandimal also partially blamed Sri Lanka's poor fielding for the loss. Only one bonafide catch was dropped - by Lahiru Kumara late in the innings - but there were multiple misfields. Sri Lanka's woeful fielding standards have now been a source of long-standing concern.

"If we had restricted them for 280 we could have done something with the bat, but we were sloppy in the field," Chandimal said. "We do lot of fielding training, but there's pressure when we come into the game. There are several young players and there could be mistakes. But we are doing our training well and we are looking forward to sharpen up our fielding for the next two games."

Though Sri Lanka's decision to field first has received some criticism in the wake of the defeat, Chandimal revealed they had opted to chase expecting dew to form after sunset. Statistically, there has been a slight advantage to batting second at this venue - even counting Saturday's result, teams batting first at Dambulla have lost 26 ODIs to the 22 they have won.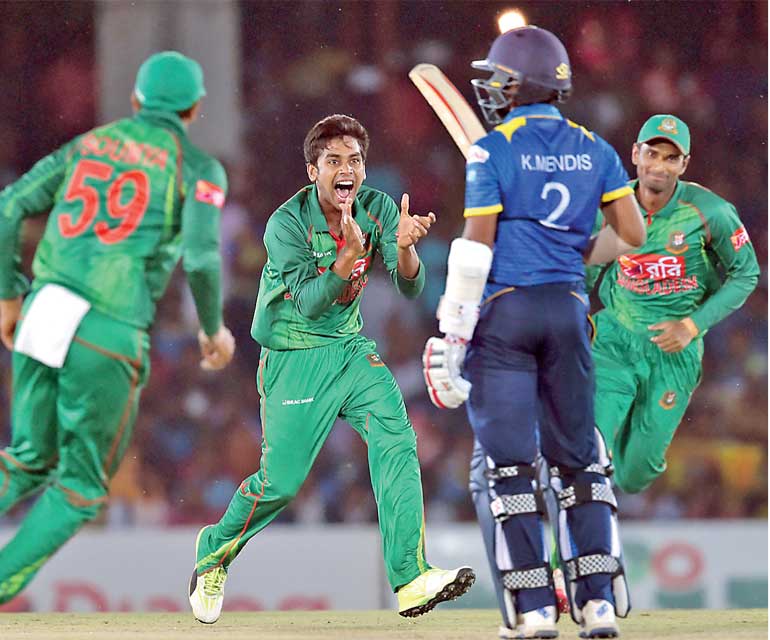 Bangladesh cricketer Mehedi Hasan (2ndL) celebrates with teammates after he dismissed Sri Lankan cricketer Kusal Mendis (2ndR) - AFP
"Had we batted first after winning the toss and things backfired, that could have been also wrong," Chandimal said. "It was a team decision to bat second. We saw that there was dew there over last two days and we wanted to make most of it. But the dew didn't come into play today, and things didn't go our way." This was only the second ODI Bangladesh have won against Sri Lanka on the island, and the fifth time they have beaten Sri Lanka overall in 38 completed matches. Chandimal said the loss was "painful" but suggested the opposition had improved as well.

"When I first came into the side, we beat them easily," Chandimal said. "But if you take the new Bangladesh, they have seven to eight players who have been playing international cricket, and since that group has been playing together, they have a lot of experience."