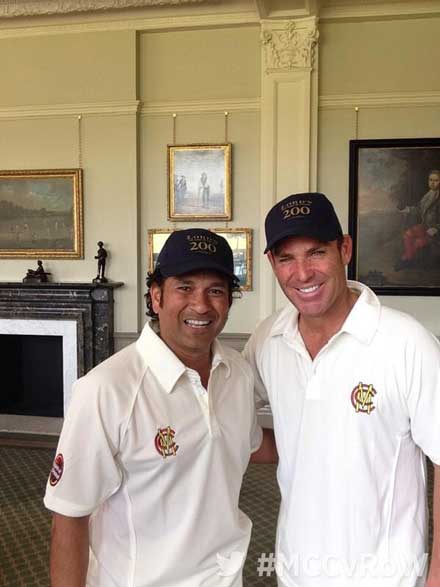 Sachin Tendulkar and Shane Warne at Lord's last year
Shane Warne and Sachin Tendulkar are understood to be planning a new Twenty20 event for retired international players that would involve two teams playing each other in a series of exhibition matches.

Although the plans are not concrete yet at least the organisers - whose identity has not yet been revealed - have a shortlist of 30 players in mind. It is understood that they have identified, among others, Brian Lara, Rahul Dravid, Jacques Kallis, Ricky Ponting, Anil Kumble, Brett Lee, Adam Gilchrist, Muttiah Muralitharan, Andrew Flintoff, Glenn McGrath and VVS Laxman.

The plan is understood to involve a series of matches around the world over a three-and-a-half-year period, with the USA to host the first series in September. The idea, it is learnt, is to take the matches to places where fans are starved of good quality cricket. The USA, Canada, Singapore, Hong Kong, UAE are some of the venues the organisers are exploring.

A report in the Australian newspaper said the proposed tournament - which it said would be called the Cricket All-Stars League - had offered contracts worth US$25,000 a match to ex-players to be involved in it.


The seeds for this venture are believed to have been sown last year during Lord's bicentenary celebrations, where Tendulkar and Warne led teams in a 50-over match. Subsequently both players and their management teams fanned around the cricketing globe to check if recently retired players were interested in playing in Twenty20 matches which would be competitive in nature.

The organisers are also keeping powerful boards like the BCCI, Cricket Australia and ECB in the loop and are expected to make a formal announcement in the next two months to make the plans public.


An ICC spokesman said it had not yet received any communication and had seen nothing other than what had been reported in the media. "There is a process in place with regard to activities such as this and the ICC will deal with it once it is approached," the spokesman added.


Lee's manager, Neil Maxwell, said Lee had received an offer and would be seeking permission from Cricket Australia to play.

"I can't see anything wrong with it," Maxwell told Fox Sports. "It's a group of retired blokes playing a game of cricket."

The reports come as the Indian Essel Group also considers launching a T20 league, although the two ventures are unrelated.

There has been no comment from Warne or Tendulkar, although in January, Warne tweeted that "Sachin & I have an exciting announcement soon".
Gayle joins Melbourne Renegades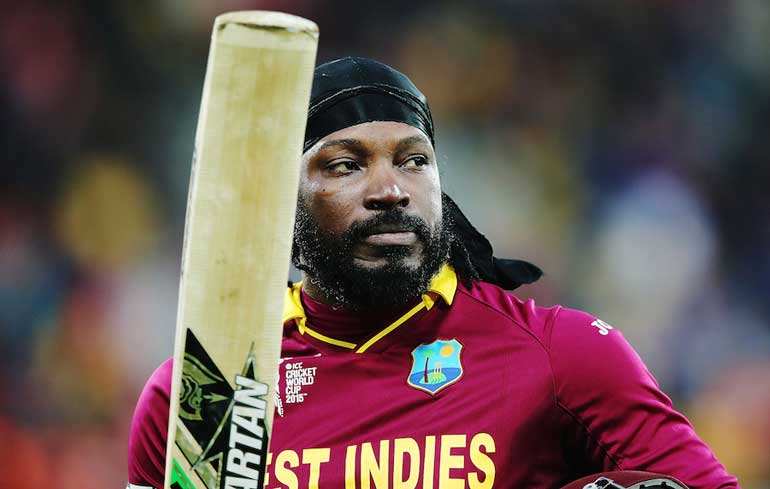 Chris Gayle has signed with the Melbourne Renegades for the 2015-16 Big Bash League. Gayle last played in the BBL during the 2012-13 season, when he turned out for the Sydney Thunder, and he had previously been part of Western Australia's side in the tournament's previous incarnation as the Big Bash.

"It's exciting to be coming to the Melbourne Renegades in the sporting capital of Australia," Gayle said. "I'm looking forward to seeing the fans, getting to know the city a little more and helping the team into the finals in BBL 05."

The Renegades' coach, David Saker, said Gayle's experience and ability at the top of the order would be a valuable asset for the team.

"Chris's abilities and experience goes without saying," Saker said. "He has tremendous skills both as an explosive T20 batsman but also as that genuine all-rounder you need. He's someone who can inspire the squad, particularly among our batsmen, with his confidence and his ability to back himself and flick the switch when the time is right."