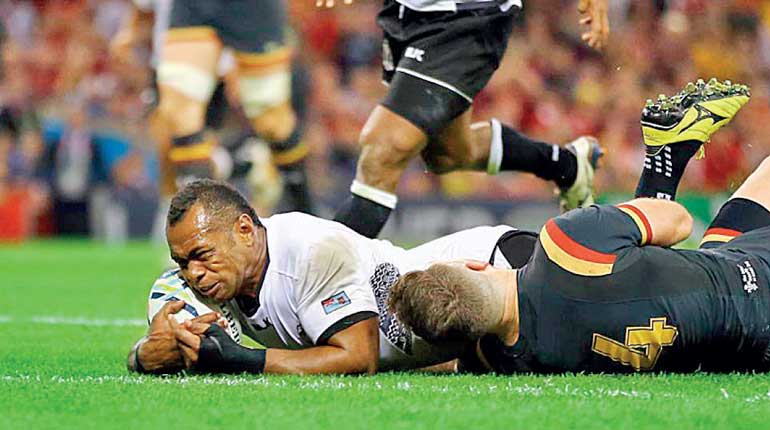 LONDON: With 20 matches played at Rugby World Cup 2015, a clear pattern is emerging compared to other Rugby World Cups this century - and it is good news for the world's lower-ranked rugby nations.

Two tier two teams have earned famous victories, the most notable of which was Japan's 34-32 defeat of South Africa (team pictured celebrating). Georgia registered their third World Cup success, defeating Tonga, and all the so-called smaller teams have collectively performed better than in the past two World Cups.

Average points per match at RWCs were on a downward trend between 2003 and 2011 as were the numbers of tries.

Rugby World Cup points scoring peaked in 2003 when a number of victories by large margins skewed the average higher than at previous RWCs. Since then, the number of points per match has gradually decreased with smaller margins between the teams, particularly when tier-one teams have played tier-two opposition.

The average winning score in pool matches in 2003 was 49-13. Points scored by the winning team, and the margin of victory, have reduced since then. Winners' points totals have dropped below an average of 40 for the first time since points for a try were increased from four to five in 1992.

The average score in the first 20 pool phase matches at RWC 2015 is 39-13, the lowest winning total since the professional era began in 1995. The average winning margin of 23 points is the lowest in the era of five points for a try.

Winning teams are scoring 10 points fewer per match than at RWC 2003 but losing teams are holding their levels of scoring, suggesting that improved defensive organisation among the underdogs is the prime difference. This improvement has not come at the cost of fewer points being scored offensively and therefore the average winning margin has also been reduced by 10 points, from 36 to 26.

Nowhere is this better illustrated than in the progress of Georgia. At RWC 2003, the Georgia team scored 46 points but conceded 200. Four years later, it was 50 and 111 and four years ago, in 2011, those numbers were 48 and 90. Each time there was an improvement in points conceded but those scored remained approximately the same. Their second-half capitulation against Argentina after inspirational captain Mamuka Gorgodze's sin-binning, and a pool-phase match against New Zealand on Friday will mean that this trend will end this time around but the improvement over the previous three World Cups was stark.

The number of tries being scored during World Cups in the professional era also peaked at RWC 2003 and has declined since. As with points, the figure for this year's World Cup is at its lowest since the last time England hosted the competition 24 years ago.

An average of 5.9 tries have been scored at the first 20 RWC 2015 matches, almost 1.7 down on the pool phase figure at the World Cup 12 years ago.

---
Wales withstand Fiji fightback in punishing 23-13 victory
LONDON, 1 Oct – Wales suffered a scare as they took one step nearer the quarter-finals thanks to two tries and a towering kicking performance from Dan Biggar edging them home 23-13 at the Millennium Stadium on Thursday.

Although Wales failed to secure the valuable bonus point they now top Pool A after tries from Gareth Davies and Scott Baldwin gave them a 17-3 half-time lead in an enthralling battle with the Pacific Islanders.

Fiji fought back in a relentless display of power and pace in the second half when Vereniki Goneva (pictured above) touched down from a sweeping move triggered by a fumble from Wales wing Alex Cuthbert. Ben Volavola finally found his shooting boots to secure the conversion despite missing three earlier penalties.

But just as as Fiji launched a comeback, Biggar showed his composure with a huge penalty from near the halfway line to give Wales a 20-13 lead in the 55th minute as the match hung in the balance.

However, Biggar eased the pressure with his third penalty of the match before going off suffering cramp. Job done but only just. Wales launched one last assault as Davies burrowed over the line but the TMO ruled that he failed to touch down. Wales can now sit back and watch England battle it out with Australia.