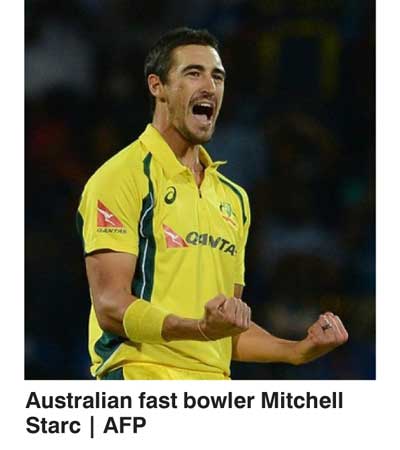 AFP: Australian fast bowler Mitchell Starc said he could see all the way to the bone as he detailed the gruesome extent of his leg lacerations after a freak training accident.

Starc, 26, suffered deep cuts after colliding with training equipment at a Sydney ground earlier this month and needed nearly three dozen stitches to his left leg.

The left-arm pace spearhead sustained two gashes just below his knee and was rushed to hospital where he underwent surgery to repair the damage.

"Unfortunately, it was a training accident that should have been avoided," Starc told Cricket Australia's official website on Thursday.

"We were high-catching out of a ball machine and unfortunately I slid into the metal plate at the base of the stumps. In the process it took some large chunks out of my leg and needed about 30-35 stitches."

Starc - who took the catch, despite the collision - was cleared of any structural knee damage and has been wearing a restrictive leg brace during his recovery.

"I looked down and there was a big hole in the pants, I saw a flap of skin and threw my hand on it to try and stop anything that was going on. I couldn't see much," he said of the mishap.

"I didn't quite know the extent until I was in the back of the ambulance when the doctor was explaining how bad it was. You could see a couple of bones. I didn't want to look at it at all.

They numbed it pretty quickly so I couldn't feel too much," he added.

Starc also said his recovery was on track and that he was working towards playing in Australia's first Test against South Africa in Perth, starting on 3 November.

His first target is to play for New South Wales in their opening Sheffield Shield match starting on 25 October at Brisbane's Gabba ground.

The left-armer was Australia's leading bowler on the recent tour of Sri Lanka, taking 24 wickets at 15.16 in the 3-0 Test series defeat.