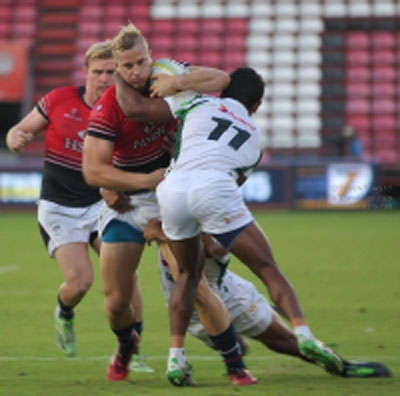 Sri Lanka will find tough opposision from Japan, Hong Kong and South Korea
By Shamseer Jaleel

The Sri Lanka sevens outfit led by Sudarshan Muthuthanthri will feature in their very last seven's tournament for the year when they lock horns in the Asian qualifiers for Rio Olympics 2016 at the famous Hong Stadium on 7 and 8 November.

The Sri Lankan development squad already featuring at the Singapore Cricket Club sevens in the three day event will see the majority of the players taking wing to Hong Kong from Singapore. Former skipper Fazil Marija, Lavanga Perera and Nigel Ratwatte are very likely to fly to Hong Kong direct and join the squad in Causeway Bay.

Sri Lankan skipper Muthuthanthri before departure to Singapore said: "We did really well in the Colombo leg of the Asian Sevens series. Though we ended overall number 4 we were so close to be number 2. Also in the history of our sevens rugby we came close in beating the Asian rugby giants Japan. In the end we went down by one converted try. With the lessons learnt we will put all effort to end in the Cup finals in Hong Kong."

Olympic Qualifier at the Hong Kong Stadium will feature 10 men's and six women's teams in a two-day tournament. At stake is the sport's biggest prize – a place at the Rio Olympics next year. This is not the first time the sport has featured at the Olympics. The 15-a-side game was a men's sport at four previous games, in 1900, 1908, 1920 and 1924. There are 12 teams in both the men's and women's events at Rio.

These teams will compete for Gold, Silver and Bronze. Qualification for the Games began during the HSBC Sevens World Series 201415, with the top four teams in both the men's and the women's tournaments guaranteed a berth in Rio. Fiji, South Africa, New Zealand and England took their places in the men's while New Zealand, Canada, Australia and England secure their berth in the women's segment for Rio.