Reuters: Sheikh Salman Bin Ebrahim Al Khalifa could revisit the bidding process for the 2018 and 2022 World Cups if he wins next month's FIFA presidential election and previous 'wrongful conduct' has been proven.

World soccer's governing body is facing criminal investigations in Switzerland and the United States, where 41 soccer officials and sports entities have been indicted on corruption charges.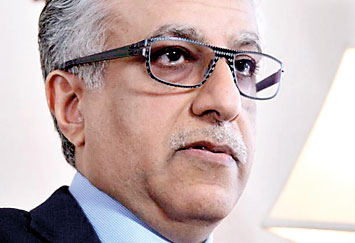 Switzerland's prosecutor is also investigating FIFA's award of the 2018 and 2022 World Cups to Russia and Qatar, a small, wealthy desert country with no real soccer tradition.

Asked by fans in a survey conducted on social media by campaign group #NewFIFANow of the five presidential candidates, the Sheikh declined to answer if he would vote again for Russia and Qatar if the bidding process was hypothetically re-run.

However, the Asian Football Confederation president did say 'if serious wrongful conduct is proven by a court of law we would of course revisit the (hosting) issue'.

Frenchman Jerome Champagne, one of the Bahraini's election rivals, said he would vote again for Russia to stage the finals in 2018 and award the 2022 tournament to the US.

The other presidential candidates, Jordanian FA president Prince Ali Bin Al Hussein, UEFA secretary general Gianni Infantino and South African businessman Tokyo Sexwale, declined to respond to the survey.

Prince Ali, Champagne, Infantino and Sexwale are due to present their plans for the FIFA role at a 27 January forum convened jointly by the European Parliament Sports Intergroup and #NewFIFANow in Brussels.

On Tuesday, FIFA ethics investigators said they planned an appeal that could extend eight-year bans on outgoing President Sepp Blatter and UEFA chief Michel Platini, raising the possibility of lifelong exclusion.

Blatter and Platini were banned from soccer last month for ethics violations, leaving the global game leaderless as it seeks to dig itself out from beneath a slew of corruption cases.

Both have denied wrongdoing.

Earlier on Wednesday, FIFA fired secretary general Jerome Valcke amid alleged corruption involving World Cup ticket sales.

Valcke was once one of the most powerful men in the organisation and responsible for ensuring preparations for the last two World Cups, in South Africa and Brazil, were completed in time.