Madura Amarasinghe and Chanaka Perera, representing Revognah Leisure, had the honour of walking out as winners of the Shakspeare Shield Golf Tournament 2017 played at the Royal Colombo Golf Course (RCGC) in Colombo on 2 July, sponsored by Carson Cumberbatch PLC.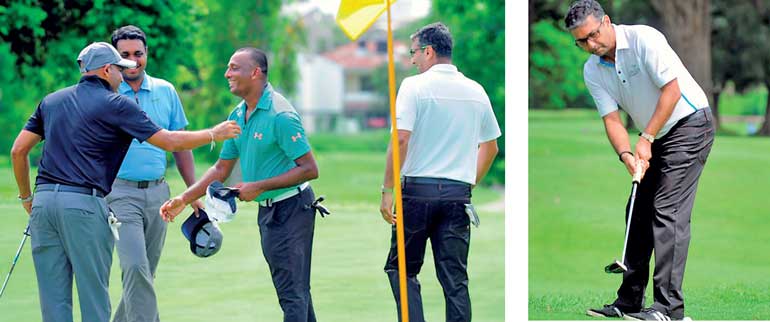 Amarasinghe and Perera were clear winners ahead of Brandix pair Harsha Abeywickrama and Suhayb Sangani, who had to be contented as overall runners-up for yet another year. The overall winners competed their feat with 37 points to come on top against Abeywickrama and Sangani, who were declared runners-up on 34 with a B/B 9.

Finishing at third were Shafraz Zuhar and A. Iddamalgoda of HSBC with 34 points while experienced pair H.K. Chang and Niloo Jayathilake representing Softlogic Holdings finished off at fourth with 33 on board. Softlogic Holdings had a strong representation as Dihan D. Dedigama and Dr. Janaka Gallangoda, one half of last year's winners, was at fifth with 32 points on board. Sumal and Shamal Perera of Access Group had 31 points overall to become sixth in the winners' list while with the same amount of points Arjun Fernando and Thimal Perera of DFCC Bank completed at seventh. Four pairs completed with 29 points each, and were placed from eighth to 11th respectively. They were Milinda Ratnayake and Navin de Silva of SriLankan Airlines, Druvi Sirisena and Somanath Fernando of John Keells Holdings, Gerard Fernando and Andy Anderson of Senok Air Cargo and Gerard Amerasinghe and D. Amerasinghe of Amaraa Hotel. The annual Shakspeare Shield Golf Championship 2017, sponsored by Carson Cumberbatch PLC, was played for the 106th time, earning the record as being the oldest corporate competition registered on the Board of RCGC.

The Shakspeare Shield is an annual Board event, being the only tournament open to members and teams of registered companies, the diplomatic community, government departments, armed forces, the police and service organisations.



The format of the tournament is structured to make it a one-day stableford event, thereby making it more exciting and narrowing the team's margin for error. Five categories were included in the tournament – team scoring maximum birdies, team scoring best gross score on par five holes, team scoring best gross score on front nine, team scoring best gross score on back nine and team scoring best gross score on six hidden holes.

The Shakspeare Shield Golf Championship is named after W. Shakspeare, a former Chairman of Carson Cumberbatch, who was elected to the Committee in 1908. Shakspeare initiated the first Foursomes Competition exclusively for private companies, banks and state institutions. The tournament was initiated in his honour in 1911 and has been an annual event, since then. Carson Cumberbatch continues its commitment towards golf and upholding the former Chairman's tradition of promoting inter-corporate goodwill, through sports.