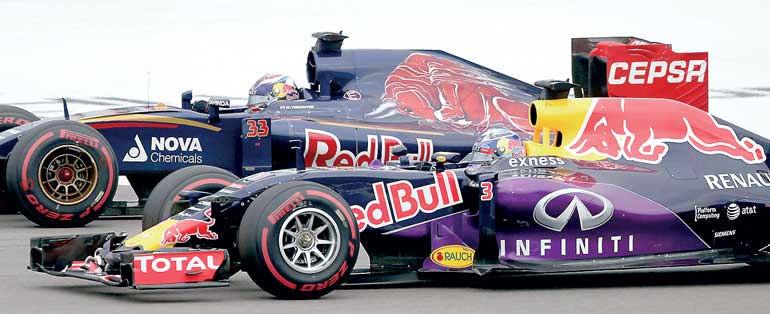 Red Bull's Daniel Ricciardo and Toro Rosso's Max Verstappen during the Formula One - F1 - Russian Grand Prix 2015 in Sochi, Russia - Action Images
Adrian Newey has accused Red Bull's rivals of being afraid to supply them with engines for 2016 and warned there was a real risk of the four times world champions walking away from Formula One.

"We're possibly going to be forced out of Formula One -- Mercedes and Ferrari have refused to supply us out of fear," Newey, the sport's most successful designer, told Reuters in Abu Dhabi on Monday.

The Briton, whose cars have won 10 constructors' titles, also criticised the governing International Automobile Federation (FIA) for allowing Ferrari and Mercedes to establish a de facto duopoly.

Red Bull, using Newey-designed cars, won four successive constructor and driver titles with Sebastian Vettel and Renault engines in 2010-13.

Renault have struggled to be competitive in the new V6 turbo hybrid era that came in last year, however, while Mercedes have been dominant and clinched a second straight constructors' crown in Russia on Sunday. Red Bull are currently fourth.

"Unfortunately, our relationship with Renault is pretty terminal – there's been too much of a marriage breakdown, so we have no engine," said Newey, who was in Abu Dhabi as head judge for the Nissan PlayStation GT Academy.

"Improvement is needed, but there has been no clear direction on how to achieve that," he said, adding Renault had rebuffed Red Bull's attempts to help improve the engine and also bring in outside expert help.

"Red Bull should not be put in a position where they're only there to make up the numbers."


Engine predicament

Red Bull's engine predicament has become the talk of the Formula One paddock, with the energy drink company owning two of the 10 teams but potentially having no power units after this season.

While sister team Toro Rosso are confident they can do a deal with Ferrari to run 2015 engines next year, if the regulations allow them to, Red Bull appear to be far from any agreement despite the sport's commercial supremo Bernie Ecclestone's assurances that the supply was 'sorted'.

Mercedes have ruled out a deal while Ferrari have indicated they would struggle to supply Red Bull with the same engines as their works team.

"You can understand the position with both Ferrari and Mercedes. If they happen to give Red Bull the same sort of engine that they have, they will show up the people that are supplying the engines," Ecclestone told the BBC at the weekend.

"I don't want them to stop. I honestly think any of the engine suppliers would be OK for them."

Newey said Red Bull would not be able to compete next year unless the situation was resolved quickly, with 700 jobs at stake at the Milton Keynes factory.

He said a decision was needed "well before" year-end "because design and manufacturing lead times are such that you need to know what you're putting in" the car.


Broken promises

The Briton, who has also designed winning cars for Williams and McLaren over the years, said Mercedes and Ferrari had reneged on promises to provide Red Bull with engines because "they became concerned we would beat them with their own engine".

McLaren could also veto Red Bull using the much-maligned Honda engine, he added.

Newey said Mercedes, who are already committed to four teams including their own, were able to control Formula One with Ferrari because of the FIA's refusal to step in.

"Within the regulations, the engines can be balanced somewhat so that there's less of a performance disparity then there is at the moment, but the FIA has been unwilling to do this," he said.

"We need to get back to the position where all teams have access to an engine which is there or thereabouts – ifit's a couple of percent behind then okay, but when it's 10 percent behind it's too big a gap," added Newey.

"As an engineer, I'd liked to see more flexibility in the chassis regulations so that teams can find benefit through ingenuity and creativity."
---
I never sprayed Putin, says Hamilton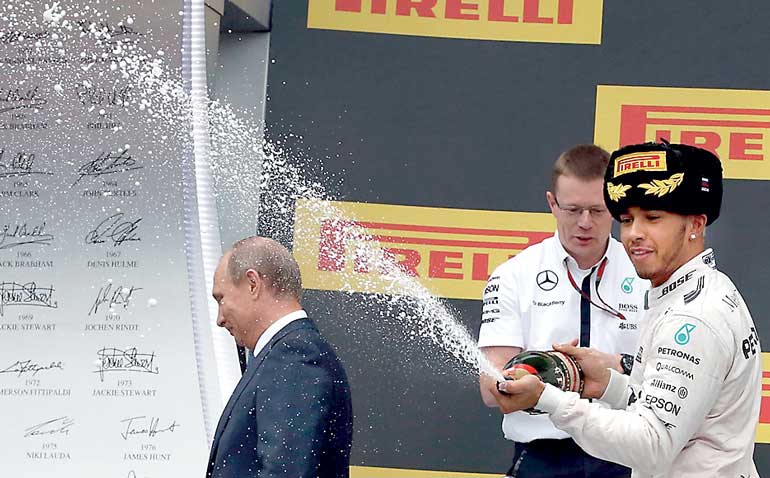 Russian President Vladimir Putin (L) leaves the winners' podium as Mercedes Formula One driver Lewis Hamilton of Britain (R) sprays champagne in celebration after winning the Russian F1 Grand Prix in Sochi, Russia, October 11, 2015 - REUTERS
REUTERS: Formula One world champion Lewis Hamilton has dismissed as wide of the mark reports that he sprayed Russian President Vladimir Putin with the winner's champagne after Sunday's grand prix in Sochi.

"I actually didn't. I didn't actually spray him. I think there's a weird picture but I didn't spray him. I definitely don't want anything (to happen)," the Mercedes driver told Sky Sports television on Monday with a smile.

Hamilton, who flew back home to Britain to join the team's celebrations after they won their second successive constructors' championship in Russia, has got into trouble previously for his champagne-spraying antics on the podium.

He was criticised and accused of sexist bullying in April for aiming a spray of champagne directly in the face of a Chinese Grand Prix hostess in Shanghai.

That incident, highlighted in photographs that showed the woman flinching, triggered condemnation in Britain and Germany as well as on Chinese social media but the hostess herself played it down.

Putin presented Hamilton with the winner's trophy on Sunday, with the Briton starting the traditional champagne spraying ritual before the president had left the podium.

Photographs appeared to show dark flecks of champagne foam on the back of Putin's jacket as he departed.

Some media reports subsequently suggested Hamilton, who is now on the brink of a third drivers' title, had 'soaked' the Russian leader, leading to jokes on social media about what punishment the driver might suffer.