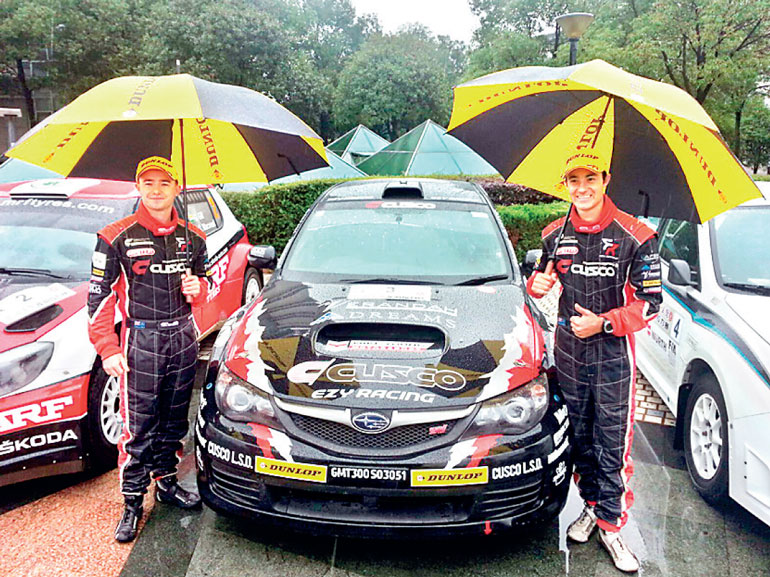 Mike Young and co-driver Malcolm Read pose in front of their Subaru at yesterday's Rally Show
By Malik Gunatilleke in Longyou, China

The Asia-Pacific Rally Championship's (APRC) 2015 Chinese leg begins today as the competing drivers will battle it out for championship points though most of the titles are now foregone conclusions.

Sweden's Pontus Tidemand has built an unassailable lead at the top of the standings with MRF's Skodas dominating the APRC circuit this season. Among the remaining honours up for grabs is the Asia Cup for which EZY Racing and Cusco's team is still in the running for.

Young Kiwi driver Mike Young expressed his excitement on the eve of the China rally as he sets his sights on the Asia Cup after all but ensuring victory in the Production Cup.

"The main focus is on the Asia Cup now. We need to finish here in the points just to look forward to India, which is the next race. We've already won the Production Cup but it'll be nice to seal it here; it means we've done a good job all year," he said.

Young remains second in the Asia Cup behind Japanese driver Hitoshi Takayama who has not been nominated for the final rally in India which means that Young will not be under too much pressure to finish ahead of Takayama in China.

However, despite having to take fewer risks, he stated that he will not err towards complacency on a track that could punish the smallest mistake.

Following yesterday's Rally Show and opening ceremony, the drivers took their cars through a special stage where Young clocked in at third place. Despite the wet conditions, Young was not too concerned about the showers as long as it held up throughout the rally, making the tyre choice a straightforward one.

However, Young rates the China rally as one of the toughest on the circuit as the unforgiving track demands precision and attention to detail. "There's plenty to hit on the side of the road. You have to be nice and tidy to do really well here so it's definitely one of the hardest."

Young stated at the official Rally China press conference on Thursday that he was satisfied with the progress the team had made in the APRC this year. At just 22 years of age, Young still feels like he's going through a learning process after switching to four-wheel drive.

"Every rally is different and we're learning with every race so we're getting there. Still two more rounds to go so there's still lots to learn this season," he said.

Despite his relative inexperience, Young is emerging as one of the bright stars in world rallying and will look to further improve on his wildly successful first season with EZY Racing and Cusco.