Reuters: Pakistan have even more reason to cheer their first test victory in Sri Lanka in nine years thanks to impressive performances from the team's younger players, said captain Misbah-ul-Haq.

The visitors fought back from 96-5 down in their first innings to register the win i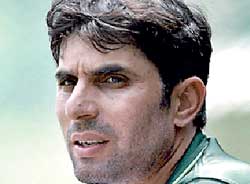 n less than four days after rain had washed out four sessions of the contest on the first two days at the Galle International Stadium.

The task of hauling Pakistan out of trouble has usually fallen to Younus Khan, 37, and the 41-year-old Misbah but it was the emerging talents of Asad Shafiq and Sarfraz Ahmed who led them out of a precarious position and laid the foundations for the win.

Leg-spinner Yasir Shah then ripped through Sri Lanka's batting in the second innings with career-best figures of 7-76 to complete a 10-wicket victory.

"It's good to have youngsters performing, that actually takes away the pressure from us (Younus and himself)," Misbah told reporters.

"This is the future we are building with these youngsters and these players are coming of age now to take the team ahead.

"Sarfraz is a key player, Azhar (Ali) is performing in the top, and the way Sarfraz and Asad played it further stamps our faith in them."

Saeed Ajmal has been Pakistan's main weapon in spin-friendly conditions but the off-spinner has been dropped from the side after insipid performances since returning from a ban for an illegal bowling action.

The 29-year-old Yasir, with just eight tests under his belt, ensured Ajmal was not missed.

"It's just a start for Yasir, look at the way he has performed to step up and become Pakistan's main bowler and to contribute in Pakistan's victories," Misbah said.

"So we are getting a good bunch that is grabbing every opportunity and applying themselves as a unit. The batting line-up is now getting mature and performing consistently."

Misbah still felt Yasir has to work harder to become one of the leading spinners in world cricket.

"He is giving us a good advantage, especially on these pitches where other spinners are not getting any sort of spin," Misbah added.

"Seven wickets against an opponent who is good against spin is something that speaks a lot. To became one of the greats, I think he still has to improve a lot.

"He might be performing well in Asian conditions but there are a lot more tests ahead of him when he will be abroad, like in England and Australia."
---
Hafeez faces one-year ban over suspect action
Pakistan's Mohammad Hafeez could be banned from bowling for one year after the part-time off-spinner was again reported by match officials for a suspect action during the test against Sri Lanka in Galle that ended on Sunday.

The opening batsman has to undergo further testing within 14 days and can continue bowling until the results are known, the International Cricket Council (ICC) said in a statement on Monday.

The 34-year-old will be automatically banned from bowling for 12 months if the new assessment finds his action to be illegal because he has been reported twice in a two-year period.

Former Pakistan captain Hafeez was initially reported after the first test against New Zealand in Abu Dhabi in November and was subsequently banned after an independent analysis found his action to be illegal.

He was cleared to bowl again in April after changing his action and took two first-innings wickets in the 10-wicket victory over Sri Lanka in Galle.