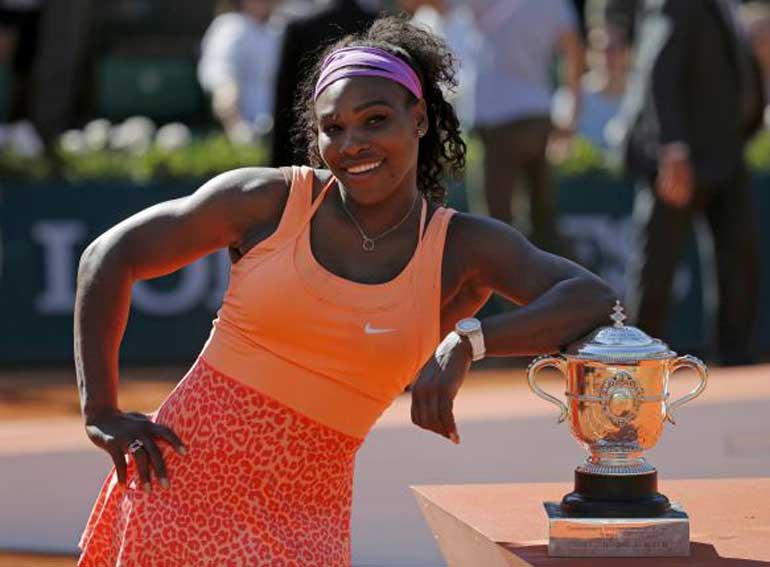 Serena Williams of the US poses with the trophy during the ceremony after defeating Lucie Safarova of the Czech Republic during their women's singles final match to win the French Open tennis tournament at the Roland Garros stadium in Paris, France – REUTERS
REUTERS: Nothing, absolutely nothing could stop Serena Williams winning her 20th grand slam singles title and the American joyously bounced around in delight as she hoisted the glistening French Open trophy on Saturday.

It was a victory that seemed unlikely 24 hours earlier as she battled the debilitating effects of the flu.

It was a victory that seemed unlikely as she raged at allowing a 6-3 4-1 40-15 lead slip through her fingers in the second set against Lucie Safarova.


It was a victory that seemed unlikely 20 minutes earlier when Safarova had broken for a 2-0 lead in the third set.

Yet Williams is not considered one of the all-time greats for nothing and she screamed, shouted and roared her way to a 6-3 6-7(2) 6-2 victory over the Czech 13th seed.


As Williams celebrated by raising both arms and looking skywards, her coach Patrick Mouratoglou held up two fingers with one hand and shaped an 0 with the other to signal her 20th triumph.


"It has been a nightmare 48 hours," said the 33-year-old.

"When you have the flu your whole body aches. That's what I have been dealing with," Williams added following a third Roland Garros victory which left her only behind Margaret Court (24) and Steffi Graf (22) on the list of leading major winners.

"It makes this trophy really special. I really wanted it. I wanted to win so bad.


"I can't believe I won but it's cool," added Williams after being presented with the trophy by fellow American Martina Navratilova.

The result also left her one Wimbledon trophy away from completing what she calls the 'Serena Slam' -- holding all four slams at the same time -- for the second time in her career having achieved the feat in 2003.