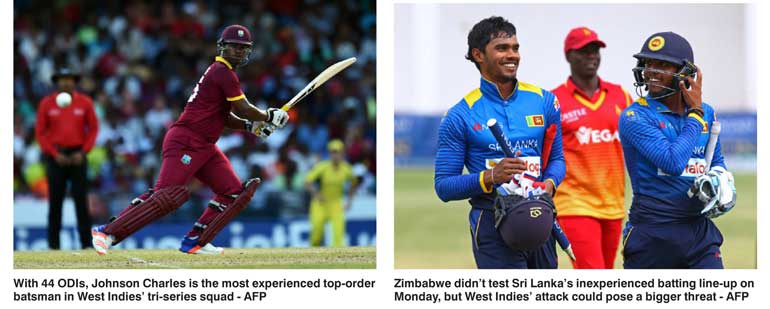 ESPNCricinfo: Visiting teams to Zimbabwe often use their time here as a looking glass into the future: which new combinations might be worth exploring? Who are the up-and-coming players? Who's staking a claim for the next major tour? While West Indies' circumstances might be a little more tempestuous, both they and Sri Lanka have picked forward-thinking squads for this series, and there is plenty to prove on both sides.

This is particularly true of the batsmen. Darren Bravo has been culled from West Indies' squad for his outburst on Twitter, and they are also missing batsman Marlon Samuels, wicketkeeper Denesh Ramdin and all-rounder Kieron Pollard, depriving them of a combined 521 ODIs' worth of experience. With 44 ODIs to his name Johnson Charles is, by some distance, West Indies' most experienced batsman. Several somewhat unknown entities have a chance to stake a claim.

The same goes for Sri Lanka, who already have one eye on their tour of South Africa in the new year. Sri Lanka have captain Upul Tharanga's 189-match ODI experience to call upon, with Kusal Perera's international nous to back him up, but not an awful lot beyond that. Their relative familiarity with Zimbabwean conditions and the sparkling form of young batsman Dhananjaya de Silva may give them an advantage, but they will likely find themselves more tested by West Indies' attack than by anything Zimbabwe have thrown at them in the last few weeks.

Sulieman Benn and Sunil Narine have their wiles, and Shannon Gabriel's improved fitness and balanced action enhances his menace. Captain Jason Holder will be personally buoyed by his recent second innings five-for against Pakistan in Sharjah, but the Bravo imbroglio may dampen the momentum West Indies gained from their historic Test success over Pakistan.

Or it may not, given that in recent times West Indies have rarely seemed more than a tweet or two away from controversy, and weathering such storms is all in a day's work for them. On the field, however, conditions are setting this match up as a middleweight fight that will favour the most sturdy batsmen and most incisive bowlers on either side.

Kraigg Brathwaite's Herculean efforts in Sharjah helped secure West Indies' five-wicket win there, but his one-day record remains rather more modest than his Test record. With no Samuels or Bravo to provide the ballast in West Indies' top order, West Indies will be looking to Brathwaite to step up and glue the top order together.

Sri Lanka's questions around their inexperienced middle order are yet to be answered, given the tiny target and limp bowling attack they faced on Monday. How they stand up to the greater challenge provided by West Indies may be crucial to their overall success.