First placed NEXTEV TCR driver Nelson Piquet of Brazil celebrates on the podium after the Formula E Championship race in central Moscow, Russia 6 June. Electrically powered racing cars competed in the FIA Formula E Championship – Reuters
LONDON (Reuters): Brazilian Nelson Piquet junior became the first Formula E champion on Sunday as the new electric series wrapped up its debut season with a race that had the crowd making more noise than the cars.

Piquet, whose father and namesake was a triple Formula One world champion, finished seventh in the final race in London's Battersea Park to beat Switzerland's Sebastien Buemi by one point overall.

The final race winner was Britain's Sam Bird, a former Mercedes F1 test driver, for Virgin Racing after Frenchman Stephane Sarrazin took the chequered flag first but was then demoted to 15th for excessive energy use.

Three drivers, all of whom have competed in Formula One, were in title contention going into the finale on a wet Sunday before Team China Racing's Piquet prevailed.

"I only knew I had won the championship when the commentator went onto the radio and said, 'Can we interview the champion?" said Piquet after the uncertain ending. "The team didn't tell me."

Piquet, who was helped by British team mate Oliver Turvey letting him through, raced in Formula One with Renault in 2008 and 2009.

He subsequently triggered a major scandal after revealing to the sport's governing FIA that he had crashed deliberately into a wall in Singapore in 2008 to help team mate Fernando Alonso win. After that he raced in NASCAR and rallycross.

"I don't know what you're talking about, it's long, long away," Piquet said when reminded of that 2008 F1 incident at a post-race news conference.

Sunday's ePrix brought motorsport to the capital, the cars racing on fenced off park roads just south of the Thames while locals walked their dogs and enjoyed picnics without being troubled by noise.

Apart from the squeal of tyres around the tight corners, the cars made a whistling sound less intrusive than the roar of passing airplanes overhead.
Formula E hopes to expand to Africa, India
LONDON (Reuters): The Formula E electric car racing series is aiming to expand to Africa and India after a successful debut season in Asia, the Americas and Europe.

"We want to conquer as much of the world as we can," the series chief executive Alejandro Agag told reporters after Sunday's final round at London's Battersea Park on the south bank of the River Thames.

"We will be looking for places maybe in Africa also."

Agag said the series, won by Brazilian Nelson Piquet junior for Team China Racing, would probably have two new cities in the second season although the number of races was likely to remain the same or one more.

"We want to give the championship stability for the teams. Probably grow another two races for season three," said the Spaniard.

One of those could be in India, with Mahindra & Mahindra Auto Group President Pawan Goenka telling Reuters the choice was likely to be between New Delhi and Bangalore.

"It cannot happen in 2015/16, it's too late, but in 2016/17 we would like to. The organisers have a general interest in bringing a race to India," he said.

"Delhi will be ideal in terms of interest and visibility and the backdrop that you get and wide roads – but perhaps most difficult at the same time – followed by Bangalore. Mumbai is out of the question."

Agag said the debut season, which kicked off in Beijing last September and raced in 10 cities, had been a "great success, especially when you consider how difficult it was to make it happen."

Virgin entrepreneur Richard Branson, whose British driver Sam Bird won the final race on Sunday, told reporters Formula E would overtake Formula One within five years but Agag played that down.

"We love Formula One and think it's great. But we think Formula E is different. We would be making a big mistake if we tried to compete with Formula One and be similar to Formula One," he said.

"We have to be radically different to Formula One to have a chance of survival. I don't mean survival by beating Formula One but co-existing complimentary to Formula One.

"I think that will be the only chance for us to have a long term future in the world of motorsport. We stand no chance against Formula One but we do stand a very strong chance on our own as a different product."
Formula E will overtake F1 in five years, says Branson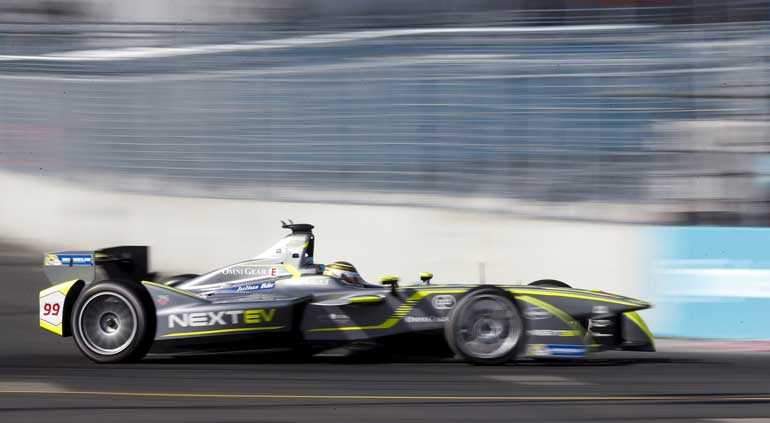 LONDON (Reuters): Electric racing will overtake Formula One in popularity within five years, British entrepreneur Richard Branson predicted at the final round of the new Formula E series.

Announcing a partnership between his Virgin Racing Formula E team and Citroen's DS brand, the billionaire also said he was willing to bet all new cars would be battery driven in 20 years' time.

"I think there's still going to be room for Formula One for another few more years," Branson told reporters ahead of the London ePrix in Battersea Park, south of the River Thames.

"But there will come a time when Formula E will overtake Formula One. I think four or five years from now you'll find Formula E overtaking Formula One as far as number of people," added Branson. "As time goes on, the clean energy-type of businesses are going to power ahead of other businesses."

Branson has experience of both series, with the 64-year-old sponsoring Formula One title-winners Brawn GP in 2009 and in 2010 entering with the Virgin Racing team which is now Manor Marussia.

His prediction is likely to be met with scorn in the Formula One community, however, with the glamour sport measuring a global television audience of hundreds of millions and top drivers ranking among the best-known and wealthiest sporting superstars.

Formula E cars make little noise and are far slower than Formula One and cannot currently complete a race distance due to the limitations of battery technology, with drivers having to change cars.

The arrival of DS, however, brings another major manufacturer into a series that is evolving and next year will allow teams to develop their own powertrains.

Renault and Audi are already involved while BMW electric vehicles are used as safety cars.

"The future is going to be fascinating and I'm taking my pills so I can live to see it," said Branson. "I personally think things are going to move that rapidly now," he added. "What goes on in a petrol-driven engined is really complicated and antiquated and out of date and polluting."

Jean Todt, the president of the International Automobile Federation that governs both Formula One and Formula E as well as other conventional series, said, however, that comparisons should not be made between the series.

"I think it is a big mistake to compare," the Frenchman, who was in the audience to hear Branson, told Reuters. "It's two different things. It's like comparing London to a city on the beach...I really feel you need Formula One, which remains the pinnacle of motorsport, and you need Formula E, sportscar racing and rallying, touring cars and Formula Three."