Reuters: The Indian Aces and the Philippine Mavericks continued their impressive run in this year's International Premier Tennis League (IPTL) with victories in the second stage of the tournament in Manila.

Rafael Nadal, in his first IPTL showing, secured a clean sweep for the team with a 6-5 victory over UAE Royal's Tomas Berdych on Monday (7).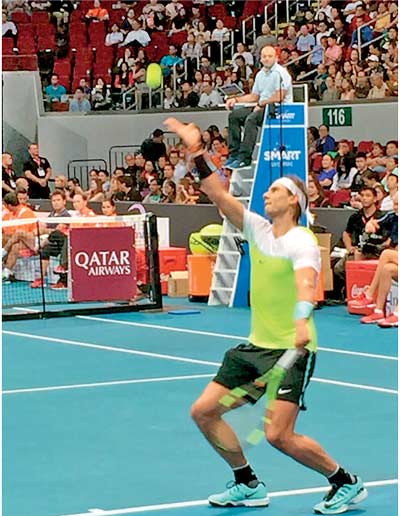 Earlier in the day, a win for Samantha Stosur, and a men's doubles victory for Nadal and Ivan Dodig over Daniel Nestor and Berdych, had already put the Aces in an unassailable position when Nadal took to the court for the singles clash with the backing of the crowd in Manila.

However, the Czech fought had to push Nadal all the way but eventually the Spaniard claimed victory to secure an overall victory of 30-18.

The Aces victory moves them to top of the IPTL table with three wins from three.

After his victory, Nadal said the IPTL format was a lot of fun.

"I enjoyed it. I have a great team around, funny people. And I think we played quite well, it was a different way to play tennis," said the world number five.

Closely behind the Aces in the overall table are the Philippine Mavericks, who were cheered on by a raucous home crowd on Monday.

Serena Williams and Milos Raonic combined to win the mixed doubles 6-4 over Japan Warriors' Pierre-Huges Herbert and Mirjan Lucic-Baroni, after the Warriors had put the home team under pressure with a 6-3 victory for Philipp Kohlschreiber over Richard Gasquet in the men's singles.

However, after Williams' doubles victory she then dispatched Lucic-Baroni 6-3 in the women's singles on the way to a 25-21 overall victory for the Mavericks.

The Mavericks are now second in the overall table with three wins from four matches.

The top two meet on Wednesday (8) in the final round of matches in the Manila stage of the competition.

The event then moves onto New Delhi on 10 December.