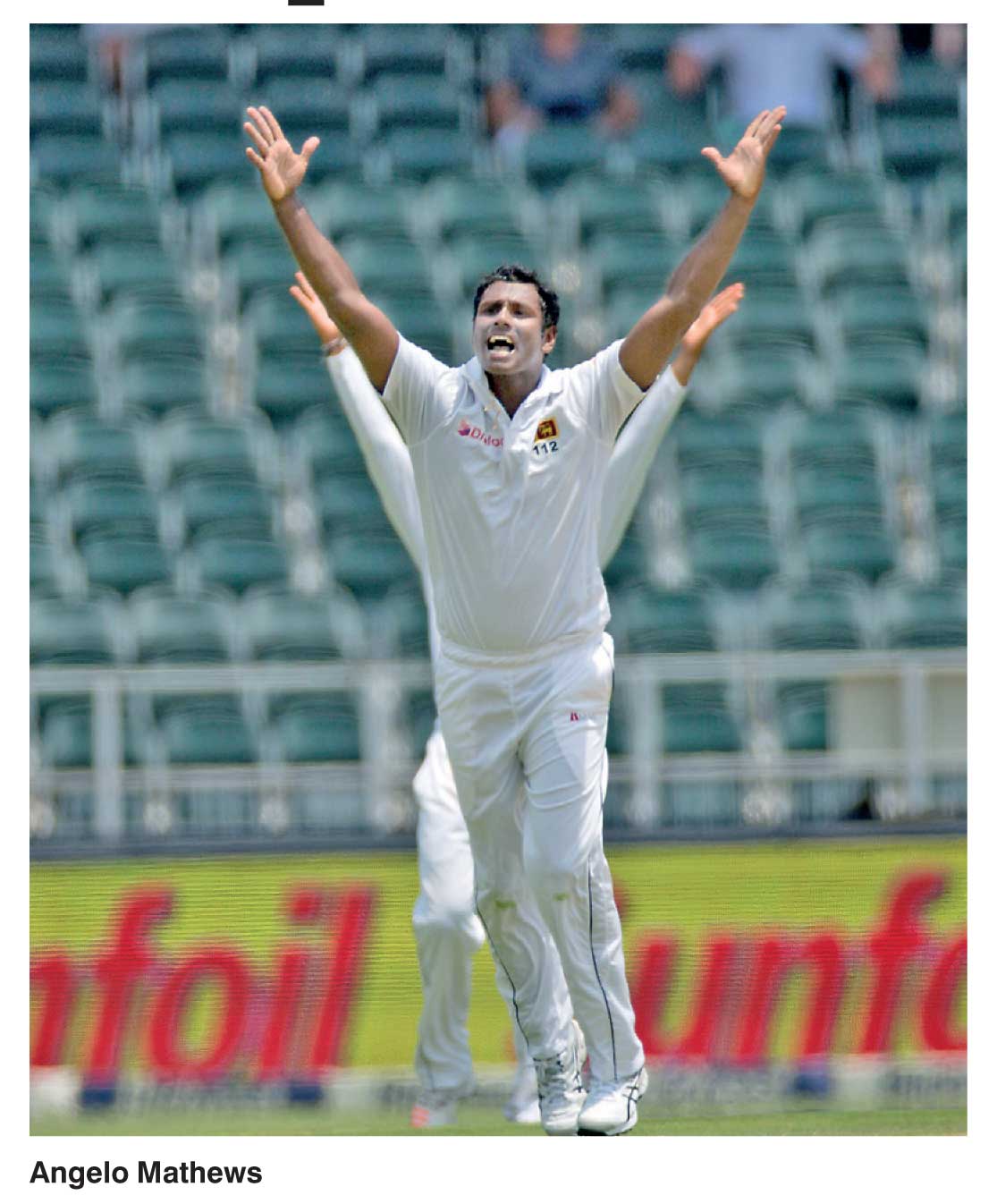 ESPNCricinfo: Angelo Mathews has labeled the 0-3 whitewash in South Africa his worst series defeat as captain, after Sri Lanka lost by an innings and 118 runs at the Wanderers.

Mathews also has two 0-2 whitewashes in New Zealand on his captaincy record, but Sri Lanka had been somewhat competitive in those series, even claiming a first-innings lead in two of those four Tests. In South Africa, however, only three Sri Lanka batsmen hit half-centuries, and first-innings deficits of 81, 282 and 295 were surrendered.

"I have been part of many defeats but as captain this is certainly the worst," Mathews said. "We kind of expected to do better than what we did. But there was no improvement.

"The batters were extremely disappointing - all the batters, including myself. All of us had got starts but didn't convert them into big ones. That is disappointing. To give the bowlers a chance we need to put the runs on the board."

The defeat, Mathews said, came in spite of extensive preparation for the conditions Sri Lanka expected to face in South Africa. Sri Lanka had had roughly 10 days in at home following the Zimbabwe tri-series to prepare for the South Africa tour, and had also played a practice match in Potchefstroom.

"When it comes to preparation we did our best," Mathews said. "We practiced on wickets with grass back in Sri Lanka too. We kind of expected we will get wickets with lot of grass. It's not easy to prepare wickets like this in Sri Lanka, given the high humidity. Life goes on and we need to find a solution to compete well overseas. Maybe it's an opportunity for Sri Lanka Cricket to leave bit of grass when we play domestic cricket at home."

Mathews top-scored for Sri Lanka in the series, with 178 runs, while Kusal Mendis hit 138 runs to sit at second on the team list. It was Mendis' first trip to South Africa for any level of cricket - the same going for Dhananjaya de Silva, who was asked to move to No. 4 in the second and third Tests, after having earlier prospered lower down the order.

"If you look at our squad, only three guys had played in South Africa before. Guys like Kusal Mendis and Dhananjaya are full of talent, but they need to be given a chance in these conditions. Playing four seamers in these conditions wasn't easy. They will learn I am sure. It is a tough time and we need to hang in there as a team."

Of his practice of bowling first change, or with the brand new ball, through the series, Mathews also launched a spirited defence, and suggested this was a plan hatched by the bowling coach. Mathews has had success opening the bowling in limited-overs internationals, but has 33 Test wickets at 52.66. He has averaged 64.5 for his two wickets in this series, while Lahiru Kumara and Nuwan Pradeep - bowlers he came in ahead of - have taken 11 and seven wickets respectively, at 26.45 and 43.

"My kind of bowling is swing and seam. When the ball is new it's good to come early. The coach and bowling coach told me to bowl early as I land it on the spot. I didn't bowl for that long. Even if you bowl 60-odd overs, in these conditions, the shine is still there. Given the fact that the wicket was seaming and swinging - if you look at my economy rate and the way I beat the bat, you would understand why I bowl early."

Across the last two years, in New Zealand, England and now South Africa, Mathews has taken four wickets at an average of 72.
Sri Lanka's batting debacle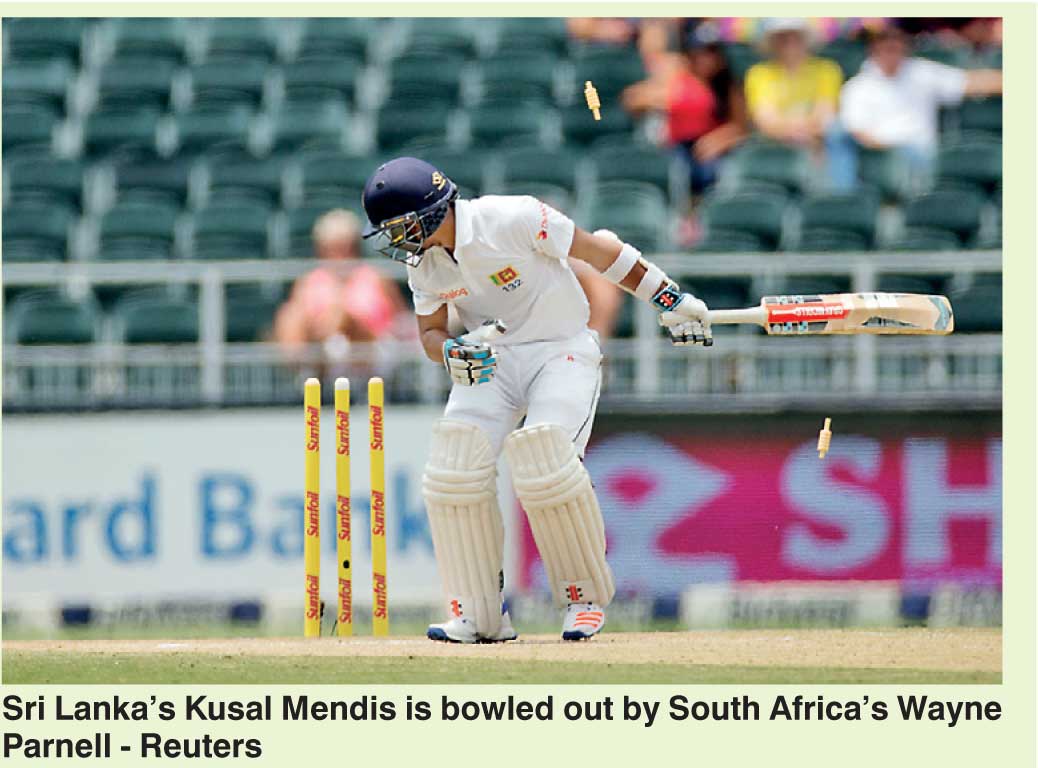 Sri Lanka's batting numbers presented a sorry picture at the end of their 3-0 series drubbing in Johannesburg

*16 Wickets lost by Sri Lanka on the third day in Johannesburg, their most in a single day of Test cricket. Their previous most was 15, on the third day of the Bangalore Test against India in January 1994.

*88.1 Overs faced by Sri Lanka in the entire Test; only three times have they survived fewer balls when losing 20 wickets in a Test, and two of those were also in South Africa. This is their sixth-lowest balls faced in any Test they have lost - there were two instances when one or more batsman was injured and didn't bat in the second innings.

*18.8 Sri Lanka's average runs per wicket in this series, their second-lowest in any series of three or more Tests. The only instance when they averaged lower was also in South Africa, in 2000-01, when they averaged 18.05 runs per wicket. Sri Lanka had only three 50-plus scores in the three matches, which equals their lowest in a three-Test series.

*59 Sri Lanka's highest score in the series, their lowest top score in any series of two or more Tests. Their previous lowest was 77, also in South Africa, in the two-Test series in 1997-98.

*4 Instances of South Africa winning all Tests of a series of three or more matches. All of them have been at home - against Australia in 1969-70, against West Indies (1998-99), against Pakistan (2012-13), and this one. For Sri Lanka, this is the fifth time they have been on the receiving end of a series whitewash (three or more Tests).

*6 Instances of South Africa beating Sri Lanka by an innings, out of their 14 wins against them. The innings-and-118-run win was their third-largest margin of victory against Sri Lanka.

*6 Wickets for Wayne Parnell in the match, his best in a Test. In four previous Tests he had only taken seven wickets.

*22 Instances of Sri Lanka following on in Tests, of which three have been against South Africa. They have lost 19 of those - including all to South Africa - and drawn only three. South Africa have enforced the follow on 27 times, but the last time they did so before this Test was in December 2014, against West Indies.