Reuters: Lewis Hamilton said this week that Mercedes were working harder than ever to ensure they maintain the advantage over their rivals in Formula One.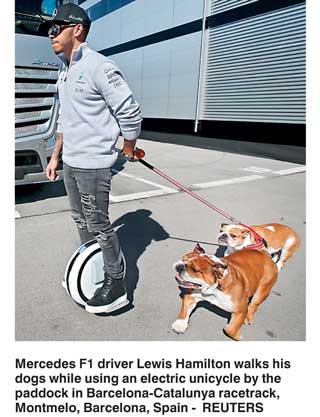 Hamilton, who was speaking at the Mobile World Live in Barcelona, has won the last two F1 world championships while Mercedes have won the last two constructors' championships.

"It gets harder and harder to continue to develop within the same envelope but they're consistently doing it and working as hard as they can to keep us ahead of the competition because it's easier to chase and catch up than it is to stay ahead but I think we already started on the right foot and we've already got new bits on today," Hamilton said.

"And during those periods of time you don't want to show all your cards although you need them to test them; so people today, all the other teams are spying on each other. So every time we bring a new component like our floor today they would have taken loads of pictures of it and then they'll take it back to their engineers and if it's better they'll probably come up with a design of their own version of it and they'll test it on the wind tunnel to see if it works on their car but by the time they do that it's going to be a couple of months down the road so hopefully we'll have the advantage.

"The car feels great. I mean it feels very much the same which is a good thing but it has more downforce so it also sticks to the ground better and has a lot more power which you guys know what that's all about."

While speaking on stage at the congress, Hamilton was joined by the Mercedes chassis which he drove in last year's Austin Grand Prix where he clinched his third world title. Hamilton couldn't believe it was a real car and took a selfie of himself with the car to share with his followers on his social media platforms. Hamilton finished his talk by doing another selfie with the audience at the congress.

The season, which features a record 21 races, starts in Australia on 20 March and the first European round is in Spain on 15 May.