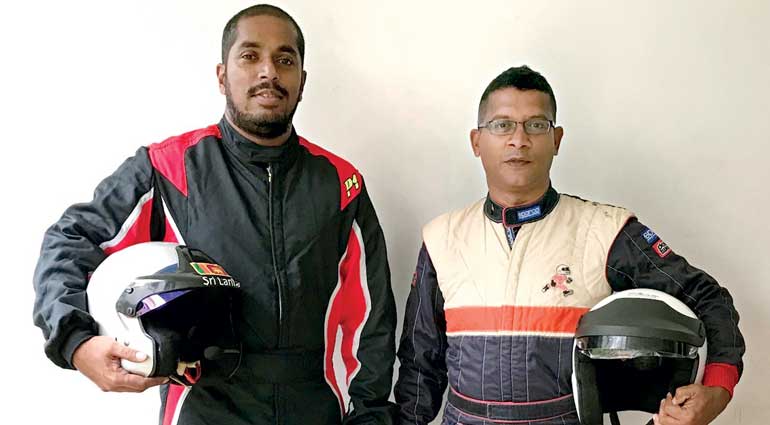 Local rally duo Shafraz Junaid and Akhry Ameer, who last weekend sealed the title of the SLARDAR Rally Championships, are set to take on their next challenge at the Coffee Day India Rally 2016 to be held in Chikmagalur, South India from 3-5 December.

The duo will be among the 53-car line-up at the prestigious Coffee Day Rally 2016 organised by the Motor Sports Club of Chikmagalur, Karnataka and sanctioned by the Federation of Motor Sports Clubs of India as part of the Indian National Rally Championships and is also the final round of the Asia Pacific Rally Championships 2016 (APRC).

Competing in the Indian Rally Championships open category, Junaid, along with his co-driver Ameer, will be driving a Volkswagen Polo 1600cc rally car prepared by Slideways Industries which will be fielding eight cars in the championships.

Hitting off their partnership firstly on two wheels, the duo, which has been a top contender in almost every rally event in the country for the last 15 years, see this as the next step in their racing careers.

"It is probably the next challenge in my racing! Beside it being my first international rally in the driving seat, it is the first time I will be driving a front-wheel drive having competed in four-wheel drive cars throughout my rally career. But most importantly it is a new level of experience and we are excited about it," said Junaid, who in the last two years has also co-driven Dinesh Deheragoda at the APRC. "Our primary focus is to complete the rally and obtain as much participation experience as possible. Although we have had speed rallies in Sri Lanka, the Indian rallies are much more advanced and we are approaching this as a learning curve. The terrain and the routes are challenging and co-driving this is definitely going to be quite different to the local experience," added Ameer, who will be calling out the turns and terrain within the coffee estates of Chikmagalur.

Competing at the international level is a new dimension for local drivers as it requires exhaustive medical tests for obtaining FIA licenses and conformity to FIA international safety standards from head to toe starting from inner wear racing protective gear which requires significant investment before even stepping into a race car. The duo has chosen to drive a rented rally prepared car since it is their first experience as opposed to taking their own car. Junaid added that the logistics and costs too were not feasible as they would be self-financing part of their participation. "In fairness to local sponsors, they cannot justify a return on investment when it comes to competing overseas. Hopefully, we can change that in the future," he explained. They will be partly sponsored by Triniti Sports Clutch and Terratrip, manufacturers of international racing products.

Junaid and Ameer locally will be crowned the SLARDAR Rally Champions 2016 at the SLARDAR awards to be held next month. They won the championships, having emerged first runners-up at the SLARDAR 1000 Rally, second runners-up at the Colombo Challenge – Leg 1 and joint runners-up at Colombo Challenge – Leg 2.