AFP: Skipper Virat Kohli hailed Ravichandran Ashwin as "priceless" after he spun India to victory Monday over New Zealand, saying the off-spinner was one of cricket's ultimate match-winners and sharpest brains.

Ashwin claimed six second innings wickets as India bowled out New Zealand for 236 on the fifth and final day of the first Test in Kanpur - his 19th five-wicket haul in Tests.

The 30-year-old finally put the tourists out of their misery when he dismissed Neil Wagner lbw for a duck with the Black Caps still 197 runs short of their target, giving him overall match figures of 10-225.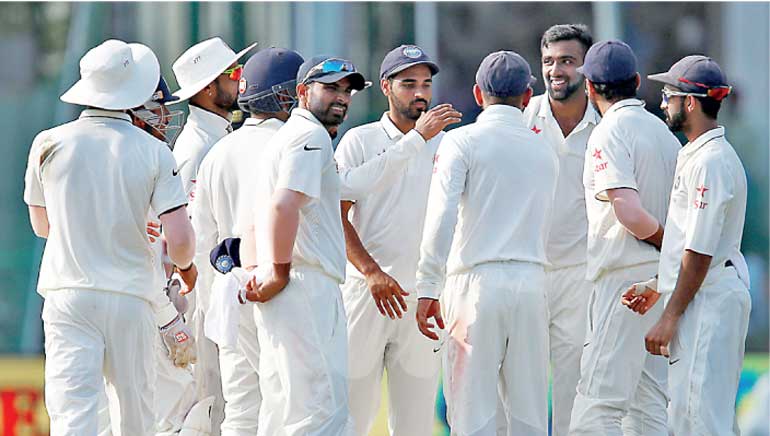 The innings was all the more memorable for Ashwin as his dismissal of Black Caps' skipper Kane Williamson meant that he became the second fastest bowler of all time to claim 200 Test wickets.

By reaching the milestone in what is only his 37th match, Ashwin has outdone many of the greats of the game such as Sri Lanka's record-breaking spinner Muttiah Muralitharan who took 42 Tests. "He's been outstanding for the Indian team but if you see all the impact players in the world, he comes in the top three-four easily," Kohli told reporters after the match. "There are quite a few players making big impact for their respective sides. Especially bowlers. Bowlers are the one I feel that win you Test matches and Ashwin is one of them."

Ashwin, who also contributed with a valuable 40-run knock in India's first innings score of 318, has been the team's go-to man in recent times with both bat and ball. On the recent tour of the West Indies, Ashwin scored two centuries as well as taking 17 wickets. "It's priceless to have a cricketer like Ashwin in your Test team. He gives balance with both bat and ball," said Kohli.

"He's a very keen thinker of the game. He likes to talk cricket. He understands the game very well. Very smart cricketer, very intelligent." Ashwin and Ravindra Jadeja shared 16 wickets between them in the match to flatten the New Zealand batting at Kanpur's Green Park.

Man of the match Jadeja, who registered a five-wicket haul in the first innings, also contributed with unbeaten scores of 42 and 50 in the first and second innings respectively.

"Both of them are pretty open to hearing suggestions, but when they feel like they are very convinced about what they want to do, they tell you that. And I personally like that as a captain as well," Kohli said.

Ashwin also dismissed Williamson in the first innings to leave the New Zealand skipper in no doubt about his quality.

Both were beautiful deliveries that spun from outside the off stump to deceive Williamson.

"They were pretty good balls, and he is a pretty good bowler. In these conditions there is certainly more spin so you do take those things into account," Williamson said in praise of the Indian spinner. Mitchell Santner led the New Zealand spin attack with courage after taking three and two wickets in the first and second innings respectively.
Ashwin second fastest to 200 Test wickets
AFP: Indian off-spinner Ravichandran Ashwin on Sunday became the second fastest bowler to claim 200 Test wickets, achieving the milestone in his 37th match.

Ashwin is just behind former Australian leg-spinner Clarrie Grimmett who took 36 Tests to achieve the feat, and ahead of greats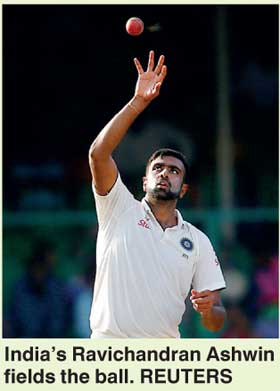 Waqar Younis of Pakistan and Australia's Dennis Lillee who both took 38 Tests.

Ashwin reached 200 by dimissing New Zealand skipper Kane Williamson in Kanpur, where India are playing their 500th Test.

"Kane Williamson is not a bad 200th scalp. I had a few good wickets in my career. AB de Villiers in Nagpur was very well set up," a delighted Ashwin told reporters. The lanky spinner, who bowled Williamson in the first innings with a beautiful delivery that spun from outside the off stump, trapped the batsman lbw the second time around.

"Kane Williamson's wicket in the first innings of this match was a very good ball. Sangakkara in Sri Lanka... these are some of the wickets I cherish in my career and I hope I can create more in the future," he said.

Ashwin also talked about Grimmett, who played for Australia between 1925-36, being a "better man" than him when asked if he had any regrets about not being the fastest to the feat. "It's fine. There are a lot of good things to look at. Lot of good memories in my 5-6 years of international cricket. Looking back and feeling sour is not the right way to go about it," he said.

The 30-year-old from Chennai, who made his debut against the West Indies in 2011, is currently ranked third in the International Cricket Council ratings for Test bowlers.

Ashwin, who has become India's frontline bowler, is the fastest off-spinner in history to reach 200 wickets.