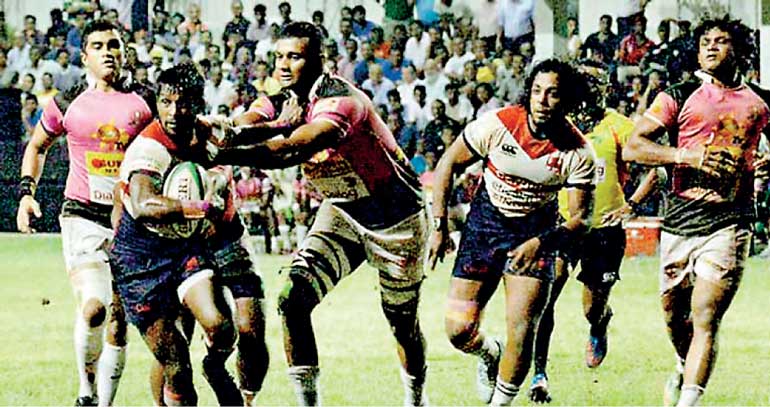 Kandy SC scrum half Roshan Weeraratne on the attack with support coming from team mate Buwanka Udangamuwa. Havies players Shenal Dias, Rahul De Silva and Sudarshan Muthuthanthri try to defend.
By Shamseer Jaleel

Defending league and Clifford Cup champions Kandy Sports Club are the hot favorites to end the first round on top and keep their unbeaten tag intact.

Kandy SC, under Sri Lanka Sevens and Fifteens Skipper Fazil Marija, dished out quality rugby this season. Playing at home in front of their packed house at Nittawela, Kandy is near impossible to be beaten where they will meet the Navy outfit this Sunday. Their last game against Havies proved it all, as the Park Club, playing minus their playmaker Dhanushka Ranjan, were not able to get the better of the hill country lads.

Havies will be playing CH&FC in their last first round encounter today. Havies, led by dashing winger Sandun Herath, with some top class players such as Sudarshan Muthuthanthri and Kevin Dixon, are assured to pull it off with a high scoring game. Dhanushka Ranjan their play maker is expected to return to the side but other players such as Dulaj Perera and Mithun Hapugoda both in the injured list will be available only for the second round. This encounter will be controlled by referee Rohan Fernando.

Tomorrow, CR&FC will be hosted by Air Force. CR&FC under Ishan Noor were very unlucky to lose out on two occasions, once to Kandy and the other one to the Sailors. Given the ample talent in their camp with players such as Shashan Mohamed, Costa brothers and Ishan Noor, they are placed at number four at present but deserve to be on top of the league had they pulled off both close encounters in their favor against Kandy and Navy. This game will see Aruna Rankothge handling the whistle.

On the same day, Police will meet the Soldiers at Diyagama. Police have big names such as Bilal Hassen, Reza Mubarak, Mohamed Sheriff but they are yet to click and perform as a team. This game is expected to be a close affair with Priyantha Gunaratne officiating.

The last first round game will be the contest of the weekend when the unbeaten Kandy SC lock horns with the Sailors at Nittawela. Kandy with ample talent is favoured to pull it off without much difficulty. They have skipper Fazil Marija, Richard Dharmapala, Shehan Pathirana, Kishore Jahn, Gayan Weeraratne and Arshard Jamaldeen all playing at their peak. Navy, coached by Nilfer Ibrahim, too have some class acts but will come under test at Nittawela. Referee Irshard Cader should be at his best to handle this game well.