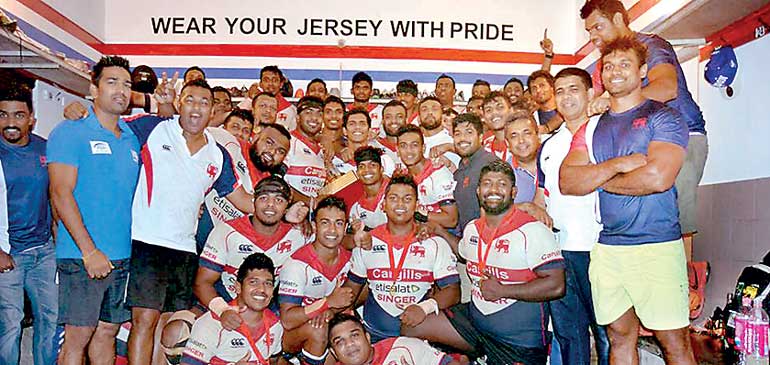 By Shamseer Jaleel

League champions and defending Clifford Cup champions Kandy Sports Club will be coming out against CH&FC on 13 March at the Nittawela Rugby Stadium when they defend their title for yet another year. On books, according to current form, Kandy looks unstoppable this season, playing some quality three quarter running rugby well supported by their mobile forwards and will be a tough team to be brought down in the local rugby arena.

Kandy SC, who won the league 17 times in 22 years, will be the firm favourites to lift this cup, which has got a history of more than 100 years. The quarterfinals are fixed for 11, 12 and 13 March, the semifinals for 19 and 20 March and the final on 26 March. Kandy games will be played in Kandy with the semifinal taking place at the Trinity College Rugby Stadium at Pallekelle. But the final will be worked off in Colombo.

The Clifford Cup is the most prestigious club rugby knockout tournament in Sri Lanka which commenced in 1911 and has been played continuously since 1950. The tournament began as a competition between the mercantile executives in Colombo and planters in the hill country.

The origination of the Clifford Cup was in 1911; Lady Elizabeth Clifford (the wife of the acting Governor of Ceylon Sir Hugh Clifford) was interested in the annual rugby football fixture – Low Country versus Up Country – and expressed a wish that a match should take place in Colombo on her birthday – 26 August – between teams representing the United Services Kandy and All Ceylon. In the initial encounter United Services Kandy defeated All Ceylon 25-0.

The first clubs to play in the Clifford Cup were Havelock SC, CH&FC, CR&FC, Dimbulla A & CC, Kandy SC, Uva, Dickoya MCC and Kelani Valley.

Kandy Sports Club has won the Clifford Cup a record 19 times, including a consecutive period of ten years between 1995 and 2005 (the competition was not held in 1998) and six consecutive years between 2007 and 2012.

In 2006, Kandy SC and Navy SC both withdrew from the tournament (Kandy due to dispute over the ground allocation and Navy as their members were called up for national service duty), the Cup was won by CR&FC. The Red Shirts have won 14 times followed by Havelocks SC (13), Police SC (8), CH&FC( 7), Dimbulla A & CC (2), while Air Force SC and Navy SC have won the cup once each.