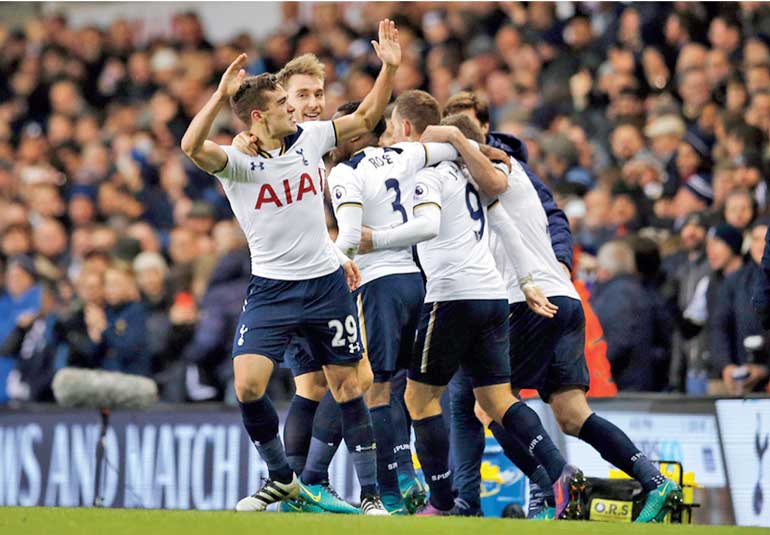 Reuters: First there was Harry Winks, then Harry Kane, as Tottenham Hotspur sprang a 3-2 comeback win over West Ham United that would have done justice to Harry Houdini.

Kane reasserted his status as London's derby king with 17th and 18th goals against sides from the capital in an astonishing 160 seconds on Saturday that stunned the Hammers and saw Spurs make up ground on leaders Liverpool, who they now trail by just three points.

"What a win. It looked like it would be a disappointing afternoon," Kane told the media. "I thought we had played well and we left it late. What a night, what a performance.

"We wanted to win and give the fans something to cheer about, and a lot of them will go home happy."

Manager Mauricio Pochettino was predictably delighted with the storming finish, which reinforced how much Spurs missed the striker, who returned to the first team against Arsenal on 6 November after two-and-a-half months out with ankle ligament damage.

Kane had scored from the penalty spot at the Emirates, and was again spot-on against West Ham to spark mass celebrations at White Hart Lane and remind Pochettino, as if he needed reminding, of what has been missing.

"Harry Kane is always very important, he is our main striker and one of the best strikers in the world. You miss that type of player when he does not play for 10 or 11 games. The table looks much better. We are three points off the top and 12 unbeaten from the beginning."

It was certainly Harrys' game, twice over, with Winks capping a dream week with his first Premier League goal on his first start, five days after making his England under-21 debut in the 3-2 defeat to France.

"For me, after I scored it was just a bit of a blur, but it was brilliant. I realised yesterday I was in the team so I had to get myself ready," said Winks, who made the most of the faith shown in him by Pochettino.

The challenge now for Spurs is to turn their form in the Premier League, where they remain the only unbeaten side, into the Champions League, which resumes on Tuesday with a testing trip to Monaco, which both Kane and Pochettino described as a "must-win game".

Spurs are third in their group, four points behind the French team and two off Bayer Leverkusen.