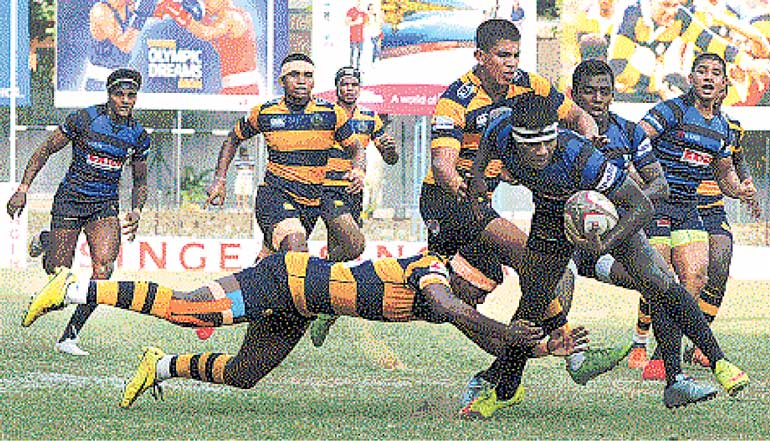 Thomians enjoying one of their best rugby seasons over the last two decades
By Shamseer Jaleel

Two top contenders for Singer League 2016, Isipathana and S. Thomas' Mount Lavinia, continued their winning streak in tandem and remained unbeaten so far this season. Royal and Science too won their respective matches last weekend.

Second half rally sees Royal through

Royal = 33 points

St. Peter's = 24 points

Royal pulled off a stunning win against the Peterites thanks to a superb late second half rally to recover to a 33/24 win at home back yard at Reid Avenue. Royal scored 6 tries while the Petrites planted 4 of them. At a stage in the first half Royal was down 19 to nothing but recovered well in the later half.

It was skipper Nikila Gunadheera, scrum half Ashok Wijekumar and Hamza Barie took Royal over the line avoiding their second defeat this season. They opted to use their heavier sets of forwards plus their usual rolling maul tactics to maximum use to score their points.

Thomians outclass Antonians

S. Thomas' = 41 points

St. Anthony's = 21 points

Thomians too continued their winning streak in the Singer league when they outclassed Katugastota Antonians 41/21 in a 6 try blitz at Mount Lavinia. Winger Naveen Henakankanamge and centre Ashwantha Herath once more were the players to watch finding gaping holes in the weaker Antonian defence which was all over the sea side.

For Antonians, Samuel Maduwantha was good with his kicking boots, being accurate plus finding deep touch in to the Thomian territory which kept the home team under check most of the time. But the hosts were too strong to be kept under caged as their highest try scorer of the season, Naveen Henakankanamge broke free with his powerful run down the wing. Thomians scored three unanswered tries in the later half to seal the game and continue their impressive season.

Science edge out Trinity

Science = 15 points

Trinity = 12 points

Science College played some quality sevens rugby in the later half to seal the game which marred by questionable refereeing. Both teams made number of errors in the first half but settled well in the later half. Trinity scored on stroke of half time through Shalindra Alahakoon to take a 7 to nothing lead at the short breather.

Science got out of the cage and scored through Thanuja Maduranga found space in the weaker Trinity defence. He also put over a penalty to take 8/7 lead. Dange try took Trinity to take 12/8 lead. Then came the try of the season, when Science decided to work from deep in their own try line. Ball changed hands which saw their winger, Sanjula Roshan who covered more than 75 meters scored under the posts. This floored Trinity.

Soon after the game Referee Irshad Cader had to be escorted towards the dressing room, while a few bottles of water were thrown at him. Spectators followed him into the tunnel with one of the touch judges being assaulted. Hosting team should take full responsibility of the safety of the officials at all given time. Referees Society President Nizam Jamaldeen was lightning fast to take the decision not to blow at Trinity home matches. Meanwhile Trinity sent a letter to the organisers citing poor standard of refereeing, requesting an inquiry through video footage.

Isipathana continue

winning streak

Isipathana = 43 points

Wesley = 8 points

Isipathana cut loose in the second half to pose a comfortable 7 tries to solitary try by the gutty Wesley outfit. Brave Wesley lads held on to have a close affair in the initial half allowing the visitors to score only 2 tries. But the happiness for short lived as the Pathana lads scored at will in the later half. Isipathana who look very confident towards the Singer league will play Trinity at Longdon Place next Saturday.